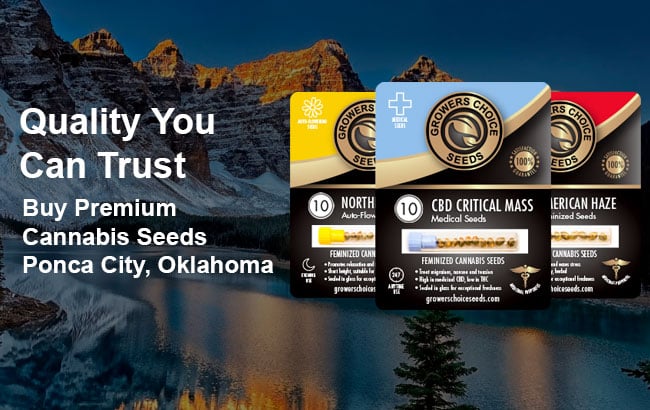 Get Ponca City Cannabis Seeds Delivered Fast Today
Want to get the best Ponca City cannabis seeds delivered to your door? Order online from Growers Choice Seeds today. We carry only high quality ungerminated cannabis seeds in our digital inventory, and all of our seeds are backed by our germination guarantee. Order online today to start growing your medical marijuana plants.
Is Medical Marijuana Legal in the State of Oklahoma?
Medical marijuana has been legal in the state of Oklahoma since 2018, when legislation allowing access to safe and legal cannabis for medical purposes was passed into law. Medical marijuana patients can purchase cannabis and cannabis products from licensed dispensaries located throughout the state, or they can choose to grow their own. Residents with a medical marijuana card may legally grow a limited number of cannabis plants for their own personal use. A total of 6 seedling and 6 flowering cannabis plants can be grown together at one time by an individual. Medical CBD is also legal, although recreational cannabis remains prohibited. Whether or not you are a medical marijuana patient, you can still buy and own cannabis seeds, as long as the seeds are ungerminated. Ungerminated cannabis seeds are considered collector's items and are not prohibited for sale or possession in the United States by adults over 21 years of age. Growers Choice Seeds carries only ungerminated cannabis seeds in our online inventory. Find the cannabis seeds that are right for you when you shop online today.
Find Haze Cannabis Seeds For Sale Online
If you're in the market for a strong sativa strain to boost creativity or improve your mood, then you'll want to try one of our high quality haze cannabis strains. Haze strains are known for their uplifting effects and ability to boost creativity. These energizing strains are perfect for social situations or for conquering writer's block. Sativas are also effective at relieving depression and anxiety in its users. Our favorite hazey cannabis seeds in stock now are
Order your high quality haze cannabis seeds online today from Growers Choice Seeds. Our seeds are supplied by experienced cannabis cultivators from around the world. Browse our selection today.
Buy High Quality Weed Seeds Online Today
Ordering weed seeds online has never been easier, thanks to Growers Choice Seeds. We've sourced our high quality cannabis seeds from experienced growers around the world. All of our cannabis seeds are fully feminized and are backed by our germination guarantee, so you can buy with confidence. Start growing your own medical marijuana plants today when you order your Ponca City cannabis seeds online. Follow us on social media for the latest cannabis news and growing advice, and sign up for our newsletter for a chance to win free seeds!
Most Popular Cannabis Seeds