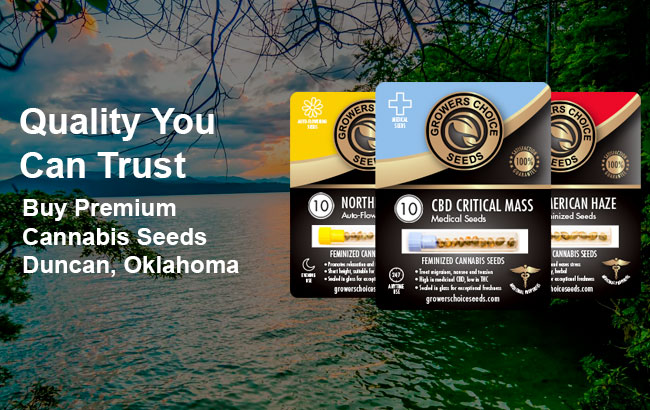 How to Order Duncan Cannabis Seeds for Delivery
Get the best Duncan cannabis seeds available online delivered to your door quickly when you order online from Growers Choice Seeds. All of our high quality cannabis seeds are fully feminized and completely ungerminated. Our seeds are supplied by our community of trusted cannabis cultivators around the world. Shop our selection today to get started.
Can I Grow Medical Marijuana Plants in Oklahoma Legally?
As of 2020, cannabis cultivation is allowed for medical marijuana patients in the state of Oklahoma. Residents of the state can obtain a prescription for medical marijuana from their health care provider for a qualifying condition such as cancer, PTSD, Alzheimer's disease, MS, epilepsy, and others. Patients can then purchase their cannabis from a licensed dispensary located throughout the state, or they can choose to grow their own medical cannabis plants. Medical marijuana card holders can grow a limited number of cannabis plants for personal use; six seedling plants and six flowering cannabis plants may be grown by an individual at one time. To get started growing your own medical marijuana plants at home, order online from Growers Choice Seeds today. We carry a wide selection of high quality cannabis seeds, all fully feminized and completely ungerminated. Even if you don't have a medical marijuana card, you can still legally buy and own ungerminated cannabis seeds, as they are considered novelty gifts and are not prohibited in the United States. Order your cannabis seeds online now to get started.
Get Fruity Cannabis Seeds Delivered Fast
For a fruity flavor in your cannabis seeds, you'll want to try one of our premium fruity cannabis seeds. These sweet and tangy strains have fresh aromas of citrus and berries and will taste and smell fruity and sweet. Our fruity strains can be indica dominant or sativa dominant, so make sure to research each strain before buying to get exactly what you need. We've got a large selection of fruity cannabis seeds in stock now, including favorites like
Learn more about these fruity cannabis seeds when you check out their product detail pages. Find important information like THC and CBD content, average grow time, estimated yield, and more.
Order High Quality Weed Seeds Online Now
Want to order your weed seeds online today? Look no further than Growers Choice Seeds, your source for the very best Duncan cannabis seeds for sale online now. We've fully stocked our online inventory with all of your favorite indica, sativa, and hybrid seeds, plus specialty high content CBD seeds. We also carry easy to grow autoflowering cannabis seeds, perfect for first time growers. Browse our selection today to find the seeds that are right for you, and we'll provide fast and discreet delivery right to your door in as little as one week.
Most Popular Cannabis Seeds