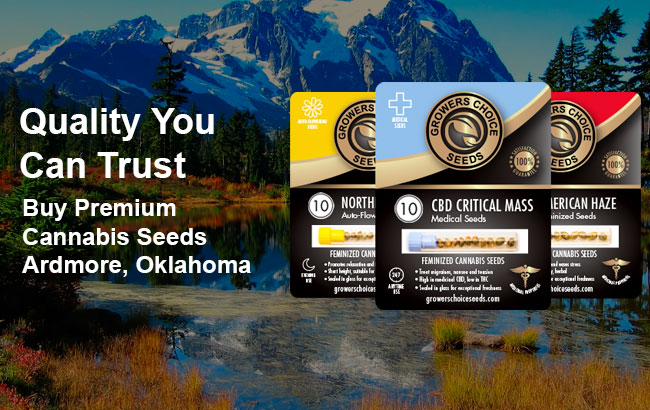 Where to Buy Ardmore Cannabis Seeds On Sale Now
There's never been a better time to buy high quality Ardmore cannabis seeds online. Growers Choice Seeds has made it fast and easy to get cannabis seeds delivered right to your door. Shop online to find the seeds that fit your needs, check out using our secure server, and we'll provide fast and discreet delivery with tracking available on every order.
Can I Grow Cannabis Plants in Oklahoma Legally?
If you are a medical marijuana card holder in the state of Oklahoma, then you can legally grow a limited number of cannabis plants for your own personal use. Medical marijuana prescriptions are available for patients with a qualifying condition, such as MS, epilepsy, terminal illness, cancer, ALS, and others. Patients can purchase medical marijuana from state licensed dispensaries, or they can choose to cultivate their own cannabis plants. A total of twelve cannabis plants can be grown together at a time, in the form of six immature and six mature plants. Immature plants are seedlings that have not yet begun to flower; mature plants are those which have begun to flower and produce cannabis buds. Growers Choice Seeds carries a huge selection of cannabis seeds for medical marijuana patients, including high content CBD seeds, which are preferred by many medical marijuana users. Even if you don't have a medical marijuana card, you can still legally buy and own cannabis seeds that are ungerminated, as these are considered novelty gifts. We carry exclusively ungerminated cannabis seeds in our online inventory, all in stock now. Shop today to get growing!
Order Sweet Cannabis Seeds Online Now
Looking for a strain to satisfy your sweet tooth? These tasty cannabis seeds will have a sweet aroma and flavor, and may be reminiscent of your favorite desserts. Our sweet cannabis seeds can be indica or sativa dominant, so make sure to check out their product pages to get the seeds that are right for you. All of our sweet seeds are in stock now and available in seed packs of 3, 5, 10, or 25 seeds. The best selling sweet seeds right now are
Find out more about these great cannabis seeds when you check out their product pages, linked above. You'll find strain data like THC content, grow time, and yield, to help you find your perfect cannabis seeds.
Get the Best Weed Seeds Delivered Fast
Getting cannabis seeds delivered to your door has never been easier. Growers Choice Seeds has made it fast and easy to order high quality weed seeds online using our secure server. We provide fast and discreet delivery on every order, with tracking provided so you can follow your seeds from our doors to yours. Find the Ardmore cannabis seeds that are right for you in our online inventory today to get started. All of our cannabis seeds are fully feminized, so you never have to worry about wasting time and resources on male plants. Shop now to get started.
Most Popular Cannabis Seeds