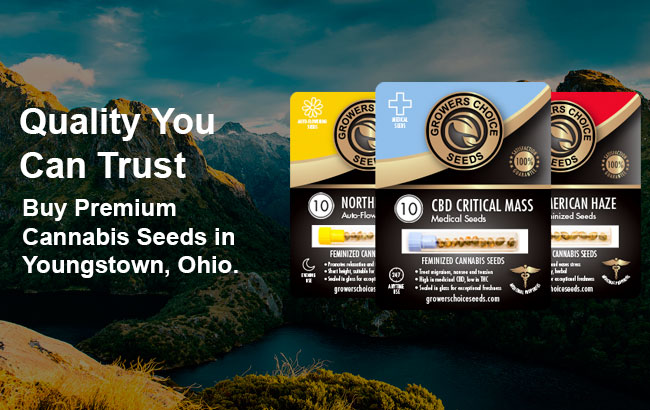 Buy cannabis seeds in Youngstown
You might not be able to grow cannabis in the comfort of your own Youngstown home just yet, but as lawmakers in the state begin to understand the many benefits of this potent plant, it's an inevitability that they will allow the cultivation of cannabis by medical (and hopefully recreational) users in the near future. Until then, you can stock up on you're the best quality Youngstown cannabis seeds by shopping online with Growers Choice Cannabis Seeds. With superior genetics, our seeds are guaranteed to stay viable as long as they are properly preserved until its time to germinate. From our facility in Canada, we ship your seeds, sealed in medical-grade glass vials to ensure freshness, to your home address in Youngstown, and offer a 90% Germination Guarantee.
Do THC cannabis seeds have medical benefits?
Say what you will about cannabis strains high in THC, but these cannabis seeds offer more to patients than just a heady high in the afternoon. Tetrahydrocannabinol, better known as THC, is a chemical that is secreted by cannabis plants, and this euphoric substance is one of the main reasons the herb is so highly sought after. Top quality Youngstown cannabis seeds, like those available online from Growers Choice Cannabis Seeds (we deliver nationwide) will yield a sticky resin rich with this cannabinoid, which mimics neurotransmitters that already exist in the brain and work on the body's endocannabinoid system.
Can I legally use THC weed seeds in Youngstown?
Using weed for medical reasons is legal in Youngtowns, Ohio, though the state has yet to make the act of cultivation an accepted practice. Certified patients can use the treatment for medical conditions as long as they have been prescribed by a medical physician.
Compare Our Cannabis Seed Strains
We're getting rave reviews from customers in Youngstown, OH
Amazing quality seeds. The prices are very reasonable, I think, and the delivery was fast, faster than some of the other companies I've dealt with in the past. I'm very pleased with the quality of service they provide as well. The site is easy to navigate, with lots of information. I never feel like I'm being 'sold' on specific products, either. 10 stars!
 Our Most Popular Cannabis Strains