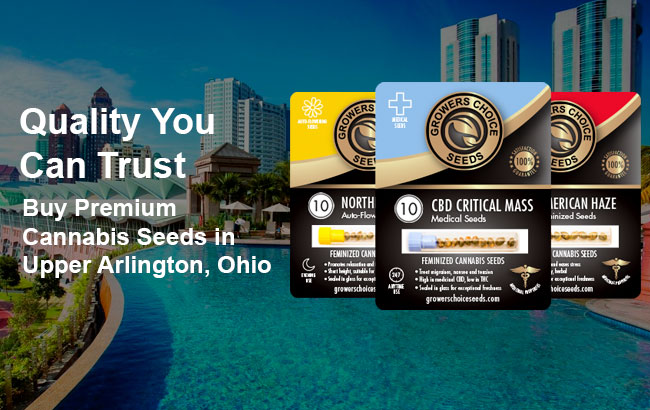 Is it Legal to Grow Recreational Cannabis Plants in Ohio?
As of 2020, recreational cannabis is still prohibited in the state of Ohio. Although medical marijuana was legalized in 2016, recreational cannabis has only been decriminalized for personal use and possession at this time. Residents of the state may obtain a prescription for medical marijuana for a qualifying condition. Medical marijuana card holders can only buy their medical marijuana from a state licensed dispensary; cultivation of cannabis plants for medicinal purposes is not permitted at this time. Even though you can't grow your own cannabis plants, you can still buy ungerminated cannabis seeds online legally. Ungerminated cannabis seeds are considered novelty items and are legal for adults to buy and own in the US. Growers Choice Seeds is your source for premium ungerminated cannabis seeds for sale online now. Check out our selection today.
How to Get Upper Arlington Cannabis Seeds Delivered Quickly
If you've been thinking about ordering high quality cannabis seeds online, look no further than Growers Choice Seeds. We've fully stocked our digital catalog with the best indica, sativa, and hybrid strains available on the market today, all sourced from our trusted team of expert cannabis cultivators from around the world. Shop our inventory today to find the Upper Arlington cannabis seeds that you need, and order online for fast and discreet delivery right to your door in less than one week. Tracking is available on every order, so you'll know exactly when your seeds are arriving.
Get High Quality Sativa Cannabis Seeds Delivered Fast
For an uplifting, energetic effect from your cannabis, try one of our sativa dominant strains of cannabis seeds. Sativa dominant strains of cannabis seeds are known for their ability to relieve depression and anxiety in many users, and can provide creative energy and enhanced focus, making them ideal for daytime use. Our favorite sativa strains in stock now are
Jack Herer Feminized Cannabis Seeds
Purple Haze Feminized Cannabis Seeds
Mexican Haze Feminized Cannabis Seeds
Gorilla Glue Autoflowering Feminized Cannabis Seeds
Sour Diesel Feminized Cannabis Seeds
Learn more about our sativa strains of cannabis seeds when you check out their product detail pages. You'll find strain data like average growing time, estimated yield, THC content, and more.
Get High Quality Weed Seeds Delivered to Your Door
Want to get high quality weed seeds delivered to your door in as little as five days? It's easy when you order online from Growers Choice Seeds. As the number one place to buy Upper Arlington cannabis seeds online, we're proud to bring you our selection of premium fully feminized and completely ungerminated cannabis seeds. Order the seeds that fit your needs online today using our secure server for quick and discreet delivery directly to your doorstep in as little as one week. Shop our catalog now to get started.
Most Popular Cannabis Seeds