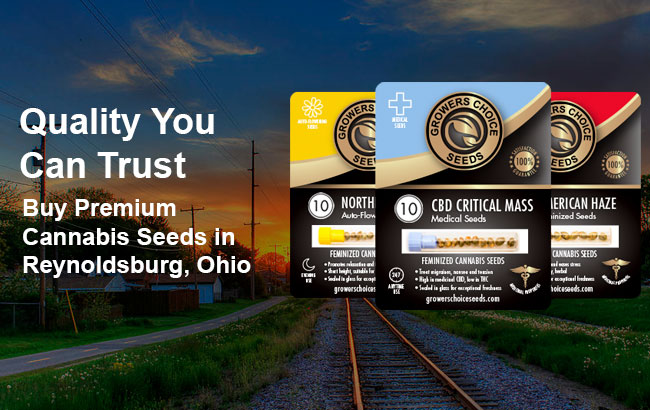 Where to Find Reynoldsburg Cannabis Seeds For Sale Online
Are you wondering where to find Reynoldsburg cannabis seeds? To get the best cannabis seeds on the market today, order online from Growers Choice Seeds. We have a huge selection of high quality cannabis seeds, including all of your favorite sativa, indica, and hybrid strains, plus specialty high content CBD seeds for medical marijuana patients. Find the seeds that fit your needs and order online today for fast delivery to your door in as little as one week.
Is Growing Cannabis Plants Legal in Ohio?
Cultivation of cannabis plants is not allowed in Ohio at this time. Although medical marijuana laws were enacted in 2016, they do not allow for individuals to grow their own medical marijuana plants for personal use. Many states with medical marijuana acts in place do allow for residents with a medical marijuana card to grow a limited number of cannabis plants for their personal medical use. Recreational cannabis cultivation is also prohibited, as is the cultivation of industrial hemp. However, you can still legally buy and own ungerminated cannabis seeds, such as those sold by Growers Choice Seeds. All of our high quality cannabis seeds are completely ungerminated, and are backed by our germination guarantee. If you're tired of the outdated cannabis laws in your state, become an advocate and fight for better access to medical marijuana in your community. Get involved with your local marijuana activism group, and call or email your local representatives to let them know how you feel about the issues. 
Buy High Quality Weed Seeds Online for Delivery
Buying cannabis seeds online has never been easier. Growers Choice Seeds has made it fast and simple to order Reynoldsburg cannabis seeds online. As the best cannabis seed bank in North America, we are proud to bring you our fine selection of cannabis seeds, all fully feminized and completely ungerminated. Order your cannabis seeds online today for fast delivery right to your door. Don't forget to sign up for our email newsletter for your chance to win free weed seeds!
Most Popular Cannabis Seeds