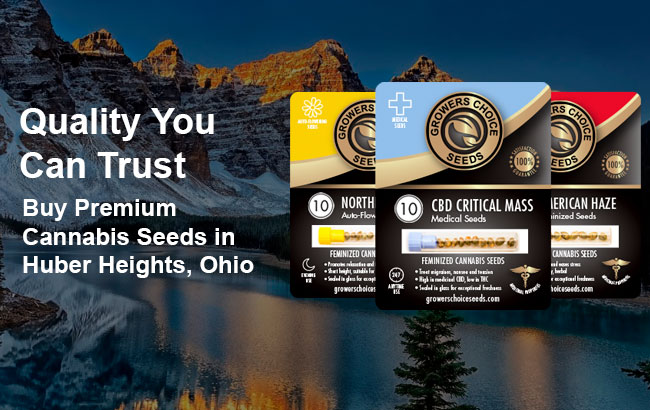 Where to Buy Huber Heights Cannabis Seeds Online Today
Are you interested in buying Huber Heights cannabis seeds online? Growers Choice Seeds is the number one place to buy cannabis seeds in Ohio. With dozens of strains of high quality cannabis seeds in stock, you're sure to find the seeds that are right for you. We source our seeds from experienced growers around the world to bring you the best cannabis seeds on the market today. Order online today for fast and discreet delivery right to your door in as little as one week.
Is Medical Marijuana Legal in Ohio?
Growing cannabis plants is not allowed in Ohio at this time. Although the state enacted its medical marijuana legislation in 2016, the law does not provide for the legal cultivation of cannabis plants for medicinal use by individuals with a medical marijuana card. Many states that provide medical marijuana access to their residents also allow individuals to cultivate a limited number of cannabis plants for their personal use. While recreational cannabis use and possession has been decriminalized in the state of Ohio, cultivation of recreational marijuana plants remains prohibited. Additionally, the cultivation of industrial hemp is also prohibited. Although cultivation is not allowed, purchasing and owning cannabis seeds that are not germinated is legal. Adults over 21 years of age may legally buy and own cannabis seeds in the United States. Cannabis seeds can be purchased legally online from Growers Choice Seeds. All of our high quality cannabis seeds are completely ungerminated, so you can buy with confidence.
Get Sativa Cannabis Seeds to Boost Creativity
Many creative types prefer sativa dominant strains of cannabis seeds. Sativas are known for their creativity and uplifting effects, and are effective at relieving stress and boosting creativity. Growers Choice carries dozens of high quality strains of sativa dominant cannabis seeds. Our favorite sativa cannabis seeds in stock now are
Purple Haze Feminized Cannabis Seeds
Mazar Feminized Cannabis Seeds
Durban Poison Feminized Cannabis Seeds
Sour Diesel Feminized Cannabis Seeds
Mexican Haze Feminized Cannabis Seeds
Find the sativa cannabis seeds that will boost your creativity today by ordering online from Growers Choice Seeds. All of our high quality cannabis seeds are backed by our germination guarantee.
Find High Quality Weed Seeds For Sale Online
Getting weed seeds delivered has never been easier, thanks to Growers Choice Seeds. To get the best Huber Heights cannabis seeds delivered to your door fast, simply buy online using our secure server and your payment method of choice. We'll provide fast and discreet delivery of your cannabis seeds right to your door in as little as one week, and tracking is provided on every order so you'll know exactly when your seeds are arriving. Order your cannabis seeds online today to get started, and sign up for our newsletter for your chance to win free seeds!
Most Popular Cannabis Seeds