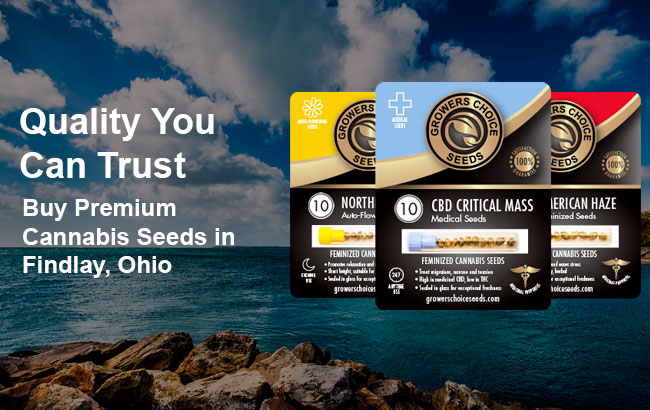 Order Findlay Cannabis Seeds Online for Delivery
There's never been a better time to order cannabis seeds online. Growers Choice Seeds is your source for the best Findlay cannabis seeds available on the market today. We're proud to bring you our selection of high quality cannabis seeds, all supplied by our community of experienced growers around the world. Our seeds are fully feminized and completely ungerminated, so you can buy with confidence. Shop today to get started.
Is Cannabis Cultivation Legal in Ohio?
At this time, the cultivation of cannabis plants for recreational or medical purpose is not allowed in the state of Ohio. Industrial hemp, which are cannabis plants with negligibly low levels of THC, cannot be cultivated in the state, although many neighboring midwestern states do allow for the cultivation of this commercial crop, which is commonly used to make textile and paper. Medical marijuana legislation went into effect in 2016, but the law does not allow for the cultivation of medical marijuana by individuals. Medical marijuana patients must purchase their cannabis from a licensed dispensary located in the state. Although recreational cannabis possession has been decriminalized in Ohio, growing marijuana plants for recreational purposes is still highly prohibited. Even though cultivation is not allowed, buying cannabis seeds that are ungerminated is legal. Adults in the United States can legally buy and own ungerminated cannabis seeds, as they are considered novelty gifts. Find your favorite ungerminated cannabis seeds when you order online from Growers Choice Seeds today.
Get Cannabis Seeds to Boost Creativity
Many creative types prefer sativa dominant strains of cannabis seeds. Sativas are known for their creativity and uplifting effects. These strains are enjoyed by painters, musicians, writers, and other creatives for their ability to provide improved focus and enhanced right brain activity. Growers Choice carries dozens of high quality strains of sativa dominant cannabis seeds. Our favorite sativa cannabis seeds for improving creative brain function are
Find the sativa cannabis seeds that will boost your creativity today by ordering online from Growers Choice Seeds. All of our high quality cannabis seeds are backed by our germination guarantee.
Order High Quality Weed Seeds Online Today
Ready to get your cannabis seeds delivered fast to your door? It's easy when you choose Growers Choice Seeds, your source for the best Finlay cannabis seeds for sale online today. All of our high quality cannabis seeds are fully feminized and completely ungerminated, making them legal to buy and own in the US. Find your favorite seeds in our digital inventory, and check out using our secure server. We'll provide fast and discreet delivery right to your door in as little as one week. Follow us on social media for the latest cannabis news and growing tips, and sign up for our email newsletter for a chance to win free weed seeds!
Most Popular Cannabis Seeds