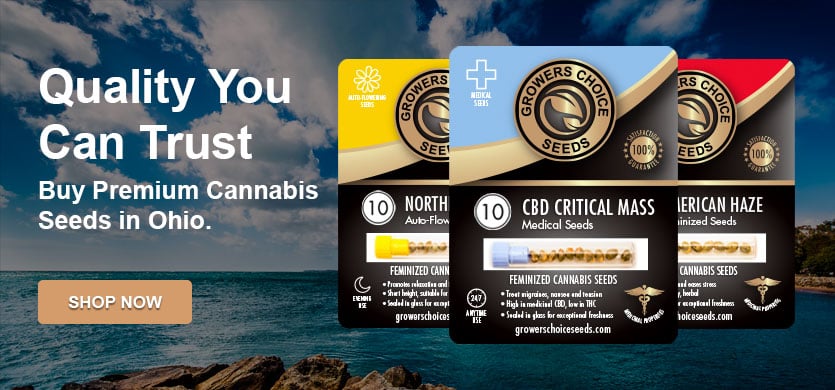 Living out east, the easiest way to get Ohio cannabis seeds is to shop online with Growers Choice Cannabis Seeds. We carry a selection of carefully cultivated cannabis seeds, perfect for medicinal purposes. We ship worldwide and deliver all your orders in discreet packaging that arrives on your doorstep just days after you've placed your order.
What are Marijuana Seeds?
It's a marijuana moment out there. The cannabis industry is booming, and cannabis cultivation is becoming commonplace in homes around the globe. Cannabis seeds for sale are available to those looking to enjoy the process of growing their own cannabis plants. Marijuana seeds, well, they grow marijuana plants. Marijuana is a type of cannabis. Marijuana, weed, and pot are all synonymous, and they are all cannabis. When you are talking about the psychoactive version of the cannabis plants, you are thinking of the marijuana plant. Start with seeds, grow your own, and enjoy your smoking experience!
Growing Plants From Cannabis Seeds in Ohio
The cultivation of cannabis is easier than you might think. Cannabis is a robust, resilient plant, so even if you don't have a green thumb, you can likely handle growing it. Why take this route, though? There are other ways to enjoy marijuana products, why grow your own plants? By starting with weed seeds, you can get more bang for your buck. With a quality plant grown from a quality cannabis seed, you can get massive yields. It will also save you a lot of money over buying cannabis cultivated and harvested by somebody else. There's a lot of sweat equity baked into those cannabis products. Why not get marijuana seeds and grow your own plants? These days, it has never been easier. The cannabis industry is now booming with cannabis seed banks. If you find a reputable seed bank, you will be able to get high-quality seeds for hundreds of cannabis seed strains. Top-shelf seeds from a reliable seed bank are the best way to go for many at this time in history.
Types of Cannabis Seeds for Sale
When looking for the perfect cannabis seeds, there are things to consider. As an at-home grower, you will definitely want feminized seeds. Even if you have found your favorite marijuana seed strain, without feminized marijuana seeds, you might be out of luck. Only female marijuana plants have buds, which is where almost all the THC is found. You might have the most powerful cannabis strain on the market, but if you end up with a male plant, you won't be able to smoke it and enjoy it.
Beyond feminized seeds, there are other options to consider. You may want auto-flowering pot seeds, for example, because they flower based on the age of the plant, not based on the light cycle they are exposed to. Auto-flowering strains also provide compact plants. if you are an indoor grower looking to avoid swearing bad weather and checking out the weather forecast every day, but you don't have a lot of space indoors for your grow to take place, auto-flowering seeds could be a wise choice. There's also a wide range of high-quality marijuana seeds you can think about. Do you care about generous yields? Some strains offer more in the way of massive yields than others. Perhaps you want a high-flying sativa or a chill-focused indica. There are also high-CBD medical strains for medical marijuana users out there.
Medical Marijuana Use
We just mentioned the idea of turning to a marijuana seed strain for medical purposes, so let us go further down that road. Reliable seed banks keep medical users in mind, and cannabis can help with quite a few issues. Chronic pain of all sorts, be it migraines, cramps, or more, can be alleviated with cannabis. You can also use cannabis products, including plants you grow at home, for emotional concerns like anxiety, depression, and stress. Now, no reliable person in the cannabis industry will claim that cannabis will "cure" anxiety or depression. Any seed banks promising that should be viewed with skepticism. However, marijuana can help alleviate emotional strain.
Cannabis Law in Ohio
There's something notable about the United States when it comes to marijuana legislation. The national government has not given the green light to legal marijuana on the federal level. Instead, the states have been left to make their own marijuana laws. Where does legal marijuana stand in Ohio? Is the Buckeye State all right with the cultivation of cannabis?
Ohio was actually early in decriminalizing marijuana, having done so back in 1975. Possession of up to 100 grams of marijuana was classified as a minor misdemeanor. The maximum penalty allowed became a fine of $150. That remains true, with a misdemeanor charge being on the books at the state level for those who aren't using marijuana legally.
Alright then, so who is using marijuana legally, if anybody, in the state of Ohio? Recreational users are not legally using marijuana. Recreational marijuana has not been legalized as of yet on the state level in Ohio. However, there is a medical marijuana program in place, and there has been since 2016. In order to receive a medical marijuana card, you have to have one of 21 medical conditions registered. Additionally, even having a medical card does not allow you to engage in cannabis cultivation. In fact, a medical marijuana card won't even allow you to smoke marijuana legally. Yes, ingesting cannabis by means of smoking is not legal, even with a medical card. A misdemeanor charge would still be possible there.
Leniency towards cannabis use is occurring across the state, though. Many cities across the state have set their own laws related to cannabis. Toledo got there first, removing all penalties for possessing under 200 grams of cannabis. Dayton has removed all misdemeanor charges and removed potential jail time from the mix as well. Cincinnati's marijuana legislation nixed penalties for having up to 100 grams of marijuana, save for public use. Columbus still has fines for cannabis products, but they are all $25 or fewer. Cleveland has also removed penalties for up to 200 grams as well.
There are still efforts being made in terms of marijuana legislation. Recreational cannabis legalization is expected to go on the ballot in Ohio in 2023, and when cannabis gets on the ballot, it tends to pass. There's a good chance recreational marijuana will be legal in the Buckeye State soon. Already, we've seen the list of penalties associated with marijuana use dwindle. Clear, momentum is on the side of adult-use cannabis legislation passing.
How to Get High-Quality Marijuana Seeds
Finding the perfect cannabis seeds means finding a reliable seed bank. Any quality seed bank will offer fully-feminized seeds, but will also offer a germination guarantee on every order. Seed banks should offer you reliable and discreet shipping on your orders. Sure, having popular strains is great. Affordable prices? Also excellent. Top-shelf seeds are what matter most, though. Generous yields are hard to come by if you don't have quality seeds. Seed banks around the globe abound. Some notable names in this industry are Growers Choice Seeds, Crop King Seeds, Beaver Seeds, MJ Seeds, MSNL Seed Bank, and more. Which seed bank is right for you? Doing your research will help you come to the right decision on that front.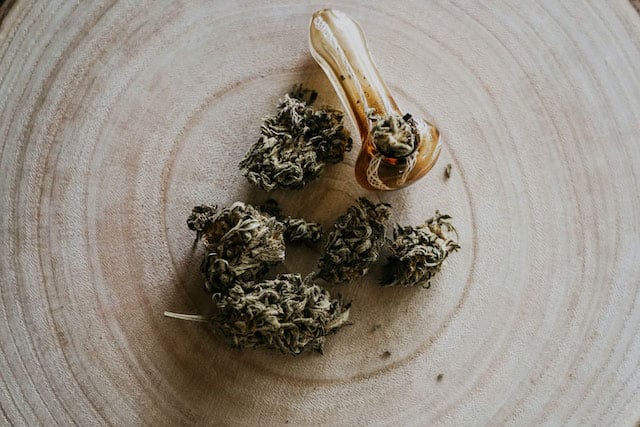 Finding the Perfect Cannabis Seeds for You
With recreational cannabis use possibly being legalized in Ohio soon, and with medical marijuana already legal, what are some of those popular strains? Top-shelf seed strains abound, and it comes down to what you enjoy in a strain. Do you want something sweet and fruity? You could enjoy Banana Kush, Lemon Haze, and even the famed Pineapple Express. Yes, it's a real strain! If high-flying sativas are your thing, there are strains like Durban Poison. Jack Herer is a classic, old-school strain. White Widow is a powerful cannabis strain packed with THC. If you want a marijuana seed strain that really punches you with the THC, the award-winning Bruce Banner seed strain is an excellent choice. Blue Dream is one of the most popular strains right now, we could go on and on.
Right now, even if you have a medical marijuana card in Ohio, your ability to fully enjoy the offerings of top-shelf seeds from quality seed banks is cramped by legality. However, recreational cannabis use seems likely to arrive soon. Fines and misdemeanor charges will be things of the past. They already are in some major cities. Seed banks with affordable prices and great strains like Blue Dream and Lemon Haze are waiting to provide you with popular strains and high-quality seeds. Get powerful cannabis seeds. Get auto-flowering seeds. Enjoy massive yields from strains that grow large plants. Legal seed banks are set up and ready to help you at this time in history. A cold winter for cannabis is being thawed by a bright light in the form of cannabis legislation. Find the right choice for you among the many seed banks out there. Buy some top-shelf seeds picking from hundreds of seed strains. From Cuyahoga Falls to Grove City and beyond, it is truly an exciting time in history, with a landmark moment for cannabis in Ohio looming.
 Our Most Popular Cannabis Strains