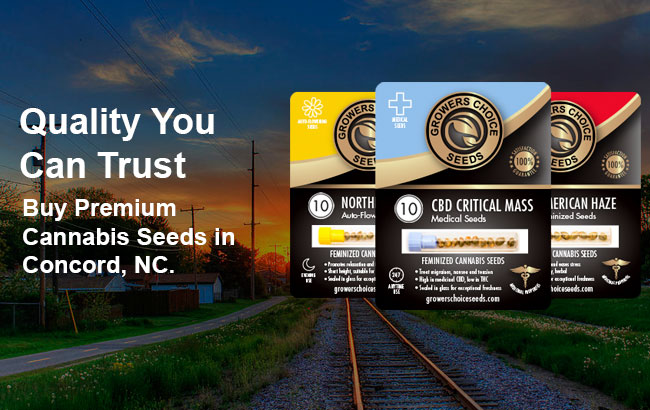 Cannabis seeds for sale in Concord
You can consider OG Kush, a hybrid strain that's been around since forever. Pretty high in THC (we're talking 27%), you'll experience a lovely euphoric high that is great for relaxation and eliminating stress, as well as great for pain management. It's recommended you save this strain for evening use or when you don't have anywhere to go, however.
Buy cannabis seeds in Concord
Patients in Concord, NC have been able to use CBD-specific medical cannabis since 2014 when the state passed their laws, though it is only legal for those with intractable epilepsy (meaning treatment resistant). Cannabis seeds are considered collectors items when they aren't germinated, so you can still order and own them without any trouble.
Start your Concord cannabis seed search online with the best seed shop around, Growers Choice Cannabis Seeds. We carefully cultivate our strains, and hand-pick every seed to ensure consistent quality. Every order is sealed in medical-grade glass vials to preserve freshness in transit, and we ship everywhere in the United States, including Concord.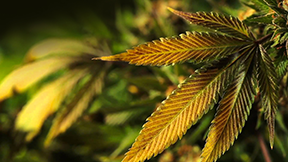 Is medical CBD good for pain?
In some states, like North Carolina, medical cannabis laws have been passed but are cannabidiol (CBD) specific, meaning that only those cannabis strains high in CBD and with little to no THC are legally allowed as a medical treatment. CBD is prized above sister compound THC as a medical alternative because it is non-psychoactive, and does not affect the same receptors as THC. In fact, one study believes that CBD doesn't act on the endocannabinoid system, but instead activates or inhibits other compounds that do. I.e. CBD stops the body from absorbing anandamide, one compound associated with pain regulation, and increased levels may reduce the amount of pain a person experiences. Many patients will look to high-CBD strains for relief from the pain caused by spasticity and cramping. You can purchase high quality CBD-rich Concord cannabis strains when you shop online with Growers Choice Cannabis Seeds.
That said, the therapeutic benefits of THC cannot be overlooked. Some may try psychoactive THC to get their mind off the pain. But CBD strains have been shown to help reduce inflammation and improve mood, both of which can assist in dealing with chronic and acute pain.
What kind of cannabis seeds should I buy for pain?
There are hundreds of cannabis seed strains on the market today, with new ones being developed on the regular. Not every strain is suitable for pain management, however, and there are a few things you should be looking for when pain relief is your desired outcome:
Opt for a sedating indica, these strains are popular picks for chronic pain management
Choose high-CBD for daytime, and high-THC for night
For neuropathic pain and chronic headaches, consider a sativa strain
Opt for strains that products that have a higher terpene count
Best weed seeds for pain management
If you want pain management without the psychoactive side effects, seeds like CBD Blueberry might be more up your alley. Our medical strain is pretty potent at 7% CBD, providing a calming, relaxing, happy high. This is another strain best for night time pain relief and stress reduction.
Customers in Concord are giving us great reviews
Great selection, easy checkout, fast delivery with or without the stealth option. I've used both. Second order arrived today, no problems. I haven't grown anything yet, still holding out hope the laws will change in North Carolina. I haven't had to contact customer service, which is a good thing.
Most Popular Cannabis Seeds