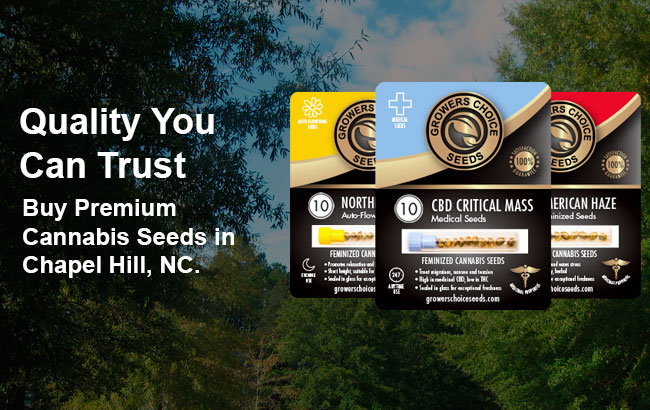 Buy cannabis seeds in Chapel Hill
If you're looking for high quality Chapel Hill cannabis seeds then look no further than Growers Choice! With feminized auto-flowering, medical, and kush varieties to choose from, our selection of cannabis seeds is the best you can find. Our team of medical and horticultural experts hand pick, inspect, and test our seeds to guarantee quality and freshness, and your order will be shipped directly to your door. Ordering online is simple and we accept multiple forms and safe and secure payment, including Visa, MasterCard, and Bitcoin. Our seeds are packaged in air-tight, medical-grade glass vials to ensure freshness through the deliver process, and it can also double as storage so you can save your seeds for as long as you need.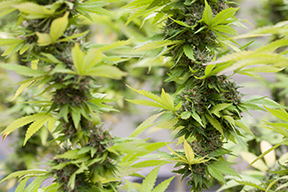 Best Chapel Hill cannabis seeds for pain relief
Cannabis offers users a number of therapeutic benefits. We have over 20 years of industry research that helps us determine the effects of each strain that we carry, and you can find detailed information about the benefits of each of our seeds at our website. There are many things that can determine what kind of effects a particular strain will have on its user, including CBD and THC levels, and whether the plant is a sativa, indica, or hybrid. If you're looking for relief from pain, you'll likely want to try an indica or inidica-dominant strain, as it produces more of a body high.
If you're looking for cannabis seeds to help with pain relief, we recommend considering one of the following strains from Growers Choice:
Are weed seeds legal in Chapel Hill?
Yes, weed seeds are legal in Chapel Hill and in all of the United States due to their classification as adult novelty items. Because they are considered a collector's item, they are legal to buy and possess across all of North America. Additionally, North Carolina has recently introduced a bill to legalize medical marijuana that would allow patients who have received a recommendation from a physician to use high-CBD, low-THC extracts to help treat a number of qualifying medical conditions.
Cannabis seeds for sale in Chapel Hill
Growers Choice can help you on your path to a happier, healthier life with natural medicine. We believe in the therapeutic powder of cannabis and want to make it as easy and stress-free as possible for our customers to discover the benefits for themselves. So visit us online today and purchase some premium Chapel Hill cannabis seeds—they'll be at your door in days! If you have any questions or concerns, you can reach out to our team of customer service representatives at any time.
Growers Choice is number one in Chapel Hill
Growers Choice is the best! They have so many awesome strains to choose from, and they always deliver super quickly. I've ordered from them multiple times now and always have a great experience—not to mention the fact that their seeds are top-shelf!
Most Popular Cannabis Seeds