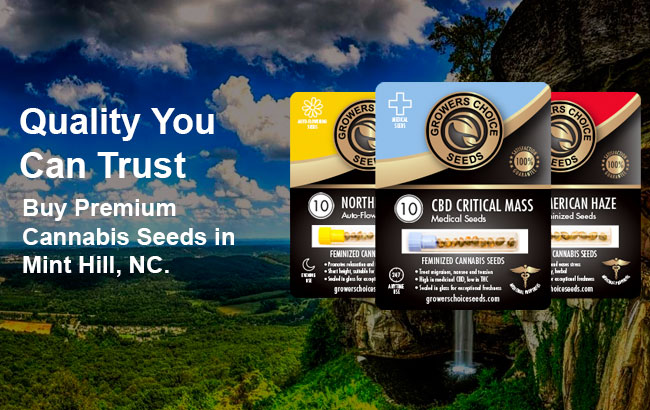 Where to Find Mint Hill Cannabis Seeds For Sale Online
Ordering high quality cannabis seeds online has never been easier than with Growers Choice Seeds. We're your source for the best Mint Hill cannabis seeds available anywhere online, all fully feminized and backed by our germination guarantee. Our selection of premium cannabis seeds are supplied by our trusted community experienced growers around the globe, many with over 20 years of experience in the cannabis industry. Browse our digital catalog to find the seeds that are right for you, and order online for fast and discreet delivery right to your doorstep in as little as one week. Tracking is provided on every order. Shop now to get started.
Is Growing Cannabis Plants Legal in North Carolina?
Cannabis cultivation is not allowed in the state of North Carolina in 2020. Although the state does allow for the cultivation of industrial hemp, residents cannot grow their own cannabis plants for either medical or recreational use at this time. Cannabis use and possession remains prohibited throughout the state, although it has been somewhat decriminalized. Even though you can't grow cannabis plants, you can legally buy and own ungerminated cannabis seeds. Ungerminated cannabis seeds are considered novelty items and are legal to buy and own in the United States. Check out the selection of ungerminated cannabis seeds available from Growers Choice Seeds today to find the seeds you need. Want to help advocate for better cannabis laws in your state? Sign up to volunteer with your local marijuana activist group, call or email your local representatives, and make sure you're registered to vote.
Get the Right Cannabis Seeds for Chronic Pain Relief
Many people suffer from chronic pain caused by arthritis, MS, ALS, and other conditions. Cannabis is a natural anti-inflammatory with sedative and pain relieving properties, making it effective at managing and mitigating chronic pain for many users. Many medical marijuana card holders prefer indica dominant strains for their chronic pain relief. Some of our best cannabis seeds for chronic pain relief are
Wedding Cake Feminized Cannabis Seeds
Girl Scout Cookies Feminized Cannabis Seeds
Blueberry Kush Feminized Cannabis Seeds
Skywalker OG Feminized Cannabis Seeds
Northern Lights Autoflowering Feminized Cannabis Seeds
Order your cannabis seeds for chronic pain relief online today when you shop with Growers Choice Seeds. Shipping is always fast and discreet, with delivery right to your door in less than one week.
Get High Quality Weed Seeds Delivered to Your Door
Getting high quality weed seeds delivered fast has never been easier, thanks to Growers Choice Seeds. We carry the best selection of Mint Hill cannabis seeds available anywhere online, all fully feminized, so you never have to waste time on male plants. Our seeds are completely ungerminated, and every seed pack we sell is backed by our germination guarantee. Shop online today to get the seeds you need delivered to your door in as little as one week. Don't forget to sign up for our email newsletter for your chance to win free seeds!
Awesome Deals on Cannabis Seeds
I love that Growers Choice Seeds always has seasonal sales going on, so you can save a little extra money when you shop online. Their prices are great, and their selection is unbeatable. If you're looking for a good deal, check them out.
Most Popular Cannabis Seeds