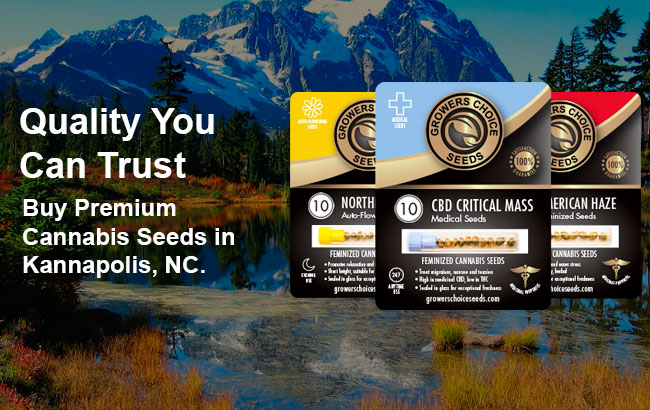 Buy Kannapolis Cannabis Seeds Online from Grower's Choice
Interested in buying premium Kannapolis cannabis seeds? Get them legally delivered to your home in North Carolina from Grower's Choice Seeds! We specialize in high-quality cannabis seeds and ship them fast! Why keep searching for a reliable source of seeds when you can get the best legal seeds available on the internet and have them arrive on your doorstep? Grower's Choice Seeds has tons of strains to choose from! Begin your delivery today.
Is Cannabis Legal in North Carolina?
You can now order legal cannabis seeds in the state of North Carolina from Grower's Choice Seeds! But is cannabis legal in North Carolina? Even though the use of marijuana and related products is still illegal in the state, purchasing and collecting ungerminated seeds for your personal collection is lawful. Just leave your seeds from Grower's Choice ungerminated and unplanted so you are following the law. Major changes have happened recently to existing laws against the plant. Many states have decriminalized, legalized medical access, even allow for full recreational use of cannabis, and are seeing massive benefits. Unfortunately, North Carolina still has some of the most strict laws on the books. Hopefully soon, the people of North Carolina will gain the right to have full access to plant medicine. Until then, feel free to buy ungerminated seeds from Grower's Choice Seeds.
Medical Benefits of MJ
The cannabis plant has been used for its medical benefits for millenia. It's proven track record for therapeutic use is a major reason why legalization efforts have been so successful around the country. Continued medical research into marijuana is yielding encouraging results and justifying plant medicine as a legitimate alternative to other pharmaceuticals. What can MJ help with? Here is a list of conditions that have shown to be helped with cannabis:
Seizures
Glaucoma
Arthritis
Chronic pain
And much more
Order High-CBD Weed Seeds
Do medical weed seeds sound right for you? Get high-CBD medical cannabis seeds delivered right to your front door from Grower's Choice Seeds. These powerful and potent seeds are loaded with cannabidiol, or CBD. This naturally occurring compound has proven anti-inflammatory effects on the body, which are great for pain relief. Interestingly, CBD is not psychoactive, meaning you will experience little to no euphoria or "high" feelings. This makes high-CBD seeds perfect for those only looking for the medical benefits that cannabis has to offer. Order great medical seeds from Grower's Choice Seeds today!
Easy Way to Get Cannabis Seeds in North Carolina
With just a few clicks, high-quality Kannapolis cannabis seeds can be on their way to your doorstep. Traditional feminized, high-CBD, and easy to grow auto-flowering seeds are all ready to be shipped to you fast and give you great results. Grower's Choice Seeds makes ordering marijuana seeds online easy. Order now!
Rated 5 out of 5 Grower's Choice Medical Seeds Gave Great Results!
I love my medical Critical Mass seeds. I was looking for a strain for evening time and these produce a great relaxing and pain relieving effect. Grower's Choice Seeds got me my order quickly, which is a big factor to consider when choosing from online companies. I highly recommend Grower's Choice Seeds for CBD seeds!
Most Popular Cannabis Seeds