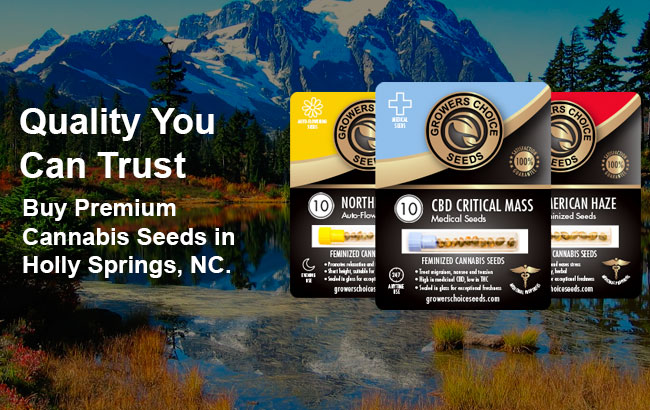 Order Holly Springs Cannabis Seeds Online for Delivery
Getting cannabis seeds delivered to your door has never been easier, thanks to Growers Choice Seeds. We are proud to bring you our extensive selection of high quality cannabis seeds, all fully feminized and completely ungerminated. Our Holly Springs cannabis seeds are supplied by our trusted community of cannabis cultivators from around the globe, many with over twenty years of experience in the cannabis industry. Browse our selection today to find the seeds that are right for you, and check out online using our secure server. We'll provide fast and discreet delivery of your seeds right to your door in as little as one week. Tracking is available on every order, so you'll know exactly when your seeds are arriving. Order now to get started.
Is it Legal to Grow Cannabis Plants in North Carolina?
Growing cannabis plants is not allowed in the state of North Carolina at this time for either recreational or medicinal purposes. Cannabis plants can only be cultivated for use as industrial hemp. Access to medical CBD is allowed for patients with qualifying conditions, but recreational and medical marijuana remains prohibited in North Carolina. Even though you can't grow your own cannabis plants, you can legally buy and own cannabis seeds, as long as the seeds are ungerminated. Cannabis seeds that are ungerminated are considered novelty gifts and are legal to buy in the United States. Growers Choice Seeds carries a huge selection of ungerminated cannabis seeds in our online inventory.
Top Weed Seeds to Relieve Anxiety
If you suffer from anxiety, you know what an effect it can have on your daily life. Anxiety is a serious condition that can have severe effects on your physical and mental health. Cannabis has been shown to be a safe and natural alternative to pharmaceutical anti anxiety medications. By naturally producing calming, relaxing effects in its user, cannabis can be effective at relieving anxiety. Our favorite cannabis strains for anxiety relief are
Get these anxiety reducing cannabis seeds delivered to your door fast when you order online from Growers Choice Seeds. All of our cannabis seeds are fully feminized, and each pack is backed by our germination guarantee.
Buy High Quality Weed Seeds Online for Delivery
Getting high quality weed seeds online from Growers Choice Seeds is the best way to get cannabis seeds delivered. We carry the best selection of cannabis seeds anywhere online. Select your seeds, then check out online using our secure server to get the best Holly Springs cannabis seeds delivered to your door fast. Don't forget to sign up for our email newsletter for a chance to win free seeds.
Super Fast Delivery of Cannabis Seeds
Growers Choice Seeds has the fastest delivery out of any place I've bought cannabis seeds. My seeds are always on my doorstep in less than a week, and the packaging is really professional and discreet. They're super efficient and I always get the seeds I need delivered quickly.
Most Popular Cannabis Seeds