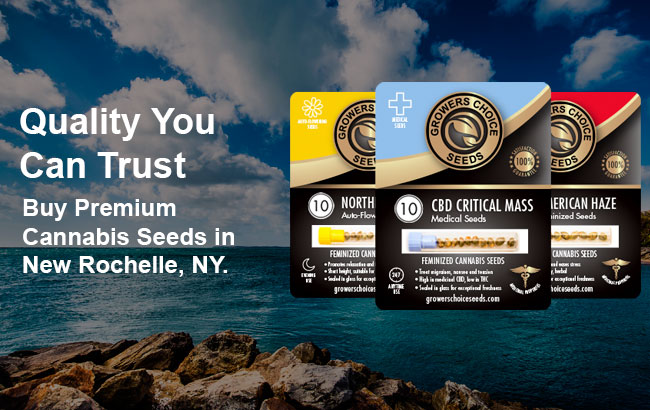 Get New Rochelle cannabis seeds
We carry a curated selection of popular cannabis seed strains, all cared for and cultivated by an expert team of horticulturalists. We seal your purchase in either a glass vial to ensure freshness, or discreet packaging which will avoid scrutiny from customs, before shipping your seeds to your address. Additionally, every purchase is backed by our 90% germination guarantee, which states that if your seeds don't sprout, we'll gladly replace them.
Can I get New Rochelle cannabis seeds sent to my house?
In New Rochelle, the use of CBD medical cannabis products has been allowed for patients who may be suffering from a number of qualifying conditions including Huntington's disease, multiple sclerosis and spinal cord damage.
When you buy New Rochelle cannabis seeds online from a reputed shop like Growers Choice Cannabis Seeds, you can rest assured that your precious purchase is going to make it from our facility in Canada to your doorstep.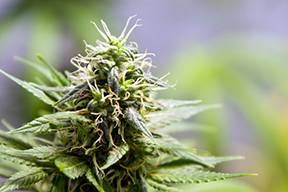 Should I buy CBD medical cannabis seeds?
Both CBD and THC cannabis can and do provide users a number of medical benefits, there's scientific and anecdotal information out there to support the fact. But not everyone likes the idea of getting high.
Cannabis seeds for sale in New Rochelle, New York
If you are the kind of person looking to take advantage of vast benefits associated with all-natural and safe cannabis without the uncomfortable side effects, you'll want to purchase medical cannabis strains like CBD Moby Dick. This particular strain has about 5% CBD and 5% THC, which is relatively innocuous. In fact, it seems that the presence of CBD heightens the effects of THC, while counteracting the well-known mental high.
Why doesn't CBD cannabis get you high?
Cannabis has a reputation for getting you high, and it does, very effectively! But that side effect is associated with only one of the known cannabinoids that occur naturally in cannabis plants – THC. CBD, on the other hand, is highly prized for it's medical benefits and lack of psychoactive effects. What makes these two cannabinoids so different? Cannabinoids like CBD and THC react with CB1 receptors that are part of the body's endocannabinoid system (ECS), and are concentrated in the brain and the central nervous system. THC mimics a neurotransmitter known as anandamide, or "the bliss molecule". Both activate CB1 receptors to provide those sought after feelings of euphoria. CBD, on the other hand, is considered an antagonist of CB1 agonists like THC, meaning this compound acts to suppress the CB1-activating properties of cannabinoids like THC, muting the psychoactive effect. Find world-class https://www.growerschoiceseeds.com/seed-category/cannabis-seeds/medical-seeds/ CBD-rich New Rochelle cannabis seed strains online with Growers Choice Cannabis Seeds.
Customers in New Rochelle tell their friends about Growers Choice
I've ordered from these guys a couple times and every time has been a dream. Usual delivery time has been 5 days, and I haven't had any problems with customs, but I always opt for discreet shipping. It's not extra cost, but I know someone who's had customs confiscate it and the staff went above and beyond to help them out. That's customer service to me! I'll keep doing business with them, and I recommend them to anyone!
Most Popular Cannabis Seeds