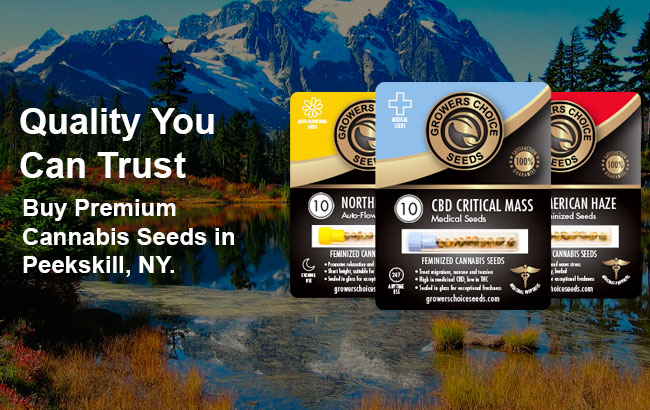 Where to Find Peekskill Cannabis Seeds For Sale Online
Do you want to find high quality cannabis seeds for sale online? Choose Growers Choice Seeds, your source for the very best Peekskill cannabis seeds on the market today. Our premium cannabis seeds are sourced from our community of expert growers from around the globe, and every strain we sell has been lab tested for genetic quality. Browse our selection of popular indica, sativa, and hybrid strains to find the seeds that fit your needs, and order online using our secure server and your payment method of choice. Delivery is always fast and discreet, with tracking provided for every order, so you'll know exactly when your seeds will arrive.
Is Growing Cannabis Plants Legal in the State of New York?
As of 2020, the cultivation of cannabis plants for personal use is not permitted in the state of New York. Recreational cannabis is still widely prohibited, and although medical marijuana has been legal in the state since 2014, the legislation does not allow for medical marijuana card holders to grow their own cannabis plants at home. Residents of the state who suffer from a qualifying condition, such as MS, PTSD, Alzheimer's disease, and others, must purchase their medical marijuana from state licensed dispensaries. Even though you can't grow your own cannabis plants, you can still buy cannabis seeds online, as long as the seeds are ungerminated. Ungerminated cannabis seeds are commonly considered to be collector's items and are legal for adults to buy and own in the US. Growers Choice Seeds exclusively carries ungerminated cannabis seeds in our online catalog. Shop now to get started.
Find the Right Sativa Dominant Cannabis Seeds for You
If you're seeking an uplifting, energizing experience from your cannabis, then we recommend our sativa dominant strains of cannabis seeds. These strains are known to provide enhanced focus and creative energy to their users, and are often used to relieve depression and anxiety. Some of our best selling sativa dominant cannabis seeds in stock now are
Order your sativa dominant cannabis seeds online today from Growers Choice Seeds. Delivery is always fast and discreet, with tracking provided on every order, so you'll know exactly when your seeds will arrive.
Get High Quality Weed Seeds Delivered Fast Now
Getting high quality weed seeds delivered to your door is easy when you shop online with Growers Choice Seeds. We've stocked our digital shelves with the very best Peekskill cannabis seeds available online today, all fully feminized and completely ungerminated for your convenience. Order online today for fast and discreet delivery right to your doorstep, and sign up for our newsletter to win free seeds!
Super Fast Delivery of Cannabis Seeds
Growers Choice Seeds is so quick and efficient with their deliveries. They always ship the seeds out immediately, and I never have to wait more than a week for them to arrive. Their packaging is always really clean and professional, too.
Most Popular Cannabis Seeds