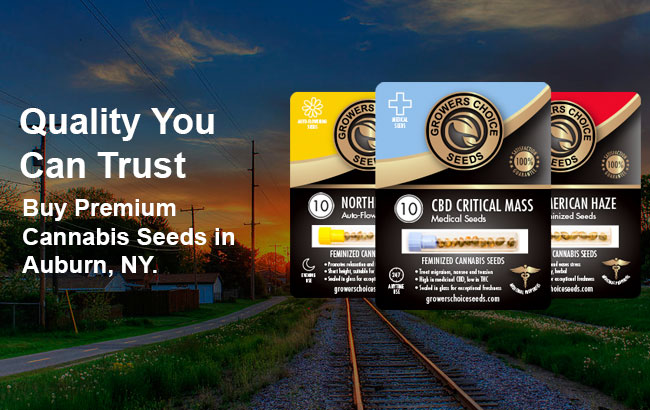 Buy Auburn Cannabis Seeds for Fast Delivery
To get Auburn cannabis seeds delivered to your door quickly, order online from Growers Choice Seeds today. Our high quality cannabis seeds are supplied by experienced growers from around the world, and every strain we sell is lab tested for genetic quality. To get started, simply select the seeds that are right for you, order online using our secure server, and we'll ship your seeds directly to your door in as little as one week. Tracking is available on every order, so you'll know exactly when your seeds are arriving. Browse our selection of fully feminized and ungerminated cannabis seeds today to get started.
Is it Legal to Grow Cannabis Plants in New York State?
At this time, growing cannabis plants is not allowed in the state of New York. Although the state does have medical marijuana legislation in place, the law does not allow for individuals to grow their own cannabis plants. Medical marijuana patients must purchase their cannabis from a licensed dispensary, located throughout the state. Recreational marijuana has not yet been legalized in New York, although the cultivation of industrial hemp is permitted for agricultural and industrial purposes. Even though you can't grow cannabis plants for personal use, you can still buy cannabis seeds, as long as they are ungerminated. Cannabis seeds that are not germinated are considered collector's items, and are legal to buy and own by adults in the US. Growers Choice Seeds carries only ungerminated marijuana seeds in our online inventory.
Get Uplifting Sativa Cannabis Seeds Delivered Today
Looking for a cannabis strain to help relieve depression or anxiety, or to boost creativity? Sativa strains are valued for their uplifting effects, and are often enjoyed by writers and artists, as well as those looking for relief from depression or anxiety. Growers Choice Seeds carries dozens of high quality sativa strains in our online inventory, including best sellers like
Find the high quality sativa cannabis seeds that fit your needs when you browse our online inventory today. Order online using our secure server for fast and discreet delivery right to your door in as little as one week.
Find High Quality Weed Seeds For Sale Online
Get high quality weed seeds delivered fast when you order online from Growers Choice Seeds today. We've got all of your favorite strains in stock now, all competitively priced and fully feminized. All of our Auburn cannabis seeds are completely ungerminated, so they're legal to buy and own in the United States. Shop our selection today to get started. Follow us on social media for the latest cannabis news, trends, and growing advice from our cannabis community, and sign up for our email newsletter for your chance to win free cannabis seeds!
Super Fast Shipping of Cannabis Seeds
I am always super impressed with how fast the shipping is from Growers Choice Seeds. They usually ship the seeds out the day after I order them, and they're on my doorstep about a week later. It's super reliable and the seeds are always in great shape when they arrive.
Most Popular Cannabis Seeds