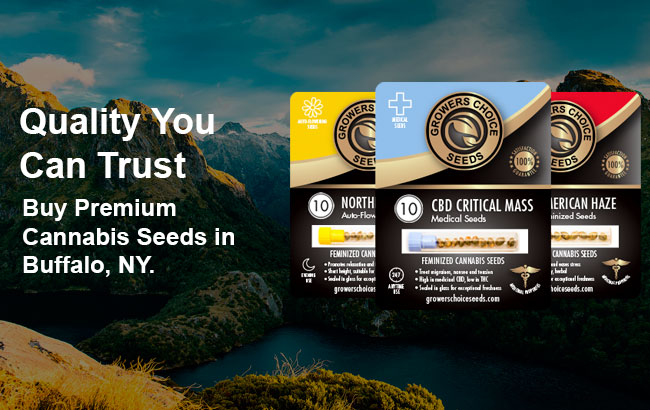 Are you interested in Buffalo cannabis seeds? We take you through the cannabis seed and plant growing process from beginning to end. From the first sprouts poking up through the cannabis seeds to the trimming and preparing of the harvest for medicinal use, these articles offer an education in the life cycle of the cannabis seed and plant.
What are Cannabis Seeds?
New York State is more than just New York City. Buffalo may not be as big a city as it once was, but thanks to the Buffalo Bills and Buffalo Sabres, plenty of people are still well aware of the city. In the shadow of Lake Erie, and with Niagara Falls not all that far away, another element of nature is our topic of choice here. That would be the cannabis plant. A wide variety of people from a wide range of places enjoy using cannabis, but what about a cannabis garden of your own? There are ways to get cannabis seeds to grow your own plants, with a top-shelf harvest possible. Yes, an at-home cannabis crop is entirely possible. If you are curious, we are also effectively talking about the marijuana plant, as marijuana seeds, also called weed seeds or pot seeds, are all cannabis. The scientific name of the plant is cannabis, with a wide range of nomenclature being used. It's all the same plant, though.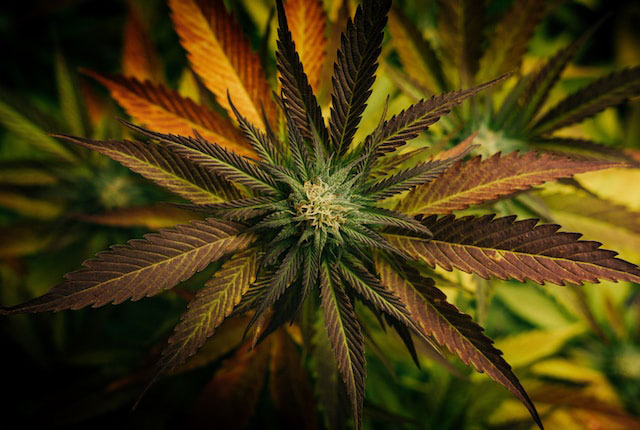 Where to Grow Your Cannabis Garden
No, we aren't talking about you moving from Buffalo. You've got to stay close to the Buffalo Sabres, in case they ever win a Cup. At-home cannabis cultivation is down from the East Coast to the West Coast of the United States, but some people are indoor growers, while others are outdoor growers. Outdoor growers save even more money and often get a more fruitful harvest. On the other hand, you have to consider the weather before you decide where to put your cannabis garden. With Buffalo, and we mean this in the nicest way possible, bad weather is almost always possible. Inclement weather is synonymous with Buffalo, New York, especially snow. Winter, and the inclement weather associated with that season, start early and end late. That inclement weather makes a fruitful harvest with your cannabis crop outdoors tougher. Now, winter isn't the cannabis season, to be fair. It's not like winter is 365 days a year in Buffalo. That being said, plant your weed seeds outdoors in the city, even if you plant them early enough into spring to have your plants harvested before bad weather and cold temperatures hit. Now, if you choose a hardier variety of cannabis strains, particularly an indica seed strain, you might manage. Still, indoor growers won't have to worry about bad weather nearly as much, if at all.
Types of Cannabis Seeds to Know
There is a wide variety of weed seeds out there, but we aren't talking about finding your favorite seed strain, at least not yet. If you are a beginner grower, you may not know this, but if you want a cannabis crop that will leave you happy, a beautiful crop with a top-shelf harvest, you will want feminized seeds. That's because you always want female plants for cannabis cultivation. Only female plants in the world of cannabis have buds, and buds are where you find almost all the THC. You will find no harvest from a male plant. Not only that but when it comes to cannabis cultivation, male plants will mess with your harvest, as they will naturally begin the process of pollinating the female plants if the two types of plants commingle. When you buy cannabis seeds, always buy fully-feminized cannabis seeds.
Medical Marijuana Programs
There is a history of marijuana being used for medical purposes, a rich history that goes beyond the legality of marijuana anywhere in the United States. Now, medical marijuana programs exist from the East Coast to the West Coast, from Washington down to Florida. Medical weed can help with chronic pain, insomnia, stress, anxiety, and much more. If medical weed might be able to help you, then getting marijuana seeds could help you. Cannabis cultivation at home for personal, medical use offers an affordable price compared to other options, including the legal cannabis market on the retail dispensaries side of things. Be your own medical marijuana program, in a way.
Marijuana Laws in Buffalo
Cannabis laws vary from state to state. Marijuana products used to be illegal everywhere, with law enforcement looking to crack down on marijuana products. Cannabis cultivation, while it happened, was done illegally. A "black market" was the only way to get cannabis products, much less cannabis seeds. The history of marijuana, though, involves a lot of changes. In time, amazing news came down related to cannabis laws in New York, including Buffalo, of course.
Cannabis laws first changed in 2014, when medical marijuana as legalized. Then, in 2021 these cannabis laws changed once more, with adult-use cannabis being legalized in 2021. Recreational marijuana was legalized, with law enforcement no longer looking to crack down on adult-use cannabis. Ah, but did these cannabis laws include allowing you to grow your own plants? Can you buy cannabis seeds and get to cannabis cultivation?
In New York, adults are allowed to possess up to three ounces of cannabis. What about the legality of cannabis seeds and at-home cannabis cultivation? That's in the mix as well! A single individual is allowed to have up to three mature plants and up to three immature plants growing at one time. So, that's six plants per person, if you are the only adult resident in your household. However, if there are multiple adults in your home, you are allowed 12 plants per household. So, to recap, you can possess up to three ounces of cannabis. You are allowed up to six plants per person, three mature plants and three immature plants. A household with multiple adults can have up to 12 plants per household. Feel free to get to buying marijuana seeds and growing your own plants at home in Buffalo!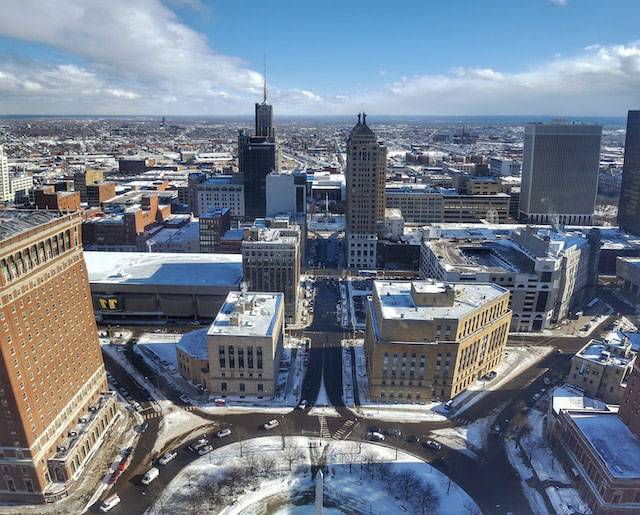 Online Seed Banks for Marijuana Seeds in Buffalo
If you want quality weed seeds, what is the best way to go about it? A variety of seeds are out there, and there are a variety of ways to get your marijuana seeds. The best way, though, is to get seeds from seed banks. Specifically, online cannabis seed banks. Trustworthy seed banks, though, will help you get the best-quality marijuana seeds. What should you look for in an online cannabis seed bank? If you are going with online seed banks for your marijuana seeds, which is a wise move, here is how to find trustworthy seed banks.
A variety of cannabis seeds can be found at almost every online seed bank. The online seed catalog of nearly all seed banks is impressive, to be sure. These online seed catalogs may be full of award-winning seed strains. Online seed banks, though, need to put in the effort to make sure your favorite seed strains are treated right. Make sure effort is going into the quality of cannabis products these online seed banks offer. Not every marijuana seed is the same.
Trustworthy seed banks also care about customer service. The online option of getting seeds from seed banks is great, but only if these online seed banks give you marijuana seeds of quality, but also customer service that is quality. An online seed bank should offer a germination guarantee on every marijuana seed order, though they may ask you to follow their germination guidelines. An online seed bank will take its customer service to the next level with fast, reliable, and discreet shipping. Hopefully, the customer service for any online option will go beyond that as well.
There are several online seed banks to know for getting seeds for your favorite seed strains or award-winning seeds for some variety of cannabis seeds that are new to you. If you want to get marijuana seeds from an online seed bank, you could go with Growers Choice Seeds. Another couple notable online options for your favorite seed strains include Pacific Seed Bank, Banner Seeds, and more choices when it comes to online seed banks. For the sake of convenience, you can't be an online seed bank. You just have to be sure you find the right one for you. That may be Growers Choice, Pacific Seed Bank, Banner Seeds, or one we didn't name. That's up to you.
Final Thoughts on Cannabis Seeds for Buffalo
The list of cannabis seed strains out there may feel daunting, but you can always stick to your favorite seed strains. Here's what to know when you spend your money on cannabis seeds, to make sure you have the best experience possible. The marijuana seeds you buy should be feminized. The variety of cannabis seeds out there can give you award-winning seeds for indicas, sativas, and hybrids. Also, there is a variety of cannabis seeds quite good for medical use. We will also mention that auto-flower seeds are a good option for beginners. Indoor growers will probably have better luck in Buffalo, but you don't have to be an indoor grower. The list of issues for outdoor growers is higher, but if you don't want to be an indoor grower, give it a shot.
One person is allowed up to three mature plants and three immature plants, but the plants per household number is different with more than adults. Then, you are allowed up to 12 plants per residence. Finding the best online seed bank for you will give you the best chance for a stress-free time as at-home growers. This is the best option for residents of Buffalo, but be sure to find the right option for you, be it Growers Choice, Pacific Seed Bank, Banner Seeds, or others. Amazing customer service should be available to you. Don't be a stranger to cannabis growing. Whether you use marijuana on a daily basis, a weekly basis, or once in a while, it can be the right way to go for you.
Maybe the Buffalo Bills and Buffalo Sabres haven't won big yet, but you can be a winner as an at-home cannabis grower. Best of luck.
Happy customers in Buffalo
I had such a great transaction with Growers Choice. There was a slight mix up, but they got it all sorted out, I'm happy. I'm only going to shop for my seeds here from now on, I'm that satisfied.
 Our Most Popular Cannabis Strains