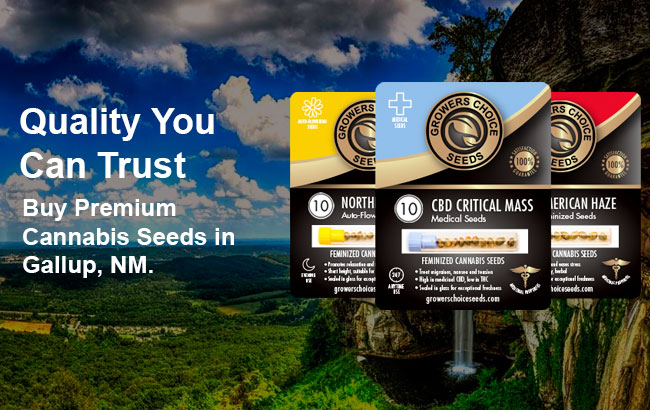 Order Premium Gallup Cannabis Seeds Online
Want to get premium Gallup cannabis seeds delivered to your front door, hassle-free? Grower's Choice Seeds is here to help! We can legally deliver high-quality seeds straight to your door. Concerned about online seed quality? Grower's Choice only carries genetically-verified and fully-feminized seeds that have excellent germination rates. We pack our seeds in vacuum-sealed and medical-grade vials to ensure germination viability for multiple years! Browse our online inventory and find your new favorite seeds from Grower's Choice. We get great cannabis seeds in your hands, fast!
New Mexico Cannabis Laws
Did you know that you can legally order marijuana seeds from Grower's Choice Seeds? Even in states like New Mexico, where it is currently prohibited to grow plants at home, you can lawfully purchase and collect ungerminated cannabis seeds from Grower's Choice Seeds. If you leave your seeds unplanted then you are following the law. There have been major changes to the laws regarding adult use of marijuana in the state of New Mexico recently, and many are predicting full legalization is just around the corner. Until then, feel free to stock up on your favorite strains of ungerminated cannabis seeds from Grower's Choice. You will be ready to hit the ground running with premium seeds!
Health Benefits of Cannabis
With plant medicine becoming more readily available as states update their existing laws, thousands of people are finally able to experience the powerful healing properties of marijuana. Here are some conditions that plant medicine can help with:
Chronic Pain
Insomnia
PTSD
Nausea
And many more!
Curious if medical seeds are right for you? Explore more cannabis health benefits and order your healing medical seeds from Grower's Choice Seeds.
Order Auto-Flowering Weed Seeds Online
If this is your very first time growing marijuana from seeds, there can be an overwhelming amount of information to digest. One great way to get started is to choose auto-flowering cannabis seeds from Grower's Choice Seeds. With traditional weed seeds, altering the amount of light given at the correct time is very important for the plant to properly switch from the vegetative stage of growth to the flowering stage. With easy to grow auto-flowering seeds, they make the switch all on their own! After germination, just plant your seeds into their planting medium, and watch your plants grow great buds, often faster than traditional seeds. Grower's Choice Seeds can deliver you premium auto-flowering seeds, straight to your doorstep!
Legal Way to Buy Cannabis Seeds
High-quality Gallup cannabis seeds are just a few clicks away with Grower's Choice Seeds. Legally order traditional, auto-flowering, or high-CBD seeds and Grower's Choice will deliver straight to your doorstep. Start your cannabis seed delivery today!
Best Customer Service in the Business
I have had some mixed experiences with online seed companies (you probably have too), and Grower's Choice is the best by far. Very quick and straightforward communication, which I really appreciate. You don't have to wait days and days for a response back! I trust Grower's Choice Seeds with my business. I can highly recommend them!
Most Popular Cannabis Seeds