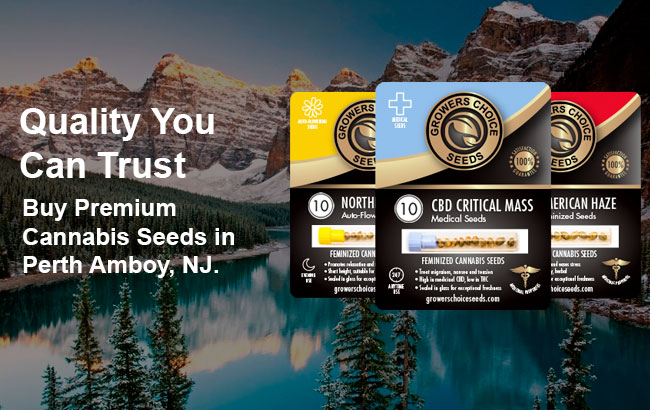 Buy cannabis seeds in Perth Amboy
At Growers Choice, you can choose from over 50 of the most popular cannabis seed strains available in the world! Our team of medical and horticultural experts have put together a selection of high-quality Perth Amboy cannabis seeds that can be ordered online and delivered directly to your door. We offer flat-rate shipping on all orders to the United States, so whether you order 3 seeds or 300, you get the same low price on delivery. Additionally, all U.S. orders come with free shipment tracking for your peace of mind. When you order from Growers Choice, you can choose from a number of safe and secure payment options, including Visa, MasterCard, and Bitcoin.
Is it legal to buy Perth Amboy cannabis seeds?
Yes, it is legal to buy cannabis seeds in Perth Amboy and all across the United States. Cannabis seeds are considered adult novelty items and are therefore classified as collector's items. However, residents of New Jersey can also legally partake of medical marijuana thanks to their medical marijuana program, which allows residents to use and possess cannabis without state-level criminal penalties. Lawmakers are also trying to follow in the footsteps of other states that have legalized recreational marijuana, having recently introduced a bill.
Cannabis seeds for sale in Perth Amboy
If you're looking for Perth Amboy cannabis seeds, then look no further than Growers Choice. All of our seeds are hand-picked, inspected and tested by our expert team before being packaged in air-tight, medical-grade glass vials to seal in freshness. These vials also double as storage, so you can hold onto your cannabis seeds for as long as you need.
Perth Amboy customers get the most from Growers Choice
My friend told me to check out Growers Choice and I'm so glad I did. Not only was the website very informative, but the customer service reps were also so helpful in pointing me in the right direction with my seeds selection. My order also arrived right when it was expected.
Most Popular Cannabis Seeds