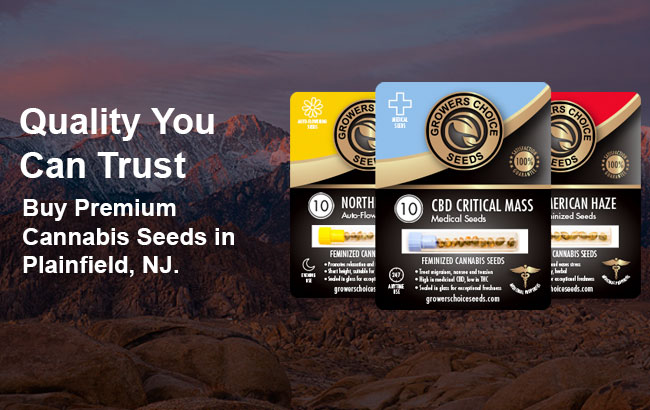 Buy High-Quality Plainfield Cannabis Seeds Online
Ordering premium Plainfield cannabis seeds has never been easier with Grower's Choice Seeds! We are an online seed delivery company that will ship legal cannabis seeds directly to your home. With just a few clicks through our online store, high-quality marijuana seeds will be safely and discreetly delivered to your doorstep! Start your online delivery with Grower's Choice today!
New Jersey Cannabis Laws
Did you know that it is legal to buy and collect ungerminated cannabis seeds in New Jersey from Grower's Choice Seeds? Even though the state has not yet fully legalized home cultivation of marijuana, purchasing ungerminated seeds for your collection is lawful, as long as you leave your seeds ungerminated. Major changes towards existing marijuana policy have swept the nation, including the state of New Jersey. Currently, medical marijuana is allowed for patients with certain conditions. There are rumblings about further legalization for recreational use in the state, which would be a great step forward towards national legalization of cannabis. Until that happens, you can freely order and collect your favorite ungerminated strains from Grower's Choice Seeds. We will deliver you premium seeds safely and legally to your home!
Medical Cannabis Online
The medical use of cannabis is going through a revolution of new treatments and new products. People's lives are being greatly affected with new therapies that can provide serious relief for a number of serious diseases and conditions. Grower's Choice Seeds is proud to carry high-CBD medical cannabis seeds which is a great option for those looking for the medical benefits of marijuana. These medical seeds produce flowers loaded with CBD, a natural chemical compound known for its healing properties. Interestingly, CBD is not psychoactive, meaning it does not give patients a euphoric "high" feeling. If you are in need of high-quality medical seeds, go with Grower's Choice Seeds for speedy home delivery!
How to Store Weed Seeds
For those who won't be germinating their Grower's Choice marijuana seeds immediately upon receiving them, long term storage becomes an important task. There are ways to properly store your weed seeds! Check out Grower's Choices detailed guide on preserving cannabis seeds. When properly stored, Grower's Choice marijuana seeds will maintain their excellent germination rates for up to 3 years! No need to worry about germinating right away. Here are a few quick tips to remember when storing seeds:
Low temperature
Low light
Low humidity
Follow these tips and get great results from Grower's Choice Seeds!
Order MJ Seeds from Grower's Choice
Grower's Choice Seeds will deliver high-quality Plainfield cannabis seeds directly to your house in New Jersey. Traditional feminized, high-CBD, and auto-flowering cannabis seeds are all legally available to you, so why wait? Order now with Grower's Choice!
Testimonial Code
Grower's Choice has Speedy Shipping and Great Prices
I was looking for an affordable option for seeds that did not sacrifice on quality and Grower's Choice Seeds did not disappoint. They have really fast shipping which makes a big difference for me when ordering seeds online. Grower's Choice is highly recommended!
Most Popular Cannabis Seeds