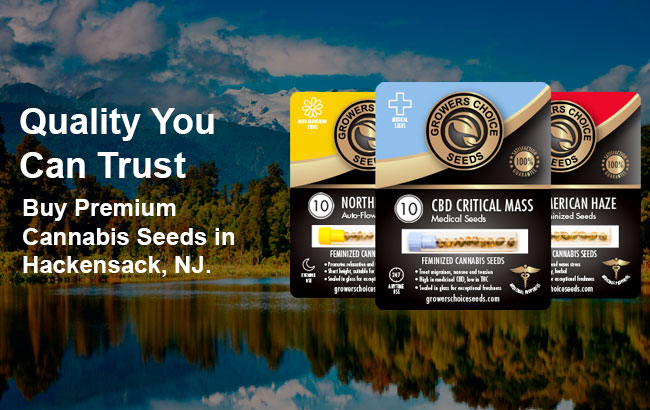 Online Source for Hackensack Cannabis Seeds
Grower's Choice Seeds is your online source for high-quality Hackensack cannabis seeds. See our wide selection of strains on our easy to use online store. With a few clicks, premium marijuana seeds will be safely and discreetly shipped to your home in New Jersey. Whether you need traditional feminized, high-CBD, or auto-flowering seeds, Grower's Choice will deliver them to you fast!
Legal Cannabis in New Jersey
Did you know that you can now buy legal cannabis seeds in New Jersey from Grower's Choice Seeds? Even though the use of marijuana and related products in the state is prohibited, buying and collecting ungerminated seeds is 100% legal. Just leave your seeds ungerminated and unplanted and you are following the law. The laws against cannabis are going through many changes around the country. Hopefully soon, the home cultivation laws in the state of New Jersey will change to allow people to grow plants in their own backyard. Until then, feel free to stock up on your favorite ungerminated strains from Grower's Choice Seeds. When laws do eventually change, you will be ready to hit the ground running! Start your online delivery from Grower's Choice today!
Buy Hackensack Medical Marijuana
Have you been hearing about medical marijuana in New Jersey? Lawmakers legalized cannabis for approved medical patients in the state, due to the life-changing therapeutic effects of plant medicine. This is an important step for further legalization for adults, and will help thousands of people in need. From bodily aches to mental health issues, cannabis can provide serious relief.
Are medical seeds right for you? Go with premium high-CBD cannabis seeds from Grower's Choice Seeds. We will deliver you the best medical seeds available on the internet, straight to your door. Fast delivery from Grower's Choice!
Order Auto-Flowering Weed Seeds
Is this your first time growing cannabis seeds? Check out auto-flowering seeds from Grower's Choice Seeds. They are an excellent choice for first timers. Traditional cannabis seeds require light alterations for the plant to switch from the vegetative growth stage to the flowering stage. Auto-flowering seeds make that switch all on their own! Just plant your weed seeds after germination into their planting medium. That's it! Sit back and watch your auto-flowering plants grow high-quality buds for you to harvest. Grower's Choice Seeds is your source for auto-flowering seeds online. Start your delivery today!
Grower's Choice Delivers Seeds Fast
If you are looking to get your hands on legal Hackensack cannabis seeds, Grower's Choice Seeds is your supplier! Order today and premium seeds will be on their way to your doorstep. Speedy shipments from Grower's Choice Seeds!
Convenient Delivery from Grower's Choice
I order everything else online, so why not my seeds! Grower's Choice ships fast compared to other companies and I believe their standards are better. I am having great results from my Diesel seeds. I highly recommend Grower's Choice Seeds.
Most Popular Cannabis Seeds