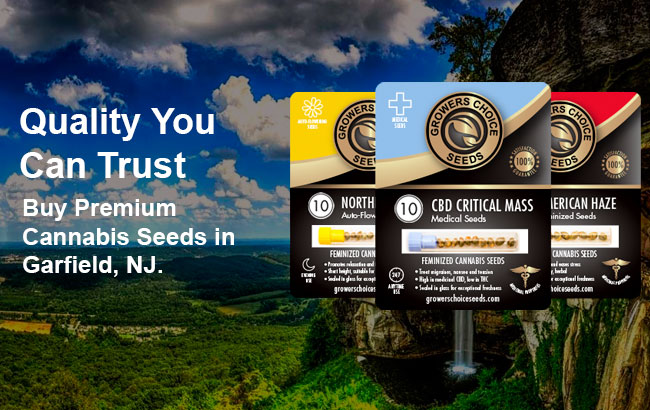 Is it Legal to Grow Cannabis Plants in the State of New Jersey?
As of 2020, cannabis cultivation remains prohibited in the state of New Jersey. Although medical marijuana legislation was passed in 2010, it does not provide for individual residents and medical marijuana card holders to grow their own cannabis plants for medical purposes. Instead, medical marijuana patients must purchase their cannabis from a state licensed dispensary. Even though you can't grow cannabis plants for personal use at this time, you may still buy cannabis seeds online, as long as the seeds are ungerminated. Ungerminated cannabis seeds are considered novelty gifts or collector's items, and are legal to buy and own in the United States for adult residents over the age of 21. Growers Choice Seeds only carries ungerminated cannabis seeds in our online inventory. Shop our selection today to find the cannabis seeds that fit your needs.
How to Order Garfield Cannabis Seeds Online Today
If you're looking for the best place to buy cannabis seeds in New Jersey, then look no further than Growers Choice Seeds. As the premier cannabis seed bank in North America, we are proud to bring you the very best Garfield cannabis seeds available on the market today. All of our high quality cannabis seeds are fully feminized and completely ungerminated, so you can buy them legally in the United States. We've sourced our huge selection of cannabis seeds from expert growers from around the world, many of them with over 20 years of experience in the cannabis industry. To order your cannabis seeds online, simply find your favorite seeds in our online inventory, and check out using our secure server and your payment method of choice. We accept all major credit cards, as well as bitcoin. Delivery is fast and discreet, with tracking provided for every order so you can follow your seeds from our doors to yours. Shop online now to get started!
Best Autoflowering Cannabis Seeds For Sale Online
For first time growers, we recommend our easy to grow autoflowering cannabis seeds. Autoflowering seeds don't require a complex light change to mature and flower, instead doing so automatically. These seeds take the guess work out of growing cannabis plants. Our favorite autoflowering cannabis seeds are
Get your autoflowering cannabis seeds delivered fast when you order online today. We offer fast and discreet shipping with tracking available on every order.
Order High Quality Weed Seeds for Fast Delivery
It's easy to order high quality weed seeds online when you choose Growers Choice Seeds. With hundreds of your favorite strains in stock now, it's easy to see why we're the number one place to buy Garfield Cannabis Seeds Online. Check out our selection of cannabis seeds today to find the seeds that are right for you, and sign up for our email newsletter for your chance to win free seeds.
Super Fast Delivery of Cannabis Seeds
I'm super impressed with the speed of my delivery from Growers Choice Seeds. They shipped my seeds the day after I ordered them, and they were on my doorstep less than a week later. The packaging was nice and discreet too.
 Our Most Popular Cannabis Strains