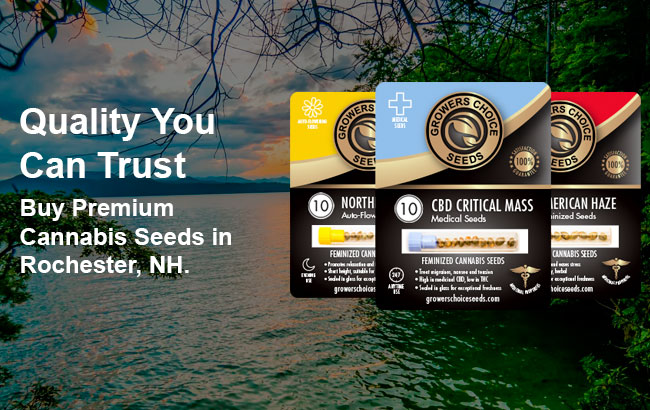 Is it legal to buy weed seeds in Rochester?
New Hampshire is one of the handful of states who have legalized the use of medical cannabis for patients living within the borders, but they have not grated these patients the right to grow their own cannabis. With state-sanctioned dispensaries few and far between here, it only makes sense that those registered with the medical marijuana program be allowed to cultivate their own cannabis, so they can always have a ready supply of medication on hand.
While you cannot plant a ganja garden in Rochester without fear of someone finding out and snitching, you can order cannabis seeds and have them delivered to your home without worry. Weed seeds are considered adult novelty items when they haven't been germinated.
Buy cannabis seeds in Rochester
It may be difficult to get your hands on local Rochester cannabis seeds but that doesn't mean you'll have to go empty handed – you can find the best quality weed seeds on the market when you shop online with Growers Choice Cannabis Seeds. Better than you local cannabis seed distributor, you'll find popular strains from around the world in one place, and the convenience of having your order delivered straight to your door.
Cannabis seeds Rochester
One of the many reasons patients today are turning to the all-natural healing qualities of cannabis has to do with chronic pain. From headaches and migraines to muscle and joint pain, fibromyalgia and conditions like multiple sclerosis or lupus that can completely disrupt an individual's way of life, cannabis has proven an effective and safe method of finding much needed relief. The best Rochester cannabis seeds for pain relief can be found for sale online for delivery from Growers Choice Cannabis Seeds.
What are customers in Rochester, NH saying about Growers Choice?
Great shopping experience. Easy site to navigate, prices are reasonable, and it doesn't take forever for seeds to show up. I'm happy I found Growers Choice, I recommend these guys.
Most Popular Cannabis Seeds