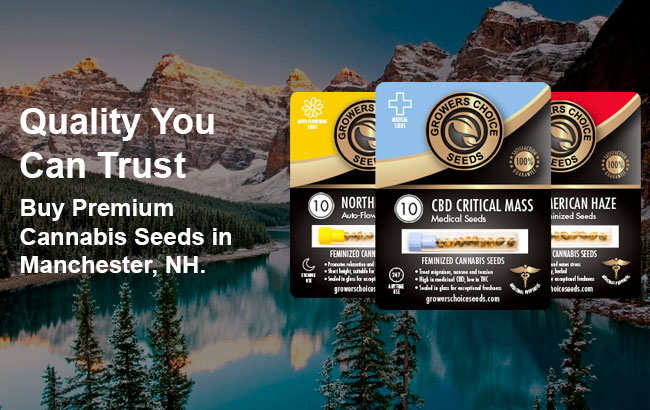 Where to buy cannabis seeds in Manchester?
Manchester, New Hampshire may have acquired the affection nickname "ManchVegas" way back in the 80s, but the city is far from a gambler's paradise, although locals continue to refer to the moniker fondly. So what to do in Manchester? Culture abounds at the historic Palace Theatre, the Currier Museum of Art, and the Franco-American Center. The Amoskeag Fishways Learning Center offers and educational experience, and a dozen or so local parks – Crystal Lake, Rock Rimmon, and Derryfield to name a few – to while away the day.
Order the finest in medical Manchester cannabis seeds from the North America-based company, Growers Choice!
Is medical cannabis legal in Manchester?
The state of New Hampshire has medical cannabis laws enacted, which means that those people with qualifying conditions are able to use cannabis for therapy. In Manchester, as throughout New Hampshire, you are allowed up to two ounces of cannabis without fear of repercussion. If you are registered with the state, you can use your healing plant products to treat many different symptoms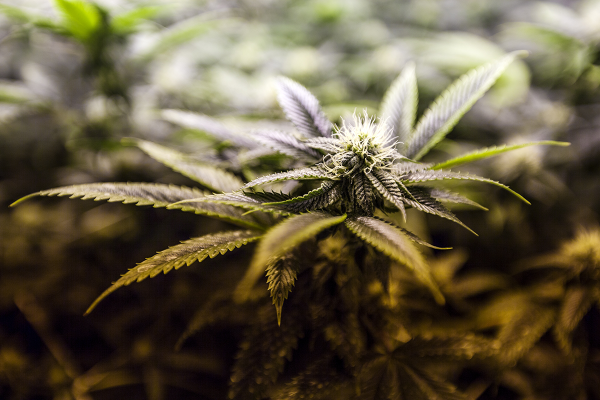 More Medical Marijuana Dispensaries in New Hampshire
In late May, 2018, New Hampshire lawmakers expanded the number of dispensaries allowed in the state by two. Facilities now exist in four cities: Dover, Lebanon, Merrimack and Plymouth. One sponsoring senator feels this is not enough of an expansion, and we're inclined to agree. In addition to expanding the number of locations where registered patients can get their medicine, the state has also recently expanded its list of conditions to include chronic pain and PTSD. As of early 2018, almost 5,000 medical cannabis patients are registered in New Hampshire, and bills brought about to legalize cultivation and recreational use have not made the cut. Another bill to delete arrests for those convicted of carrying small amounts of cannabis has also been kiboshed.
Grow Your Own Medicine at Home
Have you been thinking about the best time to grow your own cannabis medicine? How does "right now" sound? It might not be a piece of cannabis-infused cake, but cultivating and successfully harvesting your own cannabis plants isn't as hard as you might think! With high-quality cannabis seeds like those sold at Growers Choice, and a mighty arsenal of marijuana know-how like you'll find in our Cannabis Grow Advice, you'll find yourself well-equipped to grow your very own all-natural, therapeutic treatments for a wide range of conditions – right at home! And with so many high-quality cannabis seeds for sale, we've got you covered from start to finish.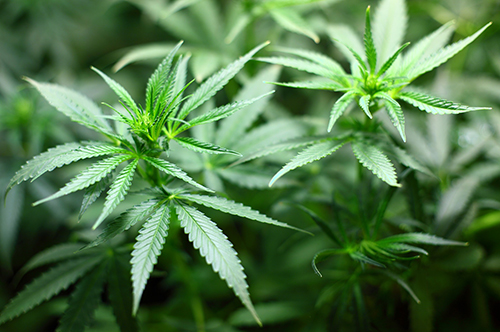 Can I get weed seeds in Manchester?
The easiest way to get weed seeds in New Hampshire is to visit our website Growers Choice Cannabis Seeds. Our catalog features a variety of cannabis seeds that are hand-picked, inspected and tested to ensure your garden – once home cultivation is approved – is full of healthy plants that produce resin-rich buds for your personal medical use. Even recreational users can take advantage of our home shipping, as Manchester cannabis seeds fall under the category of adult novelty items, and are legal to purchase.
Nothing but happy customers in Manchester
I've ordered pot seeds from Bonza six times now and every otder has arrived in good time, packaged discreetly. I order often, and I'm really happy with the quality of the beans, great germination rates and only one didn't make it to flower but that was my fault. Overall, 10/10 for Growers Choice.
Most Popular Cannabis Seeds