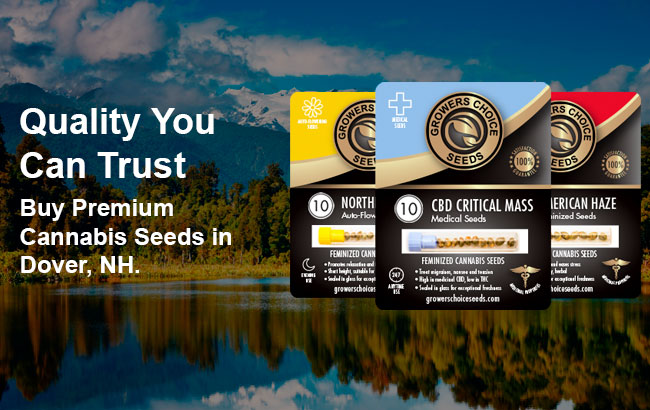 Can I legally buy weed seeds in Dover?
New Hampshire paved the way for the current round of legalization debates back in 2013 when they made the first step towards acceptance by allowing medical cannabis for patients who could prove they had one the conditions that qualified under the state's medical marijuana program. Patients can get their hands-on cannabis products like dried and cured bud, edibles, or infused tinctures and topicals.
Patients and cannabis lovers wait with baited breath to learn if this next round of discussion will lead to the right to grow cannabis on private property for personal use. While it's not legal to grow yet, you can buy cannabis seeds online and have them shipped to your home – weed seeds aren't illegal, they're considered collector's items when they aren't germinated.
Buy cannabis seeds in Dover
Ordering Dover cannabis seeds online has never been easier than now, when you can peruse a selection of top quality indicas, sativas, and hybrids from around the world, all in one place, available from Growers Choice Cannabis Seeds, and have them delivered to your front door.
Are there benefits to legalizing cannabis?
Here's a topic that's received much discussion over the last several years – should state-level governments legalize cannabis, for both medical and recreational consumption? With state's like California, Colorado, and Washington leading the way, we've seen how successful a move it can be, lucrative for both lawmakers (benefiting from the tax money) and patients (benefiting from easier access to medication that can help reduce pain and improve quality of life).
Cannabis has many clinical applications and can work wonders for patients who haven't been able to find relief with conventional medical treatment. That doesn't mean it's recommended for everyone. In people 25 and younger, THC can cause developmental delays. Luckily, cannabis plants feature two potent cannabinoids that provide therapeutic support, and CBD doesn't affect the body in the same way as THC, it's not hallucinogenic and it's commonly prescribed for patients both young and old.
What Is a Cannabis Seed Bank?
If you Google "buy marijuana seeds online," you've probably come across multiple results for online seed banks. Online seed banks are exactly what they sound like. We sell marijuana seeds online, so you don't have to go to a dispensary or an in-person seed bank. Our growers are based in California, but we can ship their seeds all over the United States. If you're the type of person who simply can't justify spending hundreds of dollars on marijuana seeds each month, then you're in luck with Growers Choice. You can buy marijuana seeds in Dover for a fair price from us! It's common for Growers Choice to have marijuana seeds listed on sale. We slash our prices in half every so often, so everyone can enjoy the perks of marijuana! What's the point in growing weed if no one can buy it or enjoy it, right?
We're getting wonderful reviews from gardeners in Dover
Best way to order cannabis seeds, love the quality, love the seeds. They ship pretty fast, and they're always in good shape. I wish I'd found them sooner, wouldn't have wasted so much time and money on other companies.
 Our Most Popular Cannabis Strains