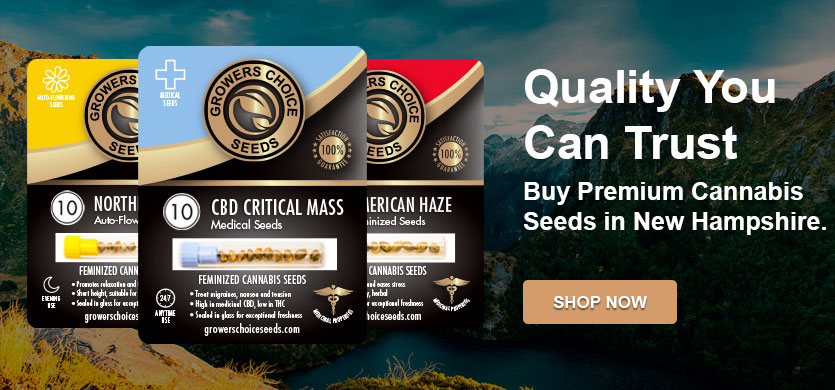 Growers Choice is here to help you grow marijuana in New Hampshire. Buy weed seeds online directly from our website and allow us to ship your order to your home in discreet packaging. You'll never have to let your nosy neighbors know!
Cannabis cultivation and consumption in New Hampshire present an exciting and multifaceted landscape, filled with both opportunities and complexities. Whether you're an advanced grower, a beginner eager to start your growing journey, or a medical user seeking tailored solutions, understanding the intricacies of cannabis seeds, legal laws, and available resources is key to thriving within New Hampshire's vibrant cannabis community.
High-Quality Cannabis Seeds in New Hampshire
New Hampshire's gorgeous terrain provides a supple environment for first-time growers as well as experienced growers. Whether it's for medicinal or recreational purposes, the seeds you choose can significantly impact the success of your cultivating experience. Don't get your panties in a bundle though… we've got the inside scoop that'll have you living your best weed-cultivating life in no time.
Understanding the Different Types of Cannabis Seeds Available
Understanding the vast world of cannabis seeds means diving into the wide variety of marijuana strains and types available, and the inverse is also true. For beginners, Indica strains like Northern Lights are often recommended, as they're easier to grow. Sativas, like Haze, tend to excel outdoors. Some strains, like Durban Poison, are known for pest resistance. Before choosing a strain, you'll want to nail down which type of seed you want to tango with. The following is a list of eligible cannabis seeds for cultivation:
Regular seeds: These are natural and untreated seeds that can grow into either male or female plants. Although these are great for breeders, growers will often choose to forego these, since they require sexing to prevent males from fertilizing females. In short, these guys are more time-consuming and labor-intensive.
Feminized seeds: Designed to produce only female plants, these high-quality seeds are ideal for those seeking unfertilized buds. They're created by stressing female plants to produce pollen, leading to seeds that carry only female genes, so you won't need to worry about producing male plants with these pot seeds. Feminized seeds ensure every cannabis plant will produce high-quality buds. These are the go-to choices for most growers.
Auto-flowering seeds: These seeds progress from vegetative growth to the flowering stage with age, not the light cycle, making them easy to grow. Auto-flowering can be the perfect cannabis seeds for beginners, as they flower on their own and are typically resilient against changes in light and environmental conditions.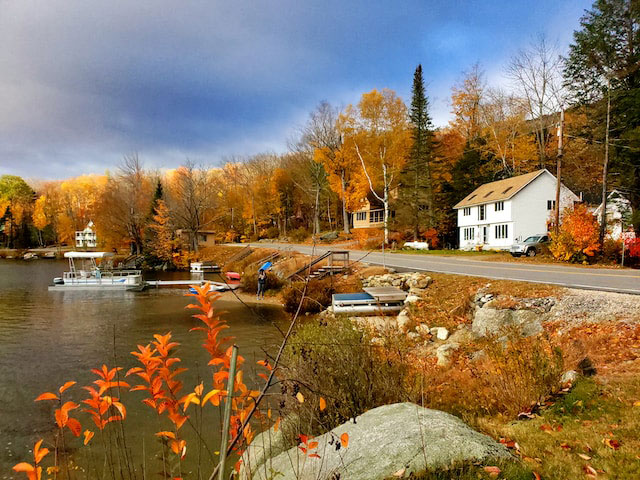 Marijuana Seeds
In the cannabis world, weed seeds are more than just the beginning of a plant; they're the genesis of an entire experience. Let's take a dip into these sweet little green beans and discover how they're the apple of a grower's eye.
What are Marijuana Seeds?
Ready for a heady, scientific definition that you can recite back to your friends at the next bar crawl? Here we go! Marijuana seeds are the matured ovules of the Cannabis sativa plant, containing the genetic material for a new plant. In the reproductive process, the male cannabis plant's pollen fertilizes the female's ovule, initiating the development of a seed. These seeds contain a protective outer shell, an embryo that forms the new plant, and stored nutrients necessary for early growth. The seed's genetic information dictates various attributes of the resulting plant, such as its growth patterns, potency, resistance to disease, and more.
With the careful breeding of different strains, cultivators can produce seeds with specific desirable characteristics. Thus, marijuana seeds represent not only the starting point for new cannabis plants but also the culmination of thousands of years of selective breeding and genetic refinement within the species.
How to Identify High-Quality Weed Seeds
High-quality marijuana seeds are vital for successful cultivation and a harvest gushing with thick, resin-blanketed buds. It's recommended to search for seeds that are darker in color with a glossy finish, as these are often more fresh. Large and symmetrical seeds are generally healthy and a good choice. You can also test the quality of the seeds by slightly pinching one with your nails- if it doesn't crack, it's a keeper.
Other factors to consider when choosing your seeds are to ensure that they are lab-tested, which ensures their purity and quality, as well as working with companies who employ insightful and helpful staff and offer a germination guarantee. It can be a huge stress reliever to have an expert weigh in on your seed selection process, as well as address any issues or questions that might arise during the process.
Remember that it is imperative to properly store your cannabis seeds in order to maintain their viability later on. By storing seeds in a cool, dark, and dry place, you can maintain their germination potential for several years! Vacuum-sealed containers with desiccants can prolong their lifespan even further. Buy now, grow when you're 80!
Benefits of Growing Weed Seeds in New Hampshire
New Hampshire's climate offers unique benefits for outdoor gardens. The humid summers can foster lush growth while selecting the right strains can mitigate the challenges of colder winters. Understanding the state's climate and choosing suitable strains can lead to a garden full of delicious, sparkling buds.
Additional benefits include:
Large Yields: With the right care and conditions, seeds can produce bountiful harvests.
Potency: Controlling the growth process allows for the optimization of cannabinoid levels.
Medical Use: Growing specific strains allows patients to tailor their medicine to their needs.
Challenges in New Hampshire include legal hurdles and unpredictable weather. Understanding state laws, obtaining proper permits if necessary, and being prepared to protect plants from sudden weather changes, or pests and diseases, can help navigate these challenges.
Legal Laws and Medical Marijuana
The complex legal laws surrounding cannabis in New Hampshire affect both recreational and medicinal marijuana users. Understanding the laws is key to ensuring your safety and ultimately, a positive experience with this gorgeous gift of ganja.
Legal Laws in New Hampshire
Regretfully, recreational use, and the selling of, cannabis remains illegal in New Hampshire, but medical marijuana products are legal for patients with qualifying medical conditions. In 2017, marijuana was decriminalized, but the possession of cannabis can still land you a hefty fine, depending on how severe the situation is.
If you still choose to pursue cannabis without complying with New Hampshire's laws, you'll want to keep in mind that discretion is vital, and precautionary measures should be taken. Stealth shipping, discreet shipping, and reliable delivery services will be your trusty sidekicks, ensuring that your privacy is maintained and that you receive your product in a timely manner.
What is a Qualifying Medical Condition?
Qualifying medical conditions in New Hampshire include severe or chronic illnesses such as cancer, HIV/AIDS, Parkinson's disease, multiple sclerosis, epilepsy, and Crohn's disease. Patients must obtain a doctor's recommendation, prove residency, and submit an application to qualify for medical cannabis use and to obtain a medical card.
Receiving a medical marijuana card in New Hampshire involves:
Doctor's Recommendation: A state-licensed physician must certify that you have a qualifying medical condition.
Proving Residency: Applicants must provide evidence of New Hampshire residency.
Application Submission: An application must be submitted to the Therapeutic Cannabis Program, along with the doctor's recommendation and proof of residency.
Although you might be able to obtain a card, there will be restrictions as to how much cannabis you may possess, where you can consume it, and whether you can cultivate it. Restrictions include:
Possession Limit: Qualified patients may possess up to two ounces of cannabis.
Cultivation: Home cultivation is not allowed. You must visit medical marijuana facilities in New Hampshire.
Consumption: Usage is restricted to private residences, away from public view.
Feminized Seeds
Feminized seeds are a revolutionary advancement in cannabis cultivation, allowing growers to bypass the unpredictability of male plants. Let's delve into their creation, benefits, and impact.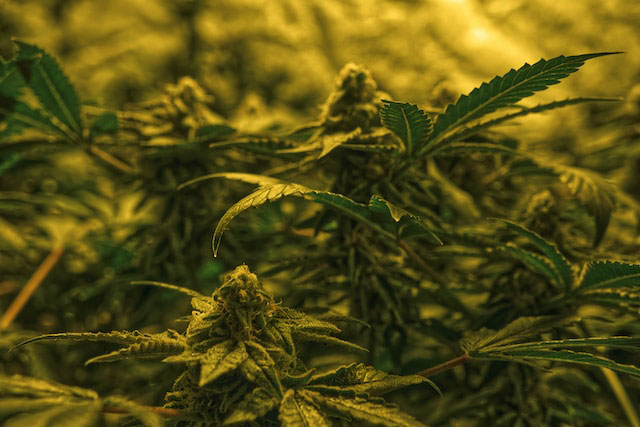 What are Feminized Seeds?
Feminized seeds are genetically engineered to produce only female plants, leading to higher yields and quality. They are created by stressing a female plant to produce male flowers, which in turn pollinate other female plants. The resulting seeds carry only female chromosomes. The benefits of feminized seeds include:
Higher Yields: No energy is wasted on male plants that won't produce buds.
Quality Control: Growers can focus on nurturing the plants, knowing each one will yield buds.
Simplicity: You don't need to spend time removing male plants, making cultivation easier.
Reputable Seed Banks
Online seed banks are a convenient resource for growers, offering a wide variety of strains and expert support.
What is a Seed Bank?
A seed bank is an online repository that sells a variety of cannabis seeds. Benefits include:
Variety: Generally, seed banks offer a myriad of strains, which offers each grower the ability to choose the ideal strain for their purposes.
Expert Support: Knowledgeable staff can guide your selection.
Convenience: Seeds are delivered discreetly to your door.
Choosing the right seed bank requires considering factors such as the selection of available seeds, how knowledgeable the customer support staff is, whether they offer quick and discreet delivery and user reviews. Trustworthy seed banks will also offer germination guarantees and lab-tested products. There you have it, folks!
Customers In New Hampshire Know Growers Choice Cannabis Seeds Really Cares
You really can't get better. Growers Choice has it all: speed, selection, inventory and a customer service team that actually cares. I feel really blessed to have found these guys. Keep up the great work!
Most Popular Cannabis Seeds