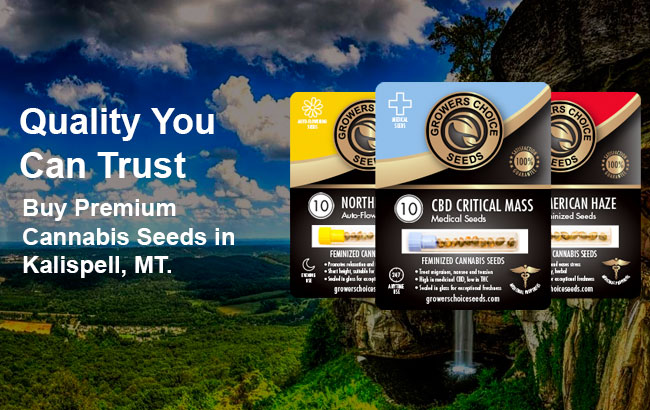 Cannabis Laws in Montana
It is 100% legal to order and collect ungerminated cannabis seeds from Grower's Choice Seeds. Even though it is not yet legal to grow marijuana or have related products, owning and collecting seeds in the state is lawful, just as it is in the entire USA. There have been many changes to marijuana laws in states around the country, including in the state of Montana. Currently, medical cannabis is allowed for approved patients in the state. There is talk of a major update to the recreational laws that will be coming in the next couple of years. When home cultivation laws do eventually change, you can have a great head start with your favorite strains from Grower's Choice Seeds.
Order Premium Kalispell Cannabis Seeds Online
Ordering top of the line Kalispell cannabis seeds just got easier with Grower's Choice Seeds! We deliver premium seeds directly and discreetly to your doorstep. All done through our online store from the comforts of your home. Our seeds our genetically-verified and fully-feminized to save you time and money. Go with Grower's Choice Seeds as your online source for high-quality cannabis seeds!
Easy to Grow Auto-Flowering Weed Seeds
Is this your first time with online cannabis seeds? Grower's Choice carries special types of seeds called auto-flowering seeds. With traditional feminized seeds, grower's need to take a number of extra measures to ensure proper flower production, such as altering the amount of light given at the correct stage of growth. This shifts the plant from the vegitative growth stage to the flowering stage. With auto-flowering weed seeds, plants will shift from vegitative to flowering all on their own! After germination, just plant your seeds into their planting medium and watch your auto-flowering seeds take care of the rest! Buy easy to grow auto-flowering cannabis seeds from Grower's Choice Seeds today!
Buy High-Quality Cannabis Seeds from Grower's Choice Seeds
Grower's Choice Seeds can get you high-quality Kalispell cannabis seeds fast! Just browse our online inventory and get your delivery started today!
Grower's Choice Seeds Helps First Time Growers!
This was my first experience with ordering seeds online, and Grower's Choice Seeds was super helpful. Their customer service team helped guide me through the process and got me great auto-flowering seeds. I would absolutely recommend Grower's Choice if you want to try getting seeds online. I will definitely be ordering from them in the future. Thanks Grower's Choice!
 Our Most Popular Cannabis Strains