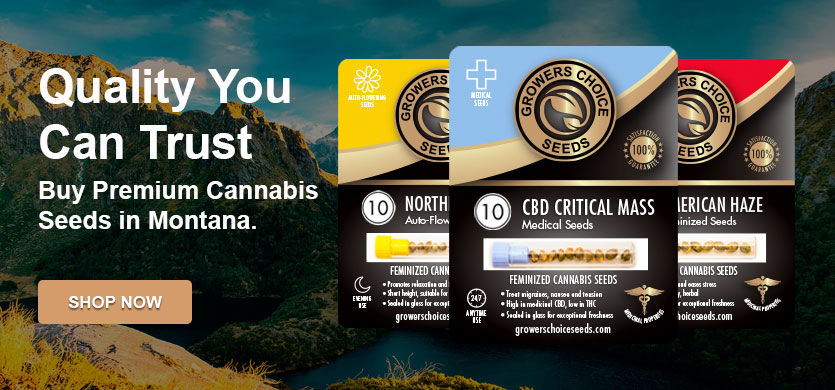 With its unpredictable weather, growers in Montana need to watch for cold snaps and maximize that big-sky sun for the best harvest. Interested in the process of getting cannabis from seed? You're going to want to check out Growers Choice!
What Are Cannabis Seeds?
Montana's cannabis scene is popping, and with those big skies overhead, picking the right seeds is clutch. Here's your guide to getting the best buds in Big Sky Country.
How to Choose the Best Cannabis Seeds for Sale in Montana
In Montana, when you're scoping out seeds, there's more to the game than just grabbing any bag of weed seeds. To score premium seeds, consider THC and CBD levels because that's where the magic is. Thinking of your skills? Consider the difficulty of the strain. Everyone loves big harvests, so yields matter. Don't sleep on the germination guarantee – that's your ticket to ensuring quality seeds pop. All in all, choosing the right seeds in Big Sky Country means balancing these key components.
Types of Cannabis Seeds Available in Montana
Chill out, and let's talk seeds! Dive into feminized ones for guaranteed blooms, easy-going autoflowering kinds, classic regular seeds, the healing vibes of medical marijuana, and that iconic White Widow magic.
Feminized Seeds
Let's dive into the how-to of feminized seeds. First, there's the colloidal silver method. Advanced growers spritz this solution on marijuana plants, specifically a mature female branch, nudging her to produce all-female pollen. Then, there's "sneeze pollination." A stressed female plant might produce some pollen. Lastly, the hermaphroditic approach: in the wild, a stressed female cannabis plant worried about her future can produce male pollen to self-pollinate. Growers use this to get feminized seeds. It's a hack to ensure your garden only grows female plants and all your bud is useable.
Autoflowering Seeds
In Montana's Big Sky Country, they're vibing with some choice autoflowering seeds. Auto seeds mean auto-flowering plants; no stressing over light schedules. Just plant 'em and chill. But, hey, with so many auto-flower seeds out there, which ones should you be looking out for? Well, here's a quick rundown:
All in all, if you're after the creme de la creme of auto-flowering strains, these strains have got you covered!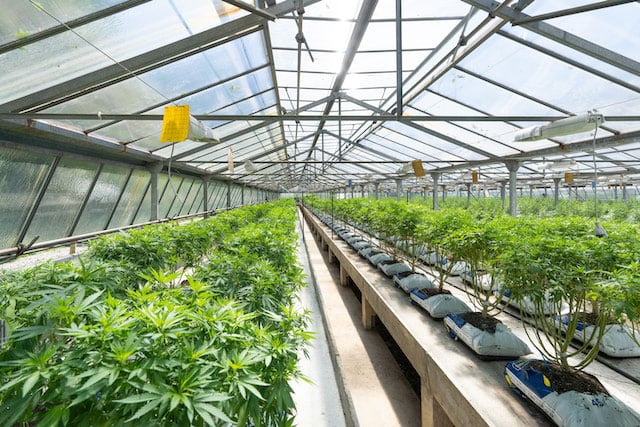 Regular Seeds
Jump into regular marijuana seeds – the OGs of the cannabis world. These are the purest form of marijuana seeds with genetics from stable parents. While many lean towards feminized or auto-flowering seeds, there's an authentic allure with regulars. Whether you're shopping in Montana or searching the weed seeds USA scene, look out for strains like Purple African Magic and Pure Purple Kush. Unlike just female seeds, regular seeds can grow into male or female plants, a top choice for breeders. Simply put, if classics resonate with you, regular seeds bring that genuine charm.
Medical Marijuana Seeds
In the green world of medical marijuana seeds, there's a strain tailored for almost every ailment. These seeds are more than just a buzz; they pack a punch for practical medicinal purposes, from providing pain relief to assisting those wrestling with eating and sleeping disorders. If you've ever been through a powerful medication course, you'd be pleased to know that some of your favorite strains help reduce the effects of such advanced therapies. Now, if you're a medical cannabis patient or one of the lucky medical cannabis card holders, you're on the frontline of this revolution. While everyone's raving about their medical marijuana cards, you can actually match strains to specific medical conditions and feel the difference. Remember, it's not just about getting high; it's about getting better.
White Widow Strains
Montana's rocking some fresh White Widow strains, boasting distinct characteristics and growth patterns. These cannabis strains mix nostalgia with innovation, known for their high THC and CBD levels. Some have creamy flavors, while others bring a spicy kick. Worried about Montana's cold winters? Many strains resist those chilly temps. For newbies and seasoned cannabis cultivators alike, seed banks offer top-tier cannabis seed strains. Whether you're after your next go-to strain or exploring White Widow, Montana's got the goods!
Benefits of Purchasing Cannabis Seeds In Montana
Dive into top-notch selections, an expansive variety, and hush-hush packaging and delivery, ensuring your picks arrive with class and discretion.
Access to Quality Products
In Montana's breezy expanses, accessing quality cannabis is a breeze, thanks to a few key factors. Reputable seed banks pop up with a commitment to delivering the good stuff. The cannabis seed cultivation process here is top-tier, with experienced growers treating each plant like a prized pet, ensuring optimal yields and potency. Plus, the variety is off the charts! From timeless classics to avant-garde hybrids, there's a wide range boasting thousands of seed strains to tickle any enthusiast's fancy. Montana's legal playbook has got the backs of both medical marijuana patients and the just-for-fun crowd, opening up avenues for everyone to get high-quality seeds. The golden rule? Always lean into a reputable online seed bank like Grower's Choice Seeds for those premium seeds, because the right start can make or break the grow game.
Wide Range of Cannabis Seed Options
Montana's riding the green wave with a smorgasbord of cannabis seed options. First up, feminized cannabis seeds: they're all about the ladies, ensuring every single plant is female and set to produce those precious bud seeds. Then there are the easy-going autoflower seeds, which, unlike their picky peers, don't wait for perfect conditions to bloom. They just do their thing, light schedules be damned. On the traditional front, regular seeds are the classic mix, giving you a bit of male and female unpredictability in the garden.
Lastly, medical marijuana seeds are like nature's prescription, tailored for therapeutic vibes. With all these choices and characteristics, Montana's got weed seeds to suit every green thumb's dream. So, whether you're an expert or just starting, there's a seed story waiting for you!
Discreet Packaging and Delivery Services
In Montana, cannabis seed sellers aren't just savvy about strains; they've mastered the art of discretion. That's right, discreet packaging is the name of the game, ensuring your green goodies arrive without drawing any side-eyes. These folks have crafted an inconspicuous packaging vibe, so the outside world remains clueless about your inside stash.
As for the delivery services, most joints in Montana have streamlined the checkout process, offering estimated delivery times that won't keep you tapping your foot for too long. And for those who like to keep tabs, many toss in additional services like tracking options. Some might even throw in a signature requirement for that extra layer of security, all at affordable prices. So, when you order up, rest easy knowing it's all on the down low.
Growing Marijuana at Home In Montana
Let's break down the world of home-grown marijuana in Montana, from getting the green light to grow to sprucing up your grow space and soil.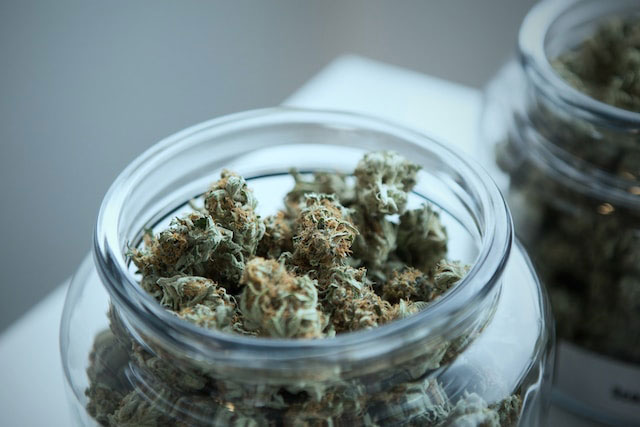 Requirements for Growing Marijuana at Home in Montana
Here's Montana's green guide, broken down for you: If you're an average recreational marijuana user, you can rock two mature marijuana plants and a duo of seedlings in your private pad. But if you're flashing a medical marijuana card, you can ramp it up to four mature plants and an equal number of seedlings. Here's the catch – no public peeking. If anyone can spot your green babies or excess stash (over one ounce) from the street or any public space, you're looking at a potential $250 fine and waving goodbye to your weed. Always keep them locked away. Medical cardholder or not, these rules apply.
And while you might have some entrepreneurial dreams, keep them separate from your grow room hobbies. Your home-grow space can't double up as a business hub. Although marijuana is the star here, don't confuse it with agriculture; the Department of Agriculture isn't clocking it, except for special cases. As for the greenbacks, personal grows dodge taxes! It's the retail therapy sessions that'll have the taxman's hand in your pocket. Lastly, a heads-up: if law enforcement nabs your weed plants? They're not babysitting them…
Preparing the Grow Space and Soil
Montana outdoor growers – listen up! First up, when preparing your grow space, location is king. Find that Goldilocks spot – not too shady, not too exposed – just right with ample sunlight and some solid protection against Mother Nature's mood swings. Your next mission? Dive into preparing the soil. Even if you're a first-time grower, it ain't rocket science. Kick things off by testing those pH levels. Cannabis digs slightly acidic soils, so aim for that sweet spot. Drainage is key; you don't want your roots swimming, right? And for that chef's kiss, sprinkle in some organic matter. It's like giving your plants a five-star meal. Treat your soil right, and it'll return the love tenfold.
Happy growing!
Montana Locals Know We're Here to Help
I had lots of questions before I bought my seeds, just cause I'm that kind of person. I ended up calling the number and a really helpful, patient person answered all my questions concisely and politely. I'm sure these seeds will be great, and I look forward to placing another order in the near future.
Shop Popular Cannabis Seeds