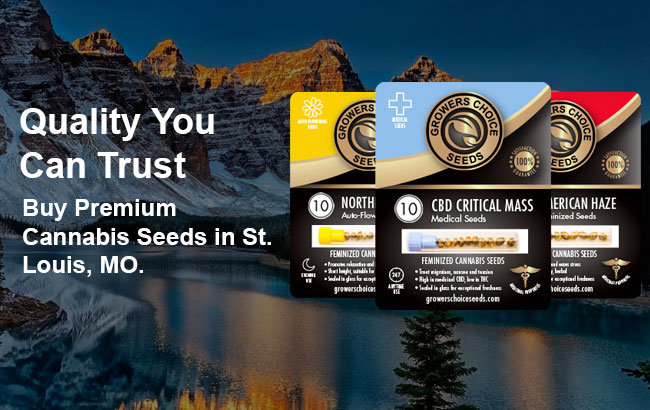 Welcome to Missouri's cannabis scene! Come on, Show-Me State, show us your love of all things green. Growers Choice is your go-to for buying cannabis seeds in Missouri, and we've got a selection of feminized marijuana seeds you're going to love.
What are Cannabis Seeds?
Cannabis growers are all over the globe. These aficionados of the cannabis plant are not only commercial growers. No, many of these cannabis enthusiasts are at-home growers who cultivate cannabis plants for their personal use. The best way to be a cannabis grower is to start with seeds. Now, if you have thought of yourselves as enjoying marijuana plants, this is the same thing. Weed seeds, pot seeds, and marijuana seeds are all quality weed seeds. The cannabis scene is exciting in the Show Me State, from Kansas City to St. Louis and beyond. Here is some info about premium cannabis seeds, cannabis laws, and more to make you a successful cannabis grower.
Different Kinds of Popular Strains and Autoflower Seeds in St Louis
There are many different ways to enjoy high-quality seeds, as there are many marijuana strains out there. Even among the popular strains, there is a litany of types of marijuana seeds to get to know. The effects of cannabis depend on the kind of strain you are using, as well as the cannabinoid content found in said strains. Some favorite strains out there are sativa strains, indica strains, and hybrid strains. Although, in truth, pure sativas and pure indicas are less common. Cannabis seed breeders have hybridized many strains, leading to hybrids being at the forefront. However, even among hybrids, there are sativa-dominant strains, indica-dominant strains, and balanced strains. In the world of perfect seeds, high-THC strains are quite popular. In terms of cannabinoid content, the cannabinoid THC is the one that gets the most attention. Why? Well, THC is the psychoactive chemical compound in cannabis. It's the reason why marijuana makes you feel high. Those cannabis seed breeders? They love to craft a high-THC strain, so go ahead and be on the lookout for those.
Types of Seeds to Know in St. Louis, Like Autoflower Cannabis Seeds
Now, let us talk types of healthy seeds that go behind strain selection. Experienced growers know this already, but if you are cultivating cannabis at home, you want to make sure you are getting feminized seeds, as opposed to regular seeds. Fully-feminized seeds are intended to guarantee, as much as possible, a female seed, so that you can grow a female plant. Why does this matter? Only female marijuana plants have buds, which are the part of the plant you harvest for THC content. Feminized hemp seeds are what you want, as regular seeds provide too much risk.
If you are looking for "beginner seeds," such as it is, auto-flowering seeds might be the right choice for you. Now, this is not a female seed versus male seed situation, but auto-flowering seeds can be better for beginners than photoperiod seeds. Most weed seeds are photoperiod, which means the plants they grow require a specific light cycle to enter the flowering stage. Auto-flowering seeds, meanwhile, grow plants that begin to flower based on the age of the plant, no specific light cycle is required. That's why these are considered good beginner seeds, and many award-winning seed strains are available in auto-flowering form.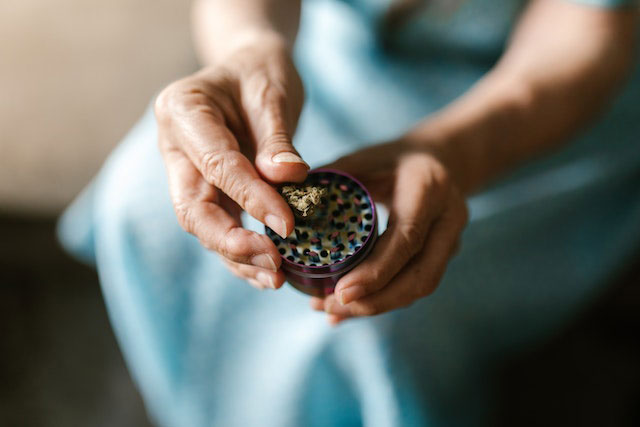 Cannabis Laws in St. Louis
St. Louis, along with Kansas City, struck two key blows in getting recreational marijuana legalized in the Show Me State. Now, a medical marijuana program was instituted in 2018, which was good for medical marijuana patients. However, in 2017 Kansas City decriminalized possession of up to 35 grams of cannabis through a ballot measure, and then St. Louis took things to the next level. The city voted to allow straight-up possession of up to two ounces, and the ability to grow up to six plants at home for personal use. The advancement of cannabis legality was significantly impacted by what St. Louis did.
Then, in 2022, recreational cannabis was on the statewide ballot, and it passed. In addition to being able to possess up to three ounces of cannabis, you can have up to six mature plants and six non-flowering plants at a time. Frankly, Missouri is now one of the more generous states when it comes to cannabis growers doing their thing at home. However, while this advancement in cannabis growing is big, there is something to know. You will need to register for a personal cultivation card, which comes with an annual fee of $100. To us, though, that's well worth it. You will still save plenty of money over trips to even a licensed dispensary. Now, you are free to grow your own Northern Lights, Pineapple Express, or other popular strains.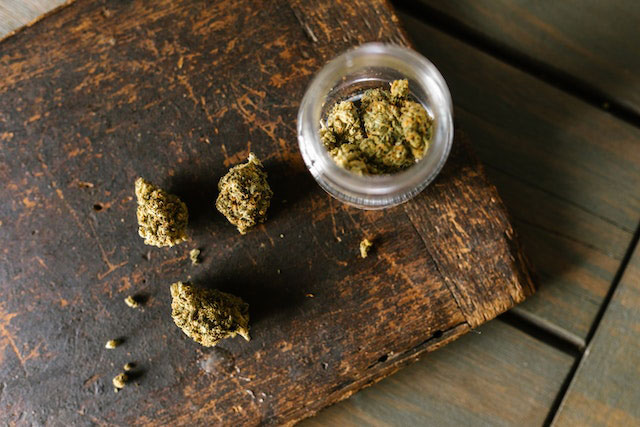 Online Seed Banks With High-Quality Cannabis Seeds and a Germination Guarantee
Now that you know you are free to grow your own cannabis plants, with a personal cultivation card, where to find autoflower cannabis seeds for sale? Online retailers, in the form of online seed banks, are the smartest way to go for most seasoned growers. Finding a reputable seed bank for your cannabis seeds is key, though. Selling award-winning seed strains is nice, but award winners and cheap seeds aren't all that matters when it comes to marijuana seed banks. Make sure an effort is going in to ensure high-quality feminized marijuana seeds, but the customer service experience is also key.
One element in place at many online seed banks, and one any reputable seed bank will offer, is a germination guarantee. A germination rate should be guaranteed on every order. Now, most seed banks will provide you with a detailed germination guide you will have to follow, but that's sensible. Even with quality marijuana seeds from a reputable seed bank, things can go wrong, so a company that stands behind its customer service should offer you a guaranteed germination rate.
Online seed banks will ship you your seeds, and faster shipping is better of course. Beyond that, though, reliable shipping, and discreet shipping are crucial as well. When looking for a seed bank, check for customer reviews. If you are seeing a lot of positive reviews, that is, well, a positive sign. We know some online seed banks that are thought of as having high-quality seeds and top-notch customer service already, though. The effects of cannabis can have a nice benefit to you, but finding quality seeds and growing your own plants can have a positive effect on your cannabis experience as well. With growing your own plants now legal in St. Louis, it is worth investigating the wide variety of seed banks out there—but you hope you grow with Growers Choice (an excellent choice!)
Once You "Pop", You Can't Stop With Growers Choice!
First order from Growers Choice. Seeds arrived in about a week. Planted one seed today after it sprouted in a paper towel. Waiting for my her seeds to germinate now. Thanks, guys!
 Our Most Popular Cannabis Strains