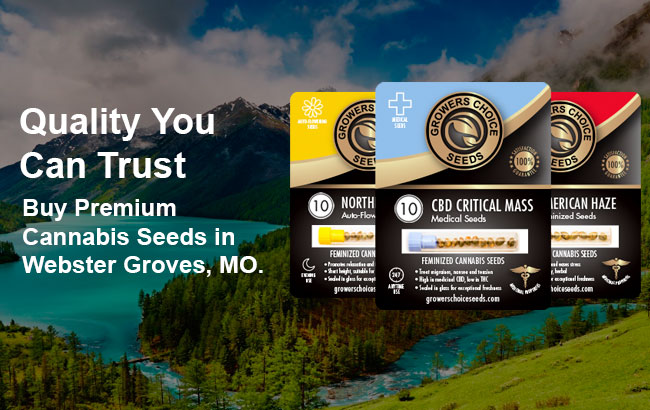 Where to Buy Webster Groves Cannabis Seeds Online
Find the cannabis seeds that suit your needs when you order online from Growers Choice Seeds today. We've stocked our digital shelves with a wide selection of the best indica, sativa, and hybrid seeds on the market today. All of our cannabis seeds are fully feminized and completely ungerminated. To get the best Webster Groves cannabis seeds delivered to your door fast, simply select your seeds from our online inventory, and check out online using our secure payment portal. We'll provide fast and discreet delivery of your marijuana seeds right to your door in as little as one week, with tracking provided on every order.
Is Growing Cannabis Plants Legal in Missouri?
As of 2020, residents of the state of Missouri are still waiting for the medical marijuana legislation passed in 2018 to go into effect. When it does, Missouri residents who suffer from a qualifying condition, such as epilepsy, cancer, or others will be able to obtain a prescription for medical marijuana from a licensed physician. Cannabis and cannabis products will be available for purchase at licensed dispensaries across the state. Additionally, medical marijuana card holders will be allowed to grow their own cannabis plants; up to six mature cannabis plants can be cultivated at one time for personal medicinal use. In the meantime, you can buy ungerminated cannabis seeds online from Growers Choice Seeds. Because ungerminated cannabis seeds are considered collector's items, they are not prohibited and are legal to buy and own by all adults over the age of 21 within the United States. Order your ungerminated marijuana seeds online today for fast delivery to your door.
Find Cannabis Seeds Online to Relieve Depression
Depression is a common condition that many Americans experience. Cannabis is a natural way to relieve depression, and can be effective as a mood booster and natural relaxant. Sativa dominant strains of cannabis are commonly used to relieve depression and anxiety. Our favorite sativa dominant cannabis seeds for relieving depression are
To learn more about these high quality cannabis seeds, check out their product pages, linked above. You'll find information like grow time, average yield, THC content, and more.
Order High Quality Weed Seeds Online for Delivery
There's never been a better time to get Webster Groves cannabis seeds delivered, thanks to Growers Choice Seeds. We have a huge selection of high quality marijuana seeds in stock for you to choose from, including high content CBD seeds and easy to grow autoflowering seeds. Order online today for fast delivery right to your door, and sign up for our email newsletter for your chance to win free weed seeds!
Great Selection of CBD Cannabis Seeds
Growers Choice Seeds has such a good selection of CBD cannabis seeds in their inventory. They have a lot of variety in their strains, and I'm always able to find something new to order when I shop here. It's definitely my favorite place to order cannabis seeds online.
Most Popular Cannabis Seeds