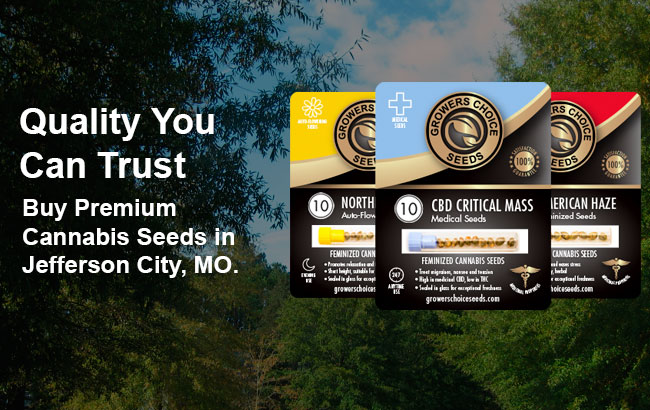 Buy Premium Jefferson City Cannabis Seeds Online
Struggling to find a dependable source for high-quality seeds in Missouri? Grower's Choice Seeds is here to help! We specialize in shipping premium Jefferson City cannabis seeds directly to your doorstep. Just make your selection on our online store and high-quality seeds will be shipped right to your home. Our deliveries are packaged discreetly, with seeds being shipped in vacuum-sealed, medical-grade glass vials for long-term storage. Getting legal cannabis seeds in Missouri is now a reality with Grower's Choice Seeds. Shop today!
Missouri MJ Laws
Grower's Choice Seeds will send you 100% legal ungerminated cannabis seeds directly to your home in Missouri. But is marijuana legal in the state? Though the laws have been going through some changes recently, it is currently lawful to buy and collect ungerminated cannabis seeds. At this time, it is not yet allowed to grow your seeds at home, but Grower's Choice Seeds is hopeful that continued progress will be made soon, and you can finally germinate your Grower's Choice seeds. Until then, feel free to collect your favorite strains from our online store. Grower's Choice delivers legal ungerminated cannabis seeds straight to your front door!
Ordering High-CBD Cannabis Seeds
If medical weed seeds are what you are looking for, Grower's Choice Seeds has a diverse inventory of high-CBD medical cannabis seeds that are ready to be delivered directly to you. What are high-CBD seeds? They produce buds loaded with CBD, or cannabidiol, a natural chemical compound with proven anti-inflammatory effects. Also, these buds produce little to no psychoactive effect, or "high" feeling, making high-CBD seeds a great option for those looking for only the medical benefits of cannabis. Grower's Choice Seeds is your online source for high-quality medical cannabis seeds.
For more information on the healing powers of plant medicine, check out Grower's Choice's online resource for medical cannabis benefits.
Order High-Quality Cannabis Seeds from Grower's Choice Seeds
Our mission at Grower's Choice Seeds is to make getting high-quality Jefferson City cannabis seeds simple, with our easy-to-order online store and fast shipping! We carry tons of strains of traditional feminized, high-CBD, and even easy-to-grow auto-flowering seeds. We will deliver your order safely to your front doorstep. Trust Grower's Choice Seeds to be your dependable online source of legal cannabis seeds. Get started with your delivery today!
Great Results from Grower's Choice
I love my Moby Dick CBD seeds and the results I am getting from them. Grower's Choice helped me find my new favorite strain for pain relief, for which I am very grateful! I highly recommend buying cannabis seeds from Grower's Choice Seeds!
Most Popular Cannabis Seeds