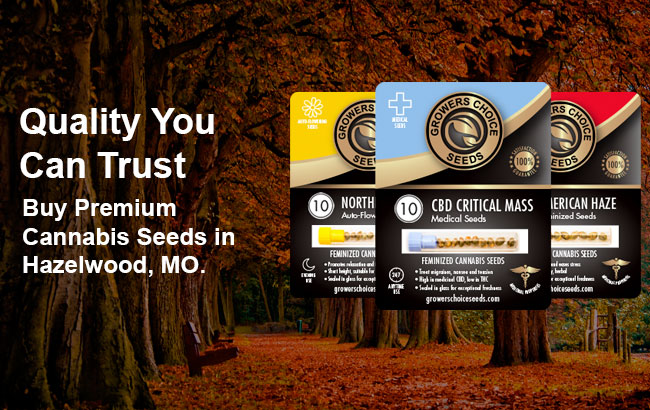 How to Order Hazelwood Cannabis Seeds for Fast Delivery
Looking for the best Hazelwood cannabis seeds for sale online? Choose Growers Choice Seeds, your source for the best high quality marijuana seeds in North America. We've fully stocked our online catalog with the very best cannabis seeds for sale online today, including all of your favorite indica, sativa, and hybrid strains. Cannabis seeds that are high in CBD are often preferred by medical marijuana patients as well as those seeking a strain for daytime use. Our high quality marijuana seeds are supplied by our community of cannabis cultivators, many with decades of experience in the industry. Order your cannabis seeds online today using our secure server, and we'll provide fast and discreet delivery right to your door in as little as one week.
Is Growing Cannabis Plants Legal in Missouri?
As of 2020, residents of the state of Missouri are still waiting for the medical marijuana legislation passed in 2018 to go into effect. When it does, Missouri residents who suffer from a qualifying condition, such as epilepsy, cancer, or others will be able to obtain a prescription for medical marijuana from a licensed physician. Cannabis and cannabis products will be available for purchase at licensed dispensaries across the state. Additionally, medical marijuana card holders will be allowed to grow their own cannabis plants. Missouri residents who have a medical marijuana card may grow up to six mature cannabis plants at one time for their own personal medicinal use. In the meantime, you can buy ungerminated cannabis seeds online from Growers Choice Seeds. Because ungerminated cannabis seeds are considered collector's items, they are not prohibited and are legal to buy and own by all adults over the age of 21 within the United States. Order your ungerminated marijuana seeds online today for fast delivery to your door.
Find High Content CBD Cannabis Seeds For Sale Online
If you're in the market for high content CBD cannabis seeds, then you need to check out the selection of CBD cannabis seeds available from Growers Choice. These in demand seeds are ideal for medical marijuana users as well as for those seeking a daytime use strain. Some of our best selling CBD cannabis seeds today are
Get your own high content CBD cannabis seeds delivered quickly when you order online from Growers Choice today. We provide fast and discreet delivery of every order.
Order Premier Quality Weed Seeds Online Now
The time to buy Hazelwood cannabis seeds online is now. With dozens of high quality weed seeds in stock now, you're sure to find a strain that suits your needs. Shop our selection and check out online using our secure server. We provide fast and discreet delivery right to your door in as little as one week. Order today to get started.
Super Fast Shipping and Delivery of Cannabis Seeds
I was so shocked and impressed with how fast the delivery arrived from Growers Choice Seeds. They were super quick with shipping my seeds out, and the seeds were on my doorstep in about one week. The packaging was nice and professional and the seeds look great!
Most Popular Cannabis Seeds