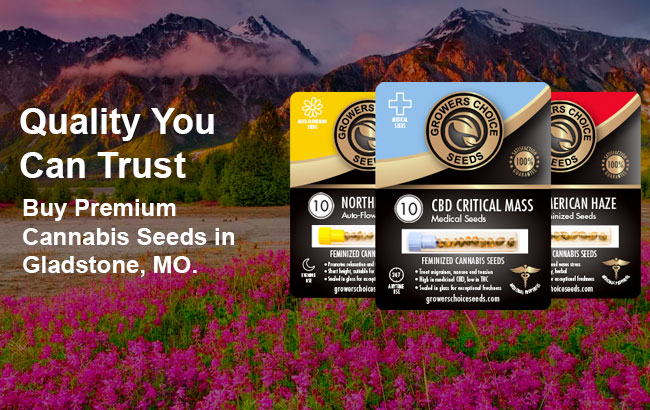 How to Buy the Best Gladstone Cannabis Seeds for Delivery
To get high quality Gladstone cannabis seeds delivered fast, shop online with Growers Choice Seeds today. We've fully stocked out digital shelves with all of your favorite strains, including best selling diesel, kush, and OG cannabis seeds. We source all of our marijuana seeds from our community of growers around the globe, many with over 20 years of cannabis cultivation experience. Our cannabis seeds are lab tested for genetic quality, and ship directly to you in contamination free glass vials. All of our cannabis seeds are ungerminated, and are backed by our germination guarantee. We provide fast and discreet shipping on every order, with delivery in as little as one week. Shop online now and check out using our secure server to get started.
Is Medical Marijuana Legal in the State of Missouri?
Medical marijuana legalization is in the works for Missouri. Residents of the state voted in 2018 to pass medical marijuana legislation that provides legal access to medical cannabis products for patients with a qualifying condition, such as cancer, HIV/ AIDS, epilepsy, and others. Patients will be able to get a medical marijuana card from their doctor or physician, and cannabis will be available for purchase at licensed dispensaries across the state. Patients will also be able to grow their own cannabis plants at home for their own personal use, in limited quantities. Medical marijuana card holders will be allowed to grow up to 6 cannabis plants at a time for their personal medicinal use in an indoor, locked facility. Even though you can't grow cannabis plants right now, you can still buy cannabis seeds online that are ungerminated. Ungerminated cannabis seeds are considered novelty items and are not prohibited for sale or possession in the United States. Order your ungerminated cannabis seeds from Growers Choice today.
Find Cannabis Seeds Online to Relieve Depression
Depression is a common condition among Americans. Whether brought on by a chemical imbalance, personal issues, or existential threats like climate change, depression is a serious issue for many. Cannabis is a natural way to relieve depression, and can be effective as a mood booster and natural relaxant. Our favorite cannabis seeds for relieving depression are
Gorilla Glue Autoflowering Feminized Cannabis Seeds
Mexican Haze Feminized Cannabis Seeds
Wedding Cake Feminized Cannabis Seeds
Amnesia Feminized Cannabis Seeds
Haze XL Autoflowering Feminized Cannabis Seeds
To learn more about these high quality cannabis seeds, check out their product pages. You'll discover essential information like THC content, growing time, and more.
Order High Quality Weed Seeds Online Now
Ready to get the best Gladstone cannabis seeds delivered to your door? Shop online with Growers Choice today. You'll be amazed at our selection of high quality marijuana seeds, all fully feminized and completely ungerminated. Order today for fast and discreet delivery of your weed seeds right to your door.
Friendly and Helpful Customer Service
When my seeds got lost in transit and I had to contact customer service, I was really pleased to be able to get a real person on the phone so quickly. They helped me get replacement seeds for the ones that were lost, and had them shipped out right away. I really appreciate their help and friendly service.
Most Popular Cannabis Seeds