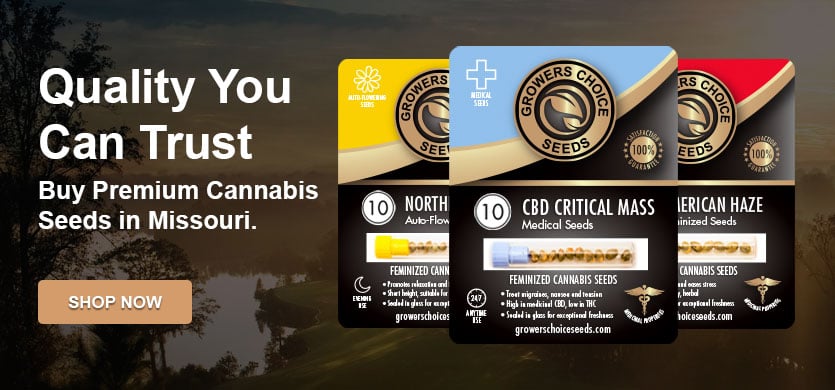 Welcome to Missouri's cannabis scene! Come on, Show-Me State, show us your love of all things green. Growers Choice is your go-to for buying cannabis seeds in Missouri, and we've got a selection of feminized marijuana seeds you're going to love.
What are Cannabis Seeds?
Dive into Missouri's evolving cannabis scene. Thanks to Amendment 3, locals 21+ can flex their green thumbs with a $100 personal cultivation card, letting them grow a limited number of weed plants. While Federally, seed ownership's cool, state nuances remain. Growing's personal, selling's a no-no, and location's key. Stay updated and stay legal.
Cannabis Seed Laws in Missouri
In 2023, the cannabis seed laws in Missouri have evolved to embrace weed for both medicinal purposes and recreational marijuana use. Thanks to Amendment 3, Missourians aged 21 and up got the green light to cultivate their own cannabis plants. Securing an adult-use cannabis cultivation license comes with a $100 tag, granting holders the ability to nurture a specific number of plants. Heads up though, there's a cap: while you can grow up to 18 plants, only 6 can be in full bloom. Seed cultivation got its legal nod back in 2018 for medical patients, and with 2022's Amendment 3, recreational cultivation joined the club. Remember, these bud seeds might be cool Federally, but state-by-state variances exist. So, in Missouri, while seeds are legal, there's a playbook to follow, ensuring you're on the right side of cultivation and possession guidelines.
Types of Cannabis Seeds
From feminized to autoflowering and the old-school regulars, each type of seed offers a unique growing experience. We break it all down for you here.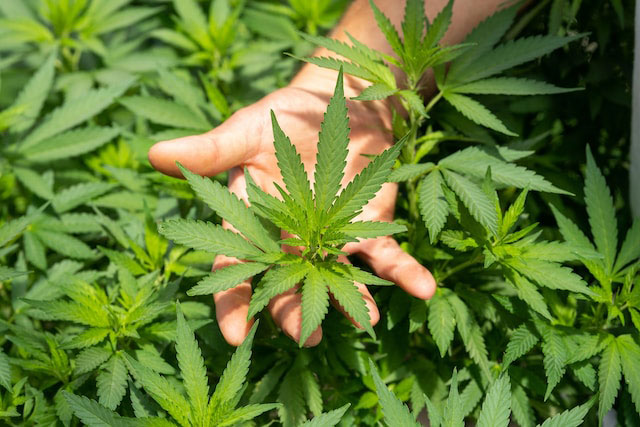 Feminized Seeds
When diving into the world of cannabis cultivation, you might stumble upon the term "feminized seeds." These are special seeds engineered to produce genetically female plants. Wondering how? The secret sauce is a process involving silver thiosulphate. By treating a female plant with this compound, it produces female pollen. This pollen then fertilizes the seed crop, ensuring the offspring are female. Why the hype? Growing feminized cannabis seeds comes with a bunch of perks. For starters, you can wave goodbye to the hassle of managing those unpredictable male plants. Plus, cultivators save a ton of time, energy, and cash. In short, for those looking to streamline their green thumb game, these high-quality seeds are the way to go.
Autoflowering Seeds
In the last decade, autoflower seeds have made quite a mark. These pot seeds are crafted by crossing typical cannabis strains with the lesser-known ruderalis, a species native to Central and Eastern Europe and Russia. What sets ruderalis apart is its unique knack for automatic flowering based on its age, sidestepping the need for precise light cycles. The offspring of this union? Marijuana plants with a shorter growing time, a refreshingly compact size, and a hardy resistance to pests and diseases. Thanks to this, growers can enjoy multiple harvests yearly. And for those eyeing the therapeutic side of cannabis, there's even a lineup of CBD-rich auto seeds strains available. It's all about reaping the benefits without the usual cannabis-growing fuss.
Regular Seeds
Regular seeds are like the vintage vinyl records of the cannabis world—pure, unmodified originals. They've given us those iconic landrace cultivars we all chat about around a campfire. When growing these strains, you've got both male and female genetics to manage. It's a bit like a dance, with some male segregation on the cards unless you're into a more natural blending scene. And when it's time to play matchmaker? Well, selecting the top-notch females for pollination is where the magic really happens, turning them into viable seeds. If you're kicking it in Missouri, these classic marijuana seeds are a timeless pick for cultivating the good stuff. Keep it real, and regular seeds will serve you right!
CBD-Rich Strain
In the Show-Me State, CBD-rich strains like Blueberry CBD have been making waves, and their legal status is more chill than you'd think. These CBD-bred seeds are crucial for Missourian communities, offering therapeutic vibes without the high. But here's the scoop: the legal requirements in Missouri keep a tight lid on THC content, so these strains need to stay under 0.3% to roll with the "industrial hemp" label. Some commercial growers even opt for early harvesting to ensure their cannabinoid contents stay compliant. So, next time you're looking into hemp extract or just feeling curious, remember, it's all about that balance between CBD goodness and keeping that THC in check.
Buying Marijuana Seeds in Missouri
When you're navigating the green scene in Missouri, whether you're clicking away online, shopping locally, or mingling with the grower's community, here's a sneak peek into where you can score quality marijuana seeds and essentials.
Online Seed Banks
Navigating online seed banks in Missouri can feel like a trip, but it's all about finding that golden ticket. A reputable seed bank with raving reviews? That's Grower's Choice Seeds for you. Their thing? Keeping customer vibes high and relationships cool. But here's the kicker: ordering from well-established seed banks like Grower's Choice Seeds isn't just about their reputation. They've got this germination guarantee where they offer a assurance of 90% germination rate on their weed seeds. And if you hit a dud? They'll replace it, no sweat (though single seeds sit this one out). So, when you're in the market, remember, it's all about finding those trusty spots that have your back and your buds.
Dispensaries and Other Retail Stores
While dispensaries and retail stores are becoming popular, most of them, especially those medical marijuana dispensaries catering to medical marijuana card-holding medical marijuana patients, stick to pushing cannabis products – think flowers, concentrates, and those tempting edibles. Seeds? Not really their scene. As for local seed banks, Missouri's still waiting for a dedicated spot. If you do spy seeds for sale somewhere local, be prepared for the prices to raise some eyebrows. Want a tip? For top-shelf quality cannabis seeds, including medical marijuana seeds and beginner seeds, check out reputable online seed banks. They offer better deals, broader selection, and you won't have to play hide-and-seek with a licensed dispensary.
Grow Shops and Garden Centers
If you're in Missouri and looking to dive into the world of cannabis growing, you're in luck. Grow shops and garden centers have sprouted all over, making purchasing cannabis growing supplies a breeze. Whether you're after some premium seeds, the right tools, or those must-have nutrients, these spots got your back. Do you have an indoor setup or are you going big outdoors? Doesn't matter. These are just a few places that can help you grow your garden:
Green Circle Garden Center in St. Louis: A hotspot with a wide range of growing supplies.
Happy Hydro in Kansas City: Your go-to for hydroponic needs.
HTG Supply in St. Louis: A reliable chain with everything you could dream of.
And it's not just about buying stuff; these places are like treasure troves of wisdom. You'll find folks in the know, ready to share tips and tricks. So, next time you're thinking of leveling up your grow game, or if you're just starting out, swing by a local spot. Missouri's grow shops and garden centers are basically your cannabis cultivation dreamland.
In Person: Lockers, Collectives & Clubs
Missouri's diving into the cannabis lounge scene. Think spots where folks gather, light up, and unwind safely for recreational purposes. Like The Cola Lounge, a members-only space with a homey vibe and cool cannabis insights. It's not just about lighting up though. These lounges foster community, education, and safety, whether you're into edibles, bongs, or classic joints.
From exclusive clubs to public hangouts, they're reinventing the usual café or bar experience. Plus, they could boost tourism, offer locals safe spots, and be event venues. The hiccup? Missouri's regulations are evolving, so there's some wait-and-see. But with the buzz around these places, Missouri's cannabis future looks bright.
Growing Cannabis in Missouri
Ready to let Mother Nature do the heavy lifting? Dive into Missouri's outdoor scene and see what it takes to get those green thumbs working under the big blue sky.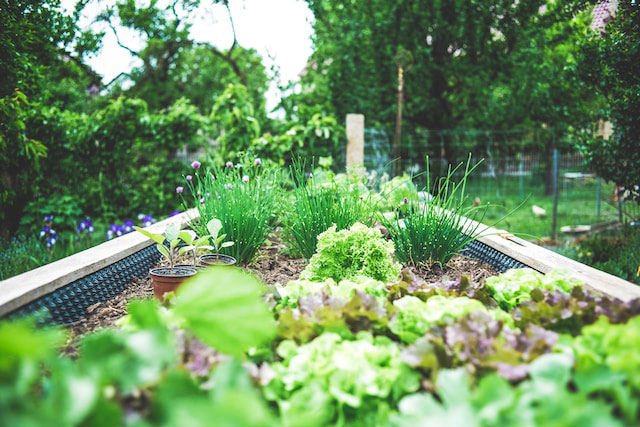 Outdoor Growing Conditions in Missouri
Missouri's outdoor growing conditions have their quirks. Thanks to its humid continental climate, the state can throw you a curveball with sudden climate shifts. But don't sweat it, because, with a bit of planning, your cannabis plants can thrive. Key tip? Get those greens under the sunniest spot you can find; they absolutely love soaking up those rays.
Remember, Missouri's mugginess is not your friend. So, having free-flowing ventilation is crucial. It keeps the air moving and stops mold and diseases from crashing your grow party. Now, for those aiming to grow, especially commercial outdoor growers, you're probably wondering about the best strains for Missouri. Look for those with high CBD content that grow like they're on a caffeine buzz. Some good ones include:
Not only are they suited for the state's unique climate, but they also cater to the increasing demand for CBD-rich strains. Overall, with the ideal conditions and the right strains, Missouri's landscape can be a haven for budding green thumbs.
Happy growing!
Missouri Customers Appreciate the Growers Choice Selection
Critical Purple as an auto-flowering seed? This strain is so hard to find I was about to give up altogether, but then I stumbled onto Growers Choice, and they even offer an automatic version? I am so pumped for these. Thanks Growers Choice.
Learn About The Top Strains Locally
Learn About the Top Cannabis Strains in Missouri
Shop For Popular Cannabis Seeds