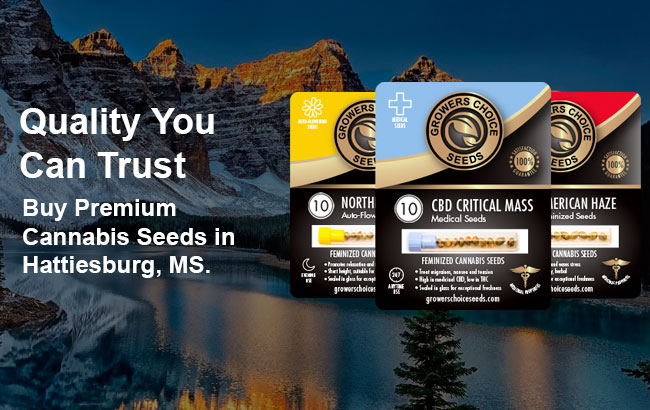 When it comes to cannabis, the American south seems to be struggling to keep up with the rest of the nation. While a few of the states here have made attempts to loosen their tight grip on marijuana use within their borders, the laws remain rigid – medical cannabis has its place, but it's not as welcome as it is in say, Oregon, Washington, or Colorado. That doesn't mean that Mississippi locals can't use cannabis as a treatment, but only patients with intractable epilepsy are allowed to purchase CBD-rich cannabis products. Still interested in stocking up on your favorite Hattiesburg cannabis seeds? Growers Choice Cannabis Seeds can make that happen – we ship our superior strains everywhere in the United States.
Buy cannabis seeds in Hattiesburg
Of the 140 or so cannabinoids that have been isolated, the most popular and potent are THC and CBD. THC is psychoactive, and while it provides strong relief for certain illnesses, it is also associated with hallucinations, heightened anxiety, and can even cause paranoia, among other symptoms that may be deemed uncomfortable. CBD, on the other hand, is considered non-psychoactive, and will actually block the uptake of THC if both are present at the same time. Ultimately, though CBD does block THC, these both work on different receptor sites and produce different results.
Is it legal to use medical cannabis in Hattiesburg?
Though many Americans stand behind the use of cannabis as medication, the federal and many state level governments still maintain tight reigns on the sale and use of the plant in their jurisdictions. Mississippi is one of those states, though they have given patients with intractable epilepsy the right to purchase and use CBD cannabis strains to treat their conditions.
Although growing is still a taboo undertaking, patients and fans can keep their seed stores stocked with high quality strains since cannabis seeds are considered collector's items when they aren't germinated.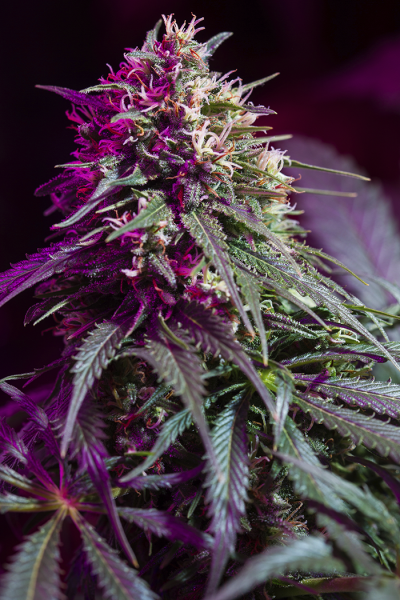 Cannabis seeds for sale in Hattiesburg
With the rest of the country buying tickets to ride the refer express, it's only a matter of time that Mississippi legislators prepare to join the party. Purchase your favorite Hattiesburg cannabis seeds when you shop with Growers Choice Cannabis Seeds, a leading online vendor of high-quality cannabis seeds and superior genetics. Grown by our team of horticultural experts, we hand-pick and inspect every seed in order to check for freshness and viability. Your order is then sealed in medical-grade glass vials for shipment, with delivery being offered across the USA.
What is CBD cannabis?
Medical cannabis has been gaining in popularity lately as an all-natural therapy for patients suffering from a wide range of illnesses and conditions. It's also being touted lately as an alternative to opiate medications, which may provide potent pain relief but can also cause serious addiction and has been associated with fatal occurrences. But what has everyone chatting about cannabis, a substance that for so long has been viewed as taboo? The benefits of weed can be attributed to the chemical makeup of the plant, compounds called cannabinoids that occur naturally within the leaves and mimic neurotransmitters created by our body so closely that they can effect change.
Rated 5 out of 5 Customers in Hattiesburg are raving about our services and seeds!
Awesome! I have been buying cannabis seeds for years online now, and you guys are the best I've dealt with so far! Your website, customer service, the payment methods and tracking info are far better than any service I've received in the past. Even the packaging was nice and subtle, exactly what you want when you're investing so much in something like cannabis seeds! I was super worried they wouldn't make it to me in Mississippi but no problems whatsoever! Thanks GC!
Most Popular Cannabis Seeds