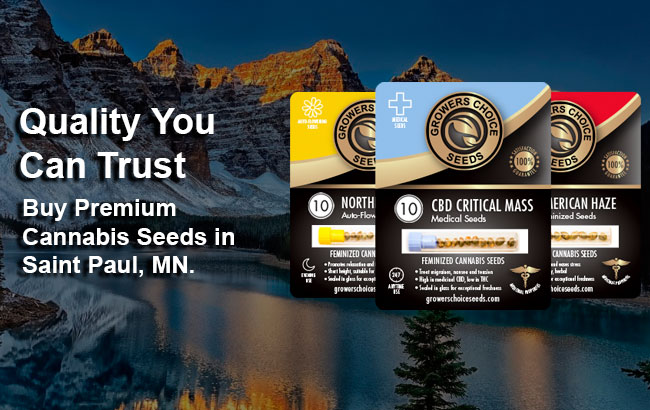 Now that the purchase, use, and cultivation of cannabis is legal in all of Minnesota, more and more are looking to find out what its exact laws are and what kind of cannabis strains are the best for growing there. Read on to find out all about cannabis legalization and cultivation in the state's capital of Saint Paul.
Cannabis Seeds Saint Paul
On 30 May 2023 at the historic Minnesota State Capitol in Saint Paul, or "St. Paul" as it's more commonly spelled by locals, cannabis history was made when Governor Tim Walz signed a 321-page landmark bill into law that made Minnesota the 23rd state in the nation to make adult-use cannabis for recreational purposes legal as of August 1 of the same year, while also expunging all misdemeanor marijuana offenses from an estimated 66,000 Minnesotans' records.
Then, on August 1, as Twin Cities residents celebrated in the streets whilst puffing and passing giant joints amongst one another, the first legal recreational marijuana sales were made at NativeCare, located about four hours outside of St. Paul on Red Lake tribal lands, the first dispensary to open in the state. Although state-licensed cannabis dispensaries are unlikely to open in St. Paul and the rest of the state until the early part of 2025, an important caveat in Minnesota's recreational cannabis law is that land that is under the jurisdiction of tribal governments are not subject to the same licensing system as those on non-tribal lands. (As a point of interest there are now two recreational marijuana dispensaries operating in the state–one in the Red Lake Nation and one in the White Earth Nation–that non-tribal members are allowed to purchase their cannabis products from.)
Now that recreational weed usage and cultivation is legal for adults in Minnesota, with Minnesotans having been able to apply for their medical marijuana card since 2014, more and more St. Paul residents have been ordering their top-notch cannabis seeds from reputable online seed banks like Pacific Seed Bank (PSB) and Growers Choice Seeds (GCS).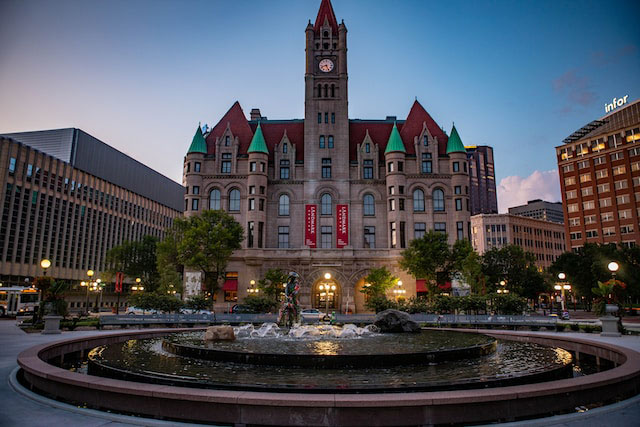 Current Marijuana Laws for Medical and Recreational Users in St. Paul
Cultivation Laws
Cannabis cultivation laws for St. Paul residents are the same for both medical and recreational users.
You must be 21+ to legally grow cannabis plants at home.
You can grow a total of 8 plants per residence and not per person, with four of them being mature plants and four being immature.
Marijuana crops are allowed to be cultivated indoors or out, but they must be secured in an enclosed and locked space away from public view.
Medical Marijuana Laws
You must be 18+, or, if you are under the age of 18, you must obtain parental consent and have a designated caregiver who is your parent or legal guardian.
Medical marijuana patients may purchase and possess a 30-day supply of cannabis products, which include oils, vapors, pills, and edibles.
Patients are also allowed to buy 2.5 ounces of medical-grade cannabis flower every 14 days.
Medical marijuana cardholders can use their medical marijuana on private property. However, it cannot be smoked or vaped in public places where smoking/vaping tobacco is permitted.
In 2025 it will become illegal for recreational adult users to combust or vape cannabis in multifamily housing buildings, but registered medical marijuana patients will still be permitted to do so.
Recreational Cannabis Laws:
You must be 21+ to be considered a legal adult user.
The purchase limits for adult users are as follows: 2 ounces of marijuana flower and/or 8 grams of cannabis concentrate. In addition, you can buy up to 800 mg of edible products from state-licensed dispensaries or those on sovereign tribal lands.
Possession limits are: 2 ounces in public, and 2 pounds of cannabis at home.
Adult users are legally able to consume marijuana and cannabis products in their private residence, their yard, and on private property that is inaccessible to the public–provided that the owner of said private property permits this. Cannabis can also be legally used it on the premises of a business or event that has been granted a license for on-site usage.
As of 2025, recreational adult users will not be allowed to smoke or vape their cannabis in a multifamily housing building.
Why St. Paul Residents Buy Their Cannabis Seed Strains from Seed Banks
Seeing as both the Red Lake and White Earth Nations are an approximate four-hour drive from St. Paul, and that these two locations are currently the only places that are operating legal recreational dispensaries in the entire state of Minnesota, popping over to a dispensary after work to get a pre-roll or some cannabis flower isn't really feasible for those in St. Paul. As such, locals in St. Paul and its "twin city" of Minneapolis, have been and continue to invest in purchasing their feminized cannabis seeds from places like GCS so that they can cultivate their own cannabis plants at home.
Four of the other reasons why St. Paul at-home cultivators are ordering from GCS, PSB, and other seed banks are as described in brief below:
Extensive Selection: GCS has a wide selection of high-quality indica and sativa cannabis seeds that include winners of cannabis cup awards strains and ones that are otherwise difficult to come by.
Discrete and Speedy Shipping: With package thefts always being an issue, especially for those who live in larger cities like St. Paul, both of these factors are huge benefits.
Cost Effectiveness: Due to the fact that GCS is a sort of mass distributor with a direct working relationship with numerous reputable and respected breeders, they then make their cannabis seeds available to customers at incredibly affordable prices, including in wholesale bulk form and special online sales.
Germination Guarantee: GCS provides a germination guarantee that 90% of their feminized and feminized autoflowering seeds will germinate and if they don't they will send you new ones for free–provided you adhere to their cheap and simple germination guide.
About Feminized Cannabis Seeds and Autoflowering Seeds

Regular cannabis seeds produce both male and female plants, whereas feminized cannabis seeds have a 99% chance of producing female plants, which is why GCS only sells feminized photoperiod and feminized autoflowering seeds.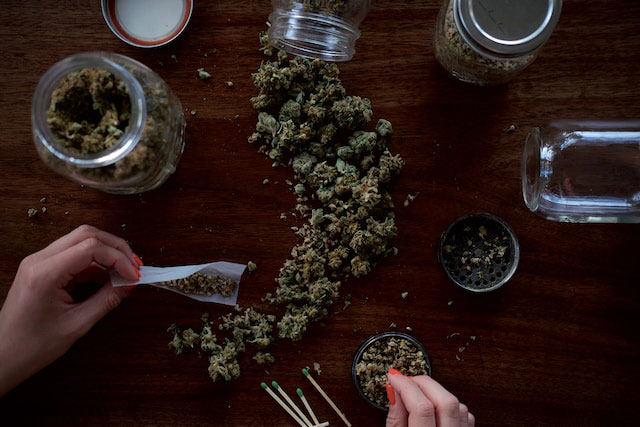 Feminized Cannabis Seeds aka "Photoperiods"

While feminized seeds do have a slight challenge for first-time growers in that they cannot automatically flip to flower on their own without having their lighting schedule changed from what is usually an 18/6 light and dark cycle to a 12/12 cycle, there are plenty of easy-to-grow feminized strains, such as Apple Fritter and Amherst Diesel, that an inexperienced grower can easily find success with. In addition, since GCS has so many informative blogs on how to successfully grow their own weed plants at home, new growers in St. Paul shouldn't have any problems cultivating their feminized strains indoors and out.
Feminized Autoflowering Seeds

Feminized autoflowering seeds do not require any outside assistance in entering their flowering stage. In addition, they usually start to flower weeks earlier than the majority of feminized strains, and they tend to produce smaller and more robust plants–both of which are a huge benefit to St. Paul growers who have to grow indoors for at least 7 months out of the year and only have an outdoor growing season that lasts 140 days on average making strains like Cannalope and Jager incredible options for first-time St. Paul cultivators or those who are wanting strains that will allow them to get the most out of the city's short outdoor growing season. The reason that autoflowers come with all of these added benefits is because they contain about 10% ruderalis, which is a Central Asian landrace strain that is native to the cold northern regions of places like Russia and Mongolia.
St. Paul's Outdoor Growing Season
On average, St. Paul's frost-free growing season starts in early May and ends late September. However, most gardeners in St. Paul wait until mid-May to start planting as it's not uncommon for the city to experience snow flurries and sleet in the first two weeks of May.
Not only does St. Paul have a very short outdoor growing season, its summers are a mix of warm to hot and very humid, and with climate change being a factual reality, its summers, like everywhere else in the world, are becoming more and more dubious and extreme with unprecedented heat waves and other kinds of weather patterns happening. Also, its springs and early summers can go from being "perfect" idyllic weather to 90 degrees Fahrenheit with 90% humidity followed by hail and extreme thunderstorms, and then perfectly balmy all within the course of two weeks.
As such, being able to cultivate fast-growing autoflowering strains that will flower by the end of September and that are more resilient against sudden changes in weather is probably the best option for outdoor growers in St. Paul. In addition, for those who wish to grow their own cannabis at home year-round in St. Paul, having an indoor setup, even a small and inexpensive one, is pretty much a "must" seeing as autumn and winter last approximately seven months, stretching into eight some years. While there are definitely some feminized strains that have a shorter vegetative growth stage and that will do well outside in places like Minnesota, it might be best to grow your autos outside and your feminized seeds inside due to the weather in St. Paul.
Lastly, if you live in St. Paul and have a 3-season porch, as is common for many houses there, it might be a good idea to grow at least a couple of your outdoor cannabis plants in portable pots, especially the ones that are more susceptible to molds, mildews, and sudden changes in weather, so that when there's an unexpected thunder or hail storm or an exceptionally hot and/or humid week, you can easily move them to your porch, and turn a fan on so that they get the air circulation they need.
Five Popular Strains for Indoor and Outdoor Growing in St. Paul
1. Glass Slipper autoflower: this easy-to-grow sativa-dominant hybrid with energy- and morale-boosting effects will do well indoors and out in St. Paul.
2. Deep Purple autoflower: this dynamic indica-heavy hybrid that's a low-maintenance grower will do well outside in a warm and semi-humid outdoor setting be it indoors or out.
3. Golden Ticket autoflower: this 50/50 hybrid delicacy will also do well in St. Paul's warm, semi-humid summers or indoors in soil or hydroponics.
4. Chocolate Chunk feminized: this pure indica with its endless elation and welcomed cozy sedation is the perfect thing when settling in for a long winter's nap in St. Paul, and should start to flower in 8-9 weeks when grown inside.
5. Orange Crush feminized: perfect for those below-zero temperature mornings in St. Paul when you're struggling to get up and out from under your nice warm blankets, this exhilarating, near-pure sativa will be perfect as an indoor grower, as its outdoor flowering time of October may be too late in the year in regards to St. Paul's outdoor growing season.
How do customers in Saint Paul feel about Growers Choice Cannabis Seeds?
First time seed buyer but long time product enthusiast. I read all the reviews and thought Growers Choice would make a great cherry popper. Prices were fine with me, delivery was on time, and the seeds look like they're supposed to! Thanks for providing such a great service, and awesome stealth packaging!
 Our Most Popular Cannabis Strains