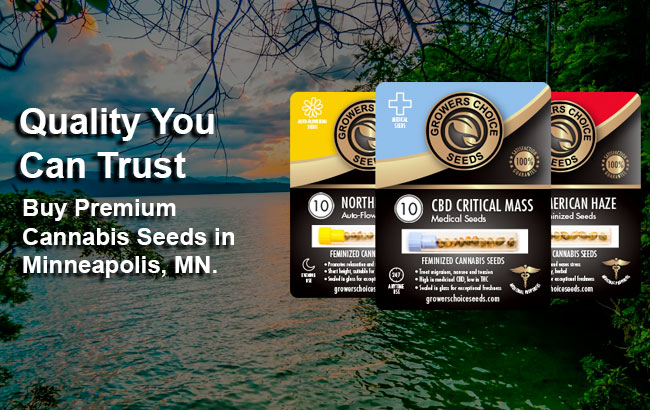 Recreational marijuana is finally legal in Minneapolis as of 2023! This is a long time coming for the state, which has had a pro-cannabis governor for two consecutive terms. Now that recreational marijuana has passed, it's the perfect time to grow your own hemp seeds at home. Read about the latest marijuana news in the North Star State.
Marijuana Seeds and Minneapolis, MN
On August 1, 2023, Minneapolis residents came together on the streets outside the city's iconic music venue of First Ave to celebrate and fill the air and their lungs with the sweet smooth smoke from some ginormous joints that were passed amongst the hundreds gathered there in celebration of the state's recreational marijuana laws, which were signed into law just months earlier on May 30th by Governor Tim Walz, officially going into effect that day.
On that same historic day in Minneapolis, the first legal recreational cannabis sales were made in the north-central part of the state at Minnesota's first adult-use cannabis dispensary at NativeCare, which is under the jurisdiction of the tribal government of the Red Lake Nation. (State-licensed dispensaries not on the sovereign lands of tribal reservations probably won't open until early 2025 as Minnesota's State government still needs to figure out the details of its licensing system for dispensaries that will be a part of its adult-use program.)
With medical patients in Minneapolis having had access to the state's medical marijuana program since 2014, Minnesota has joined the ever-expanding list of states that have fully legalized both medical and recreational cannabis.
As such, it goes without saying that more and more Minneapolitans have been ordering all different types of marijuana seeds from seed banks like Growers Choice Seeds (GCS) and Pacific Seed Bank (PSB) to grow at-home now that their state's adult-use and cultivation program is in full effect.
Minneapolis Cannabis Laws for Medical and Recreational Users
While possession, purchase, and usage laws slightly differ for medical and recreational adult users, cultivation laws for those who reside in Minneapolis who are 21+ are the same, as both groups can now cultivate 4 mature cannabis plants and 4 immature marijuana plants–this 8 plant total is per residence and not per resident. In addition, while cannabis plants can be grown inside or in outdoor gardens, they must be kept in an enclosed, locked space that is not in public view.
Laws Pertaining to Medical Marijuana Patients:
You must be 18+ to become a registered patient in the state's medical cannabis program, or if you are under the age of 18 you must obtain parental consent and have a designated caregiver who is either your parent or legal guardian.
Medical patients can purchase and possess a 30-day supply of cannabis products, such as oils, vapors, pills, and edibles.
You can also buy 2.5 ounces of medical-grade flower every 14 days.
Medical marijuana can be used on private property. It cannot be smoked or vaped in public places where smoking/vaping tobacco isn't permitted. *While vaping and smoking marijuana in multifamily housing buildings will become illegal in 2025 for recreational users, registered medical marijuana patients will still be allowed to.
Recreational Marijuana Laws:
An adult user is defined as someone who is 21 years of age or older.
Adult users can purchase up to 2 ounces of flower and/or 8 grams of cannabis concentrate, along with a maximum of 800 mg of edible products from state-licensed dispensaries. *Until dispensaries outside of tribal lands are operating, Minneapolis residents can purchase and transport from Native-owned and operated dispensaries throughout the state.
You can possess up to 2 ounces in public and a whopping 2 pounds of cannabis at home.
Adult recreational users can use cannabis in their private residences in their yards or on private property that is inaccessible to the public if the owner permits this. In addition, they can legally consume it on the premises of a business or event that has been licensed to permit on-site usage. While medical patients will still be able to smoke or vape marijuana in a multifamily housing building after 2025, recreational users will no longer be able to once this law goes into effect.
Why Minneapolis Residents are Buying Their Weed Seeds from Seed Banks
With the closest legal recreational dispensaries to Minneapolis currently being about a four-hour drive away, residents of this half of the Twin Cities have already been heading en masse to online seed banks to get their orders in so that they could plant their fast-flowering seed strain seedlings on 1 August so as to get their first legal harvest from their outdoor crops before the city's short growing season ends in late-September, early October. They're also placing numerous orders so that they have plenty of options on hand for the long indoor growing season that will start in just a matter of months.
Some other reasons that Minneapolis at-home cannabis growers are choosing to order from online seed banks like GCS are listed below:
Selection: GCS is able to offer its customers a wide variety of high-quality marijuana seeds that include award-winning varieties, strains that are rare and hard to come by, and all kinds of indica and sativa landrace strains and hybrid combos.
Discretion and Speed: GCS provides speedy and stealth shipping, which is something Minneapolis folk appreciate, especially as porch package thefts can be a big issue in various parts of the city.
Cost: Because GCS has a direct working relationship with so many reputable breeders, they are able to offer their seeds at highly competitive prices, as well as in wholesale bulk form and regular rotating online sales.
Germination Guarantee: Another thing that Minneapolis cultivators are really loving about Growers Choice is that they provide a germination guarantee that 90% of the feminized and/or autoflower seeds you buy from them will germinate, provided you stick to their inexpensive and easy-to-follow germination guide.
Feminized Cannabis Seeds vs. Autoflowering Seeds

Growers Choice Seeds only sells feminized cannabis seeds be they photoperiods or autoflowering strains because they have a 99% chance of blossoming into bud-producing female plants. The reason that they do not sell regular seeds is that they will produce both male and female plants. Although male plants are very useful to breeders and highly experienced cultivators who are creating new cannabis strains, they're not something that your everyday Minneapolis home grower has a lot of use for.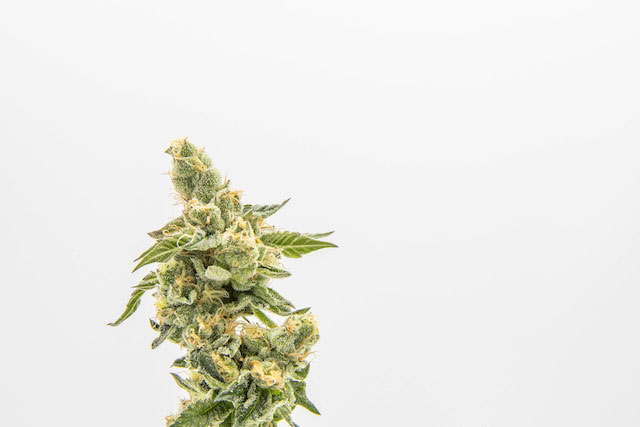 Feminized Cannabis Seeds
The biggest challenge though about growing feminized seeds, or "photoperiods," is that they require outside help in transitioning from their vegetative stage to their flowering phase by being switched from what is usually an 18/6 light and dark cycle to a 12/12 cycle. However, by referring to blogs by GCS such as this one and this, even first-time growers should be able to quickly figure things out as there are numerous feminized strains, like Blue Mango and California Love, that are low-maintenance growers.
Feminized Autoflowering Seeds

Auto seeds are able to flip to flower without any outside help, and generally start to flower much sooner than feminized strains and produce smaller and more robust plants. All of this is on account of the fact that they contain about 10% of the Central Asian landrace strain known as ruderalis, which you can read more about here.
With their shorter growing time and hardier resistance to sudden changes in temperatures etc. autoflowering strains, such as Cataract Kush and Euforia, are especially well-suited for a place like Minneapolis, which has, on average, a frost-free growing season that goes from about early May until late-September.
The Growing Season in Minneapolis
With extremely frigid winters that run from at least November until March, if not later, in which its impossible to grow anything outside, Minneapolis residents are well-versed in how to best take advantage of their short growing season that includes springs that can get 18″ of snow one weekend and be 90 degrees Fahrenheit the next followed by some beautiful balmy days and then massive thunderstorms out of nowhere combined with summers that can get extremely hot and humid.
Growing autoflower strains that will start to flower by late September and/or that thrive in cooler temperatures are kind of a must for your outdoor cannabis garden in Minneapolis, and having an indoor grow setup is going to be the only way to keep reaping yields from your feminized and autoflowering strains during the long winter months.
In addition, since a good majority of Minneapolis homes have three-season porches, growing your less resilient but favorite cannabis strains that are more susceptible to molds, mildews, pests or sudden changes in temperatures outside in easy-to-move pots is a good idea for when there is a sudden thunderstorm, or weeks of unrelenting heat and humidity, or a sudden but short-lived cold snap is advisable as well.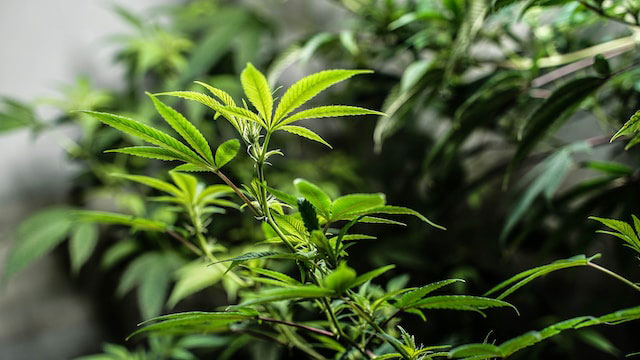 Five Top Strains for Indoor and Outdoor Growing in Minneapolis
1. Recon autoflower: this premium indica-dominant hybrid thrives in a semi-humid, warm maritime or Mediterranean-like outdoor setting that should be harvest-ready around late September into early October. You'll need to top and trim your plants so that air and light are able to circulate around and lower growing nodes and to help prevent mold, mildew, and root rot from occurring.
2. Nebula autoflower: this award-winning, sativa-leaning strain could do quite well outdoors in Minneapolis as it will thrive in a cooler, but not cold, climate. That said, Nebula was created for indoor cultivation, thereby ensuring Minneapolitans some year-round access to a strain known for its creative and uplifting high.
3. Green Queen autoflower: this fast-flowering, well-balanced hybrid can thrive both indoors and out, whereas outside, it will thrive in a sunny Mediterranean-like setting with low humidity levels. As such, during a humid summer day in Minneapolis, you may just want to bring your plants onto your 3-season porch and turn on a fan to get the air circulating.
4. Runtz feminized: you'll probably want to grow this near-evenly balanced, soaring yet couch-locking hybrid outdoors, where it will be ready to harvest by late September, as its plants can be over 6 feet tall. Or if you have plenty of space in your basement grow room, it will do well there too during the long winter months.
5. Cat Piss feminized: this delightful sativa-dominant wake-and-bake should be ready to harvest by the end of September when grown outside, and should start to flower in just 7-9 weeks indoors–thereby guaranteeing Minneapolis residents with a cerebral boost of warmth and sunshine when there are several feet of snow accumulating outdoors and temps are in the Arctic sub-zeros.
Satisfied Growers Choice Cannabis Seeds customers in Minneapolis say:
Growers Choice is really great with customer service. I was a complete pain in the behind but they accommodated me in a very professional manner. I will leave feedback on the quality in a few months, but I have every confidence the seeds will produce some top notch bud. Thanks to the folks at Growers Choice!
 Our Most Popular Cannabis Strains