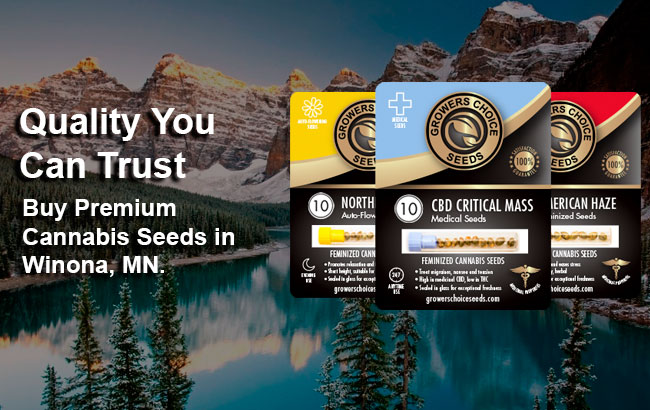 Is it Legal to Grow Cannabis Plants in Minnesota?
At this time, growing cannabis plants is not allowed in the state of Minnesota. Although the state does have medical marijuana legislation in place, the law does not allow for individuals to grow their own marijuana plants. Instead, medical marijuana patients must purchase their cannabis from a state licensed dispensary. Currently, recreational marijuana has not been legalized in the state, although the cultivation of industrial hemp is allowed. Even though you can't grow cannabis plants, you can still buy cannabis seeds, as long as they are ungerminated. Cannabis seeds that are not germinated are considered to be collector's items, and are legal to buy and own by adults within the United States. Growers Choice carries only the best ungerminated marijuana seeds in our online inventory, all fully feminized and backed by our germination guarantee. Shop our selection of high quality cannabis seeds today to get started.
Buy Winona Cannabis Seeds Online for Fast Delivery
To get Winona cannabis seeds delivered to your door quickly, order online from Growers Choice Seeds today. All of our high quality cannabis seeds are fully feminized and completely ungerminated, making them legal to buy and own in the United States. We source our seeds from experienced growers around the world, and every strain we sell is lab tested for genetic quality. Learn more about our seeds when you browse our catalog to find your favorite seeds. We carry a large selection of well known and popular strains, including kush, diesel, OG, and haze strains of cannabis seeds. Buy online using our secure payment portal, and we'll ship your seeds directly to your door using fast and discreet delivery.
Find Autoflowering Cannabis Seeds Online Now
For first time cannabis cultivators, we recommend our autoflowering strains of popular cannabis seeds. Autoflowering seeds will grow more quickly than a traditional photoperiod plant, and won't require a specially timed light change to flower. Instead, they'll mature and flower automatically, making them a great option for new growers and for outdoor growing. Our best autoflowering cannabis seeds are
Hindu Kush Autoflowering Feminized Cannabis Seeds
Haze XL Autoflowering Feminized Cannabis Seeds
Cheese Autoflowering Feminized Cannabis Seeds
Sour Kush Autoflowering Feminized Cannabis Seeds
Critical Purple Autoflowering Feminized Cannabis Seeds
Find out more about these easy to grow autoflowering cannabis seeds when you shop online now. Order online today for fast delivery.
Get High Quality Weed Seeds Delivered Fast
Want to get weed seeds delivered fast? Look no further than Growers Choice Seeds, your source for high quality cannabis seeds online now. We've got the finest selection of Wiona cannabis seeds for sale anywhere online, all fully feminized and completely ungerminated. We ship our seeds in contamination free glass vials using fast and discreet flat rate shipping. Get the marijuana seeds you need today when you order online using our secure server.
Great Selection of High Quality Cannabis Seeds
I've ordered from a couple different cannabis websites, but the seeds that I've gotten from Growers Choice Seeds are way above all of the competition in terms of quality. Their cannabis seeds are super consistent in size and color, and I can tell they're great seeds.
Most Popular Cannabis Seeds