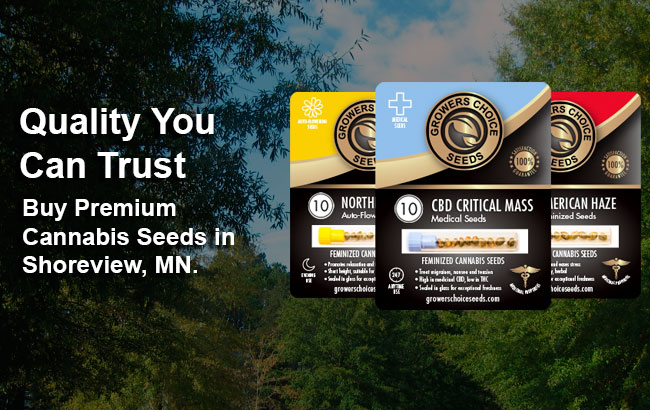 Is Growing Medical Marijuana Legal in Minnesota?
Cannabis cultivation is not permitted in Minnesota at this time. Although Minnesota does have medical marijuana legislation enacted, which provides for legal, safe access to marijuana for patients with a qualifying condition, it does not allow for personal cultivation of cannabis plants. Unlike other states, which provide for medical marijuana card holders to grow a limited number of cannabis plants for their own personal use, medical marijuana patients in Minnesota must purchase their cannabis from a state licensed dispensary. Even though you can't grow your own marijuana plants at this time, you can still buy ungerminated cannabis seeds. Ungerminated cannabis seeds are commonly considered novelty gifts and are not prohibited for sale or purchase by adults in the United States. Growers Choice Seeds carries a huge selection of ungerminated cannabis seeds in our online inventory. Shop our selection today to get started.
Get Shoreview Cannabis Seeds Delivered Fast Today
Get cannabis seeds delivered to your door quickly when you order online from Growers Choice Seeds.We're the best place to buy Shoreview cannabis seeds online, with a large selection of high quality cannabis seeds in stock now. All of our cannabis seeds are supplied by our trusted community of cannabis cultivators from around the globe. Order your premium cannabis seeds online today using our secure server, and we'll deliver your seeds right to your door using our fast and discreet delivery. Shop online now to get the seeds you need delivered to your door in as little as one week.
Best Indica Cannabis Seeds For Sale Online
Check out our indica dominant strains of cannabis seeds. We carry dozens of high quality indica strains in our online inventory, including 
Get these indica dominant cannabis seeds delivered to your door when you order online today. We provide fast and discreet delivery with tracking provided on every order.
Get High Quality Weed Seeds Delivered Fast Today
For fast delivery of weed seeds to your door, look no further than Growers Choice Seeds, your source for high quality cannabis seeds. We carry the best selection of Shoreview cannabis seeds for sale anywhere online, all fully feminized and completely ungerminated. We ship our seeds in contamination free glass vials using fast and discreet shipping. Check us out on social media for the latest cannabis news and upcoming sales and promotions, and sign up for our newsletter for a chance to win free cannabis seeds!
Fast and Discreet Delivery of Cannabis Seeds
My delivery from Growers Choice Seeds was super fast and the packaging was really nice and discreet. The seeds were packed well, and everything looked great when it arrived. The seeds were in great condition and they look really nice in regards to size and color. I will definitely order from them again.
Most Popular Cannabis Seeds