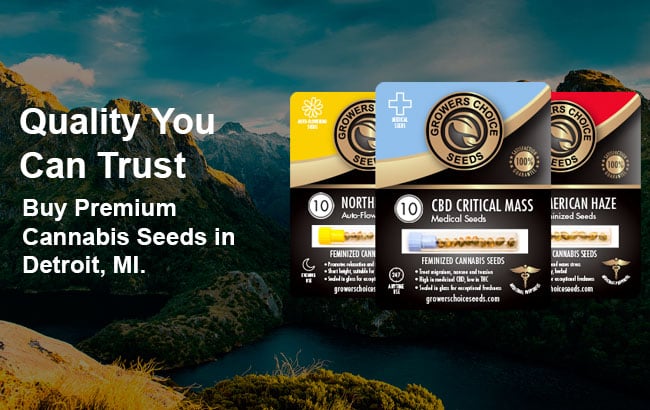 You have come to the right place for the best Michigan marijuana seeds. At Growers Choice, our premium products offer everything you're looking for in a seller, whether you need just a few seeds for your own collection, or are planning to resell and require wholesale marijuana seeds.
Cannabis Seeds and Detroit, MI
Detroit is one impressive city, not just because of the wealth of art music, and automotive innovation it has gifted not just the country but the world with, but also for how its residents have managed to not just save and rebound, but cause their city to flourish after experiencing one of the worst municipal financial crises ever a decade ago.
As such, it should really come as little surprise to hear that when it comes to leading the way in marijuana reform, Detroit voters have played an important role in making their state of Michigan the first in the Midwest to legalize medical cannabis in 2008, and then, in 2018, the first in the Midwest once again, to legalize recreational marijuana.
It's pretty safe to say that Detroiters are resourceful forward-thinking folk who know what's up, can't be kept down, and won't be easily fooled or taken in, which means the fact that so many of them who are at-home cannabis cultivators prefer to order their cannabis seeds from seed banks like Pacific Seed Bank (PSB) and Growers Choice Seeds (GCS) speaks volumes about the merits of ordering your favorite strains from a reputable seed bank.
However, for those who are new to Detroit or are thinking about moving there in the near future, let's first make sure you're up to date on cannabis possession and cultivation laws.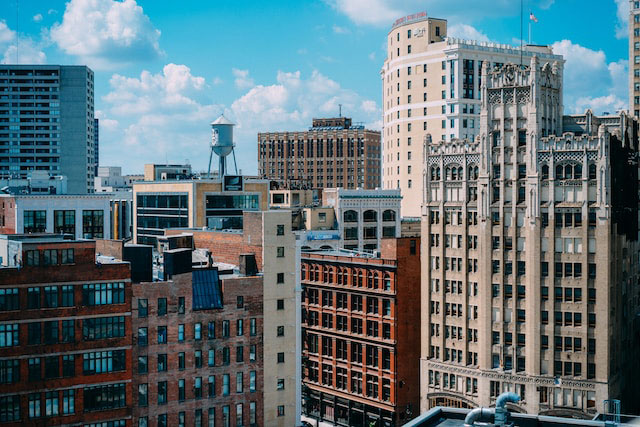 Detroit's Medical and Recreational Marijuana Laws
In Michigan, and therefore, Detroit, marijuana retail stores, which most in the U.S. call "dispensaries," are known as "provisioning centers," and in official communications etc. "marijuana" is spelled as "marihuana."
Furthermore, in Detroit, an adult who is 21+ is allowed to gift up to 2.5 ounces of weed to another adult, but only on the condition that no money is exchanged, and it is not advertised or publicly promoted.
Medical Marijuana Patients:
You must be 18+, or if you are under the age of 18, you must have a designated caregiver who is 21+ and is either your parent or legal guardian.
Medicinal marijuana patients can purchase up to 2.5 ounces of cannabis per day, so long as this amount does not exceed 10 ounces in one month.
They may also purchase up to 16 ounces of cannabis products in solid form, 7 grams of marijuana products in gaseous form, and 36 fluid ounces of cannabis-infused products.
Registered patients grow up to 12 marijuana plants per household and not per patient, so long as the plants are being grown in a secure location that is not visible from a public place.
A licensed caregiver can be a patient with a medical marijuana card themselves and can help up to five other patients who each have their own medical marijuana card. In this situation, the caregiver has a 72 cannabis plant limit and can have a total of 15 ounces of weed in their possession instead of 10, provided they have all six medical cannabis cards.
Adult Recreational Cannabis Users:
Adult-use cannabis is for those who are 21 years of age or older.
Like medical users, adult users can purchase up to 2.5 ounces of marijuana from a provisioning center.
Adult users can have up to 15 grams of marijuana products in concentrate form, and possess up to 10 ounces of cannabis in their home. Any amount that is over 2.5 ounces in their place of residence must be stored in a secured location.
Adults can cultivate up to 12 plants per household in a secure location that is not publicly visible. Note that this limit is per household and not per adult member of an individual place of residence.
For more details on all the ins and outs of medical and recreational laws in Detroit as laid out by the State of Michigan please refer to this guide.
Why Detroiters Buy Their Pot Seeds from Online Seed Banks
The majority of Detroit residents are savvy, cultured, aware, street smart, progressive, engaged, and do not suffer fools lightly. As such, the fact that so many Detroit- and Michigan-based growers prefer to get their regular seeds (medical marijuana seeds and auto-flowering seeds) from seed banks like Growers Choice is very telling.
While cannabis has been legal in Detroit for a while now, locals are all about ensuring that their small, local businesses thrive, which means that you would think they'd prefer to buy their weed seeds locally. However, there are several reasons why those who call Detroit home tend to opt for online seed banks
Extensive Selection: GCS is able to make a wide variety of high-quality cannabis seeds, which include award-winning seed strains, and all kinds of indicas and sativas available to its customers on a scale that your neighborhood dispensary just isn't set up to do.
Discretion and Speed: Seed banks like GCS are both speedy and discrete, which is something Detroit patrons appreciate as they lead busy lives and don't want to worry about package thefts. In addition, for medical marijuana cardholders in Detroit who have limited mobility, having easy access to top-tier high-quality seeds by way of online ordering and direct delivery is a huge bonus.
Affordability: Detroiters who continue to revive their beloved city and neighborhoods know full well the value of high quality and investing wisely. So the fact that GCS is able to offer their feminized seeds at highly-competitive prices, as well as in wholesale bulk form and regular rotating online sales, due to their direct working relationship with numerous breeders from around the nation is not something that goes unappreciated by Detroit citizens.
Germination Guarantee: Detroit growers also know that it's important to be able to back up and follow through with your promises, so the fact that GCS provides a germination guarantee that 90% of the feminized and/or autoflower seeds you buy from them will germinate, so long as you follow their inexpensive and easy-to-follow germination guide, is another reason why Detroiters choose to invest their hard-earned money in feminized seed strains from places like Growers Choice.
Two Different Kind of Cannabis Seeds: Feminized Seeds and Auto-Flowering Seeds

Feminized cannabis seeds, which can be photoperiods or autoflowering strains, have a 99% chance of blossoming into bud-producing female plants; whereas regular seeds produce both male and female plants. While male plants are very useful to commercial growers and breeders who need them for pollinating their female plants so as to be able to create new cannabis strains, they are not something that most Detroit growers need. As such, reputable and trustworthy seed banks like GCS and PSB only offer feminized seed strains to their customers.
Feminized Marijuana Seeds From Our Marijuana Seed Bank
While there are plenty of feminized seed strains, like Bubbleberry and C4, that are easy to grow in one's indoor or outdoor marijuana garden in terms of their cultivation needs, they do come with a small challenge as they cannot flip to flower without outside help. This means that even novice grower will need to know a little bit about lighting cycles and switch their crops from an 18/6 light and dark cycle to a 12/12 cycle to get them to transition from their vegetative stage to their flowering stage. However, by referring to GCS blogs, like the ones provided in this section, you should be able to successfully grow your feminized strains with little previous cultivation experience.
Feminized Autoflower Seeds and Female Seeds

While all autoflowers are feminized, not all feminized seeds are autoflowering seeds. Autoflowering strains can automatically flip to flower without you having to adjust their light/dark cycles and, as a general rule of thumb, start to flower much sooner than feminized photoperiod strains. They also tend to produce smaller and more robust plants, which makes them highly versatile for both indoor and outdoor growing. All of these factors are because auto seeds contain about 10% ruderalis, which is a Central Asian landrace strain that's traditionally found in areas like Russia.
Thanks to all of these aforementioned traits, autoflowering strains, like Silver Kush and Midnight, are a great option for cannabis cultivators in Detroit, which usually sees its first frost of the year in mid-October and last frost of the year at the beginning of May.
Detroit's Growing Environment
Detroit, which experiences all four seasons in full with mild springs and autumn, hot summers, and cold snowy winters, is located in USDA Hardiness Zone 6 for planting and has an average outdoor growing season of approximately 170 days a year.
As such, getting at least a couple full outdoor harvests every year, and several indoor harvests the rest of the year is pretty feasible for Detroit cannabis growers.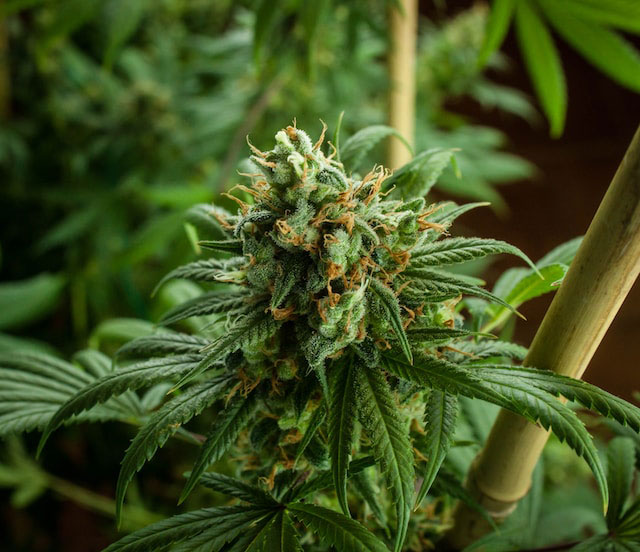 Five Great Strains to Grow in Detroit
1. Diamond OG autoflowering seeds: this evenly-balanced hybrid leans indica in its effects and provides a long-lasting, clean high will well outdoors in Detroit's warm summers and should be ready to harvest before the first frost of the year hits.
2. Quantum Kush autoflowering seeds: this top-tier sativa that can be grown inside in a grow tent, outside in a warm summer setting, or in a greenhouse is a fabulous option for Detroit growers year-round.
3. Grape Kush feminized seeds: this sativa-leaning strain with its clear-headed, tranquil high can thrive indoors and out, and grown outside in Detroit it should be ready for the picking as early as late September.
4. Royal Kush autoflowering seeds: this incredibly powerful indica-dominant hybrid should thrive outdoors in Detroit's summers, and thanks to its small-sized plants shouldn't take up too much space when being grown indoors during the autumn and winter months.
5. Dutch Treat: with many Michiganders having Dutch DNA in their ancestry, this indica-dominant hybrid should be just the right kind of treat for Detroit cultivators and is perfect for indoor cultivation year-round.
The Best Seeds in the Great Lake State
Re: Hindu Kush: Great seeds from a great online company. Will be buying again.
Most Popular Cannabis Seeds