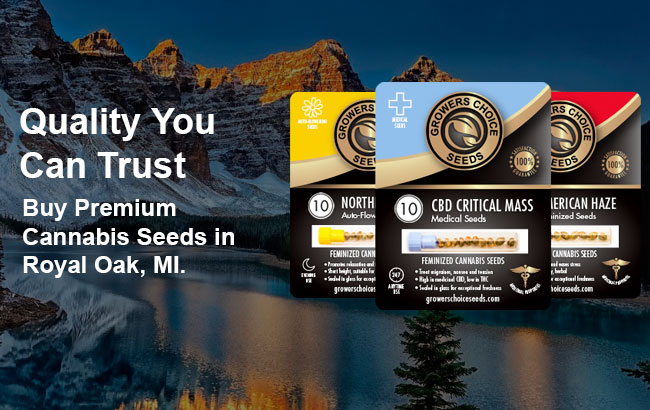 You Can Now Buy Cannabis Seeds In Royal Oak, Michigan
Go Big Green. Online mail order delivery of high quality, tested and proven cannabis seeds has arrived in Royal Oak. Growers Choice Seeds ships directly from our facility in California. Grower's Choice is your first and final choice for securing quality Royal Oak cannabis seeds. Our customer service is unprecedented when it comes to online seed shopping and shipping. GCS makes it simple.
Is growing legal in Michigan?
Absolutely! Go Blue! Michigan voters approved legislation to grow cannabis on December 6, 2018. You have every right to grow in Royal Oak for personal use, but you cannot sell or distribute. Naturally, cannabis is highly regulated. Please keep in mind, cannabis is treated like alcohol: never drive under the influence, and avoid smoking in any public place.
How Much Cannabis Can I Grow In Royal Oak?
How does twelve plants sound to you? Michigan allows you 2.5 ounces. If you have more than that, you'll need to keep your marijuana in some kind of locked enclosure.
Plants need to stay hidden from obvious public view.
The Wolverine State has more information for you here
Indoors or Outdoors Cannabis Growing
Our weed seeds perform best by following the guidelines, indoors or out. Considering your long sub-zero winters, a grow house or a backyard shed can be ideal if you provide your plants the heat they need. If you're a summer outdoor grower, you'll have plenty of sun to keep your plants happy. They don't call it "weed" for nothing. It likes the great outdoors, maybe even more than you do.
Unique in the Midwest! Royal Oak Cannabis measures up.
There's only one other place in the USA that allows up to twelve plants per person, and that is Alaska. Michigan is the least restrictive grow state for personal use. Go Michigan! Let's get you started. Review your options here.
Cannabis Seeds Shipped Discreetly. Of Course.
Discreet. Inside the box you'll find your weed seeds in protective glass vials. Let us hear from you today and get your seeds on their way. We've got a great chat feature if you need help to complete your order.
We've got all the shipping information ready for you here.
Weed Seed Germination Guaranteed!
Your success is our success. The top resource for premium cannabis seeds in Michigan is Growers Choice. Our California weed seeds are of superior quality, select, tested and come with a guarantee. If more than 10% of our seeds fail to germinate, let us know and we'll work with you to fix the problem. Non-viable seeds will be replaced. Long gone are the days of seeds between sheets of wet paper towels.
Our germination guide is your best resource.
We Help Our Customers Every Step of the Way
This gardener is ready with Grower's Choice! I got great cannabis seeds shipped from you. The tulip bulbs from next door in Wisconsin took longer to get here. I love their chat feature on their website. I got all my questions answered. No problems, anywhere. Watch out, green thumb neighbors. I'm coming for you next season.
Most Popular Cannabis Seeds