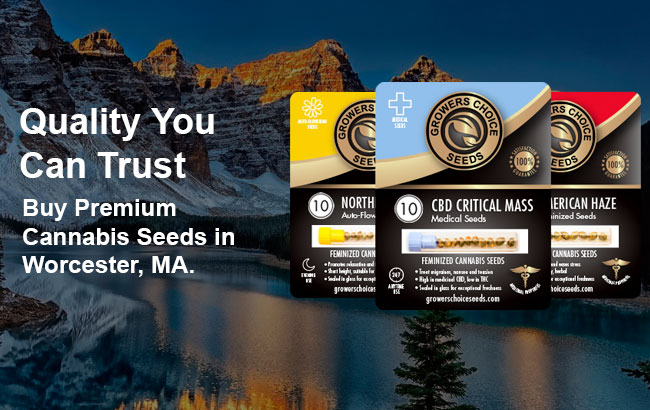 Known for its rich history, beautiful architecture, and vibrant nightlife, Worcester is nestled between Boston and Springfield. Nicknamed "the Heart of the Commonwealth," it is also home to a  growing community of gardeners and connoisseurs. In the article below, we highlight local laws, growing recommendations, as well as some of the favorite strains in the area.
What are Cannabis Seeds?
Small and slightly shiny, cannabis seeds contain all the genetic information required to grow an entire cannabis plant. While there are a number of steps to home gardening, the very first is to ensure you're beginning with high-quality, healthy seeds. These can be obtained either locally, or from a reputable, online cannabis seed bank—ideally with a germination guarantee. By starting your gardening journey with quality seeds, you'll be all the more likely to cultivate your own small garden of vibrant, thriving cannabis plants.
History of Cannabis Seeds in Worcester
Recreational cannabis consumption for adults 21 and above is legal in Massachusetts, and therefore, Worcester. Additionally, individuals may grow up to six plants in their private residence so long as they are in an area with a lock or security device. Finally, your cannabis garden cannot be visible from a public place without the use of optical aids such as binoculars.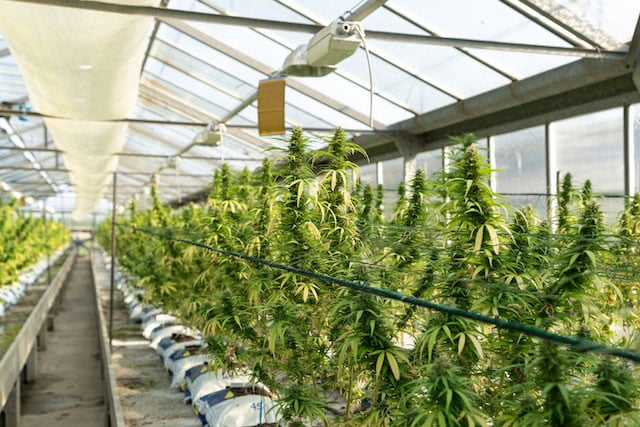 Benefits of Growing Cannabis Seeds in Worcester
Financial Benefits
Purchasing cannabis products has benefits of its own, but if you're looking for a less expensive way to obtain cannabis, simply producing your own for personal use can be tremendously cost-effective.
Environmental Benefits
At-home growing in Worcester can also benefit the environment. By sticking with pesticide-free cultivation practices and using organic gardening resources, you'll not only enjoy the reduced cost of growing your own cannabis, but potentially reduce your carbon footprint and contribute to a more sustainable environment.
Types of Cannabis Seeds Available in Worcester:
While there are thousands of cannabis strains in existence. Yet there are just four main cannabis seed varieties: feminized marijuana seeds, auto-flowering, regular, and CBD. Below, we provide a brief overview of each variety's unique characteristics.
Feminized Seeds
While regular marijuana seeds have a 50/50 chance of producing male and female plants, feminized seed strains are bred to produce only female plants. Feminized cannabis seeds are beneficial because they produce notably high levels of THC and CBD. Accordingly, they are desired by growers seeking especially potent yields. Because of this quality, there are a variety of seeds available as feminized strains.
Regular Cannabis Seeds
Regular seeds are preferred by growers looking to experiment with breeding new strains as they produce male and female plants. While they tend to be more affordable in price, they also tend to produce less potent yields. Unlike auto-flowering varieties, which tend to be fast-flowering seed strains, regular seeds grow at the normal rate.
High-Quality Cannabis Seeds
Residents of Worcester have access to high-quality seeds through several different resources. Any local cannabis retail shop will typically provide a selection of seeds. However, the widest variety will be found at a reputable online seed bank—particularly one that provides a germination guarantee and discreet shipping.
Another excellent way to ensure your seeds are of the highest quality is to check for good signifiers of health. Provided below are several methods you can use to identify the health of your seeds.
Observe: Healthy, viable weed seeds will typically be teardrop-shaped—round and fat at the bottom and tapered on the opposite end. Ideally, your seeds will also have a slight shine and a rich, dark brown color.
Submerge in water: This test should only be performed if you're already ready to germinate your seeds. Add your seeds to a glass of warm distilled water and leave them for approximately one hour. Healthy seeds will sink; poor-quality seeds will float.
Test their strength: The outer shell of healthy weed seeds is usually hard and firm. It is unhealthy if it is soft or breaks easily. We recommend keeping an eye out for any cracks: good quality will not have holes or gaps.
Autoflowering Cannabis Seeds
For those licensed to grow outdoors, Worcester's humid continental climate makes autoflowering seeds a perfect complement to the outdoor climate. In fact, autoflowering strains have a special genetic quality; thanks to their ruderalis lineage, they are especially tough, resilient, and have a shorter flowering period.
They're also notably low maintenance and can stand up to some mishandling. In fact, they're famous for thriving in less-than-ideal outdoor conditions. Finally, they are typically disease and pest-resistant seed strains. All of the aforementioned qualities make auto flower seeds suitable for both outdoor growers and beginners.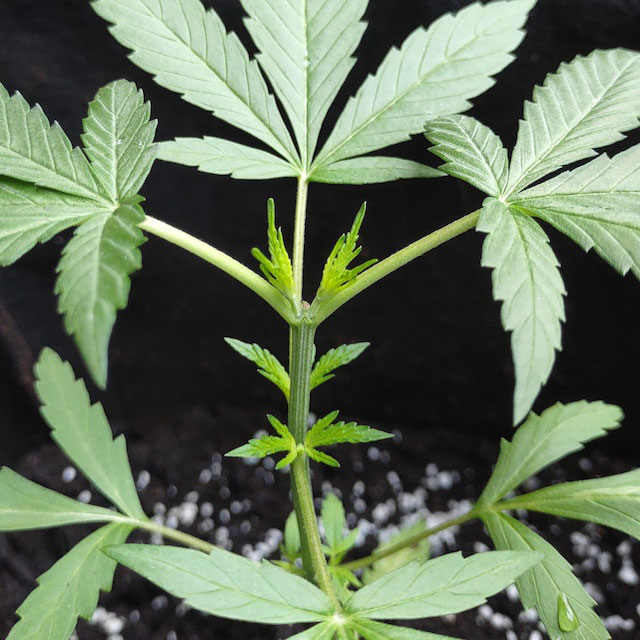 How to Choose the Right Cannabis Seed Strain(s)
While having access to a wide variety of high-quality cannabis seeds is an important part of the selection process, the other half of the equation involves your own personal preferences.
In truth, any healthy pack of seeds can be ideal depending on your unique goals and gardening setup. Keep in mind your desired yield, preferences, and growing environment. Additionally, review the following characteristics:
THC level
Average yields
Plant size
Growing requirements
Indica to sativa ratio
Effects
Aroma and taste
Consider Your Growing Environment
Individuals in Worcester are permitted to grow up to six cannabis plants in their own private residences. If you're new to the world of cannabis, be sure to consider your growing environment before beginning the gardening process. Factors such as the amount of space you have, as well as the growing tools you have access to, will help determine what the best types of cannabis seeds are for you to buy.
For example, if you're limited to a small amount of space, auto-flowering strains will be especially suitable given their compact size. Another example: Are you able to manually adjust the lighting? If so, this will help allow you to grow feminized seeds—rather than auto-flowering ones, which require no adjustment to their light cycles.
Research Different Varieties and Strains
By using the filtering options provided by a quality seed bank, you can easily pinpoint the precise type of strain you'd like. However, if you're unsure where to start, take a peek at the following list. The strains listed below, which are all available via Growers Choice Seeds, are especially popular in Worcester:
Blackberry Kush Feminized seeds
Sweetly fragrant, this indica-dominant strain is known to uplift the mood and help alleviate stress. Plus, it's fast-flowering to boot. Skunky, yet fruity, it is known to be deeply calming and contains a THC level between 16 and 20 percent. A medium-sized plant, this strain tastes of berries and diesel with a hint of earth. It averages yields of up to 450 grams per square meter indoors, and has a flowering time of 55-65 days.
Tasting of berries and cheese, this indica-dominant hybrid carries a THC level of 19 percent and produces average yields of 500-500 grams per square meter indoors. Known for its sedative properties, it can be ideal for a quiet evening at home.
White Widow is known to sharpen your perception of sights and sounds while simultaneously delivering a potent dose of energy. After some time passes, you may notice your heightened lucidity effortlessly dissolves into a state of mellow bliss. It is also especially suitable for Worcester residents looking to plant their own small garden indoors: In fact, this strain is known to prefer the indoors and typically thrives best when kept inside.
Durban Poison Auto-flowering Feminized Seeds
The perfect morning pick-me-up, Durban Poison is a pure sativa landrace with uniquely energizing properties. It is also notably easy to grow, making it an ideal choice for those just learning how to garden. This strain averages yields of up to 350 grams per square meter indoors and has a citrusy, skunky, sweet scent.
Lemon Skunk Auto-flowering Feminized Seeds
This strain may just brighten your day: A high-yielding award winner, its potent aroma and energizing effects are accompanied by a fragrant aroma. This strain is ideal for those looking for a dose of motivation and is known for its creativity-enhancing properties. With 22 percent THC, this strain is easy to grow and therefore suitable for those just dipping a toe into the world of cannabis gardening. It also averages yields of up to 350 grams per square meter indoors.
Growers Choice gets two thumbs up from customers in Worcester
Growers Choice is great to do business with. Their team kept me up to date and it was really easy to order, plus I like that they have a rewards system! The info on the seeds is detailed, so you know what you know what you're buying.
 Our Most Popular Cannabis Strains