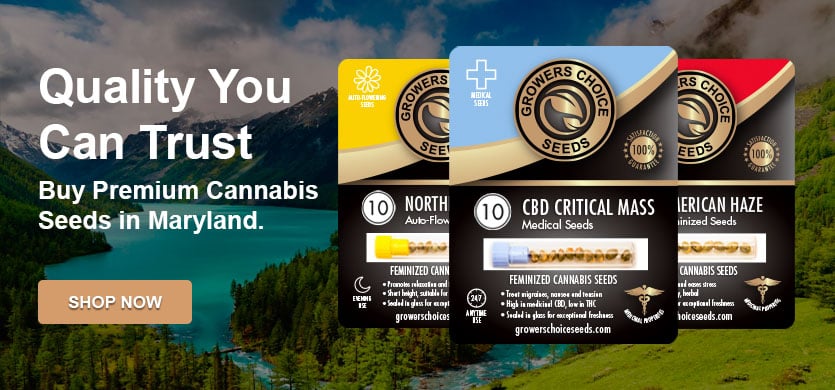 This summer was the start of a new dawn for several states in regards to the commencement of legalized adult-use marijuana for recreational purposes going into full effect, with Maryland being one of them. Keep reading to learn how to buy weed seeds in Maryland.
Maryland and Cannabis—Do They Have Recreational Marijuana?
On 8 November 2022, Maryland really lived up to its nickname as the "Free State" by passing Question 4, which made it legal for state residents to legally purchase, possess, use, and cultivate recreational cannabis, and then on July 1, 2023, Marylanders began to be able to reap the benefits of this important piece of legislation being passed.
Having already had a medical marijuana program since 2014, those who call Maryland home now have total and complete access to procuring and growing both medical and recreational marijuana without fear of legal repercussions, provided that they meet the age and medical requirements, etc.
In fact, speaking of legal limitations and requirements, let's re-familiarize you with the most important details of what Maryland's landmark legalization legislation entails.
Maryland's Cannabis Laws for Recreational Users and Those with a Medical Marijuana Card
Medical Marijuana Legislation in Maryland:
You must be 18 years of age and older to become a medical cannabis patient, or, if you are a minor, you must have an official caregiver who is 21+.
Those registered with Maryland's medical cannabis program can legally purchase and possess up to 120 grams, or 4.2 ounces of flower, or 36 grams (approx. 1.3 ounces) of cannabis products over the course of a 30-day period (on a rolling basis) from a state-licensed medical dispensary. However, a Maryland-licensed healthcare provider can also certify a medical patient to be able to purchase and possess more or less than these quantities.
Patients who wish to be at-home medical marijuana growers are allowed to cultivate a total of four cannabis plants per household, and not per patient.
Medical marijuana plants must be in a secure area that is not in public view, and that cannot be accessed by those without legal authorization to do so.
For more details on how to become registered with Maryland's medical program as a patient or caregiver, please refer to this information sheet.
Recreational Cannabis Laws for Adult Users in Maryland:
An adult user is someone who is 21+.
Adult users are legally permitted to purchase up to 1.5 ounces of flower, and 12 grams of cannabis concentrate products from a licensed dispensary.
The possession limit for cannabis products, such as edibles, is that 750 mg THC.
Adult users who wish to grow their own cannabis plants at home for recreational purposes can cultivate up to two adult plants per household, regardless of how many adults 21+ live in the same residence.
As for medical users, the weed plants belonging to a recreational adult user cannot be in public view and must be secured so that minors cannot access them.
For even more information relating to adult-use marijuana laws in the Free State, please see here.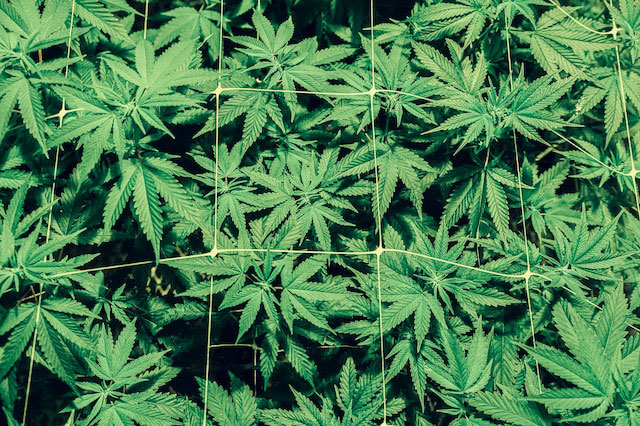 The Benefits of Buying Your Cannabis Seeds and Growing Recreational Marijuana from an Online Seed Bank
While it is sometimes possible to obtain weed seeds from a dispensary, the fact is that dispensaries aren't set up to provide the kind of extensive selection that trustworthy seed banks like Growers Choice Seeds (GCS) and Pacific Seed Bank can and do make available to their customers.
In fact, not only does GCS' wide selection of feminized cannabis seeds include numerous top-rated cannabis seed strains, such as Donna OG, as well as award-winning and heavy-hitting seed strains, like Pot of Gold and Montana Silvertip, they also sell autoflowers, and offer regular sales on their website.
Find Autoflower Seeds For Sale online at Weed Seeds USA and start growing these easy plants as soon as cultivation makes its way into the legal sphere.
Source: weed-seeds.com
Some other reasons that outdoor and indoor growers prefer to order their recreational and medicinal seeds from reliable seed banks are provided below.

Cost of Feminized Seeds: Because online seed banks, like GCS, have a relationship with so many reputable breeders, they can offer marijuana seeds both at sale and wholesale prices.
Discretion: While Maryland residents are legally permitted to cultivate recreational and medical cannabis seeds at home, the fact is most individuals still want ultra-fast shipping and discreet packaging–both of which GCS provides.
Premium Quality: GCS, which provides exceptional customer service, is fully committed to providing customers with top-shelf quality cannabis seed strains, which is also why they only sell feminized cannabis seeds and feminized autoflowering strains, as feminized seeds have a 99% chance of producing female plants; whereas regular cannabis seeds will produce male and female weed plants. In fact, GCS is so sure of the integrity of the seeds they sell that all GCS pot seeds come with a germination guarantee that 90% of them will germinate, so long as growers strictly adhere to the germination method provided by GCS.
Growing Feminized Seeds and Cannabis in Maryland
When it comes to growing your marijuana plants outdoors in Maryland, it's important that you have some knowledge about its actual growing environment.
To start with, Maryland has an average outdoor growing season of 170 days and experiences frequent thunderstorms throughout the summer months.
However, to be more specific, the state actually has two very different climates. For those who live in the eastern part of Maryland, summers are hot, and winters are short and only moderately cool. Those in the western and northern regions of the state tend to experience hot and humid summers and much colder winters that lately see an average of 20 inches of snow on an annual basis.
Generally speaking, experienced growers tend to be pretty comfortable with growing their favorite seed strains in secure outdoor weed gardens as they know how to navigate the climate conditions in the area where they live in Maryland. Those who are new to growing are advised to start off as indoor growers until they've gained enough experience as growing weed plants inside allows one to create, monitor, adjust, and maintain the exact temperature and humidity levels that each different plant type requires. Another big benefit for Marylanders who opt to grow indoors is that there are several cannabis strains that aren't the most robust seed strains and won't thrive in the state's humid summers that include frequent and sudden thunderstorms, even if they are pest and disease-resistant seed strains.
Finally, with a growing season that averages 170 days, even the most expert cultivator is going to have to move their growing operation to their indoor cannabis garden set up before the first frost of the year hits, which can start as early as mid-October in locations like Baltimore.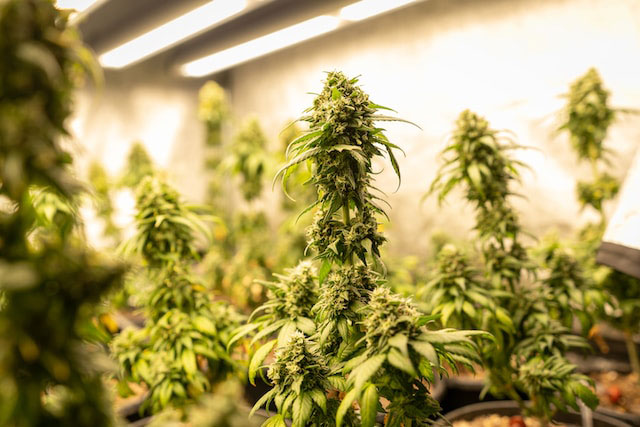 Five of the Best Feminized and Fast-Flowering Seed Strains for Growing in Maryland—Buy These Seeds for Sale
1. Bruce Banner feminized marijuana seeds: As one of the strongest and most potent sativa-leaning hybrids on the market, trichome crystal-covered Bruce Banner nugs are sure to delight indoor growers. While it can be cultivated outdoors, due to its need for a warm setting that is consistently dry, you will probably want to avoid exposing it to Maryland's humid summers.
2. Champagne Kush feminized marijuana seeds: Depending on the growing zone you call home in Maryland, this great-tasting cannabis 50/50 hybrid strain with prominent sativa properties could be a great option for outdoor growing as it tends to finish its vegetative phase between late September and early October, which means you should be able to get at least one full harvest from it before the frost hits.
3. New Glue autoflowering marijuana seeds: The fast-flowering, automatic cannabis plants produced by this smile-inducing indica-heavy strain are very susceptible to mold, mildew, and root rot due to high humidity levels, as such you may want to grow this one indoors. That said because it does well in a cooler setting and the fact that it enters its flowering time as early as late September, it may be possible to grow this one outside if you live in a less humid part of Maryland.
4. Cotton Candy Kush autoflowering marijuana seeds: if you live in a region of Maryland where you can provide this indica-dominant hybrid with a dry, warm, and sunny location in your outdoor legal marijuana garden, you will definitely want to do as it will then provide you with massive yields of approximately 990+ grams per plant. However, if you live in a more humid part of the state, chances are you won't be complaining about its indoor yield of 450+ grams per square meter as no matter where you grow it, Cotton Candy Kush is also known for producing some pretty massive flowers.
5. Golden Goat feminized marijuana seeds: Considering the fact that this incredible 100% pure sativa requires an average temperature of 70-80° Fahrenheit and low humidity levels in order to thrive, Marylanders will likely need to grow this phenomenally euphoric strain, which has an indoor flowering time of 9-11 weeks, inside where you can create and maintain this environment.
Find Growers Choice cannabis seeds in Maryland:
Baltimore
Bowie
Frederick
Gaithersburg
Rockville
Annapolis
College Park
Hagers
Laurel
Hagerstown
Greenbelt
Learn About The Top Strains Locally
Learn About the Top Cannabis Strains in Maryland
Shop Cannabis Seeds Now