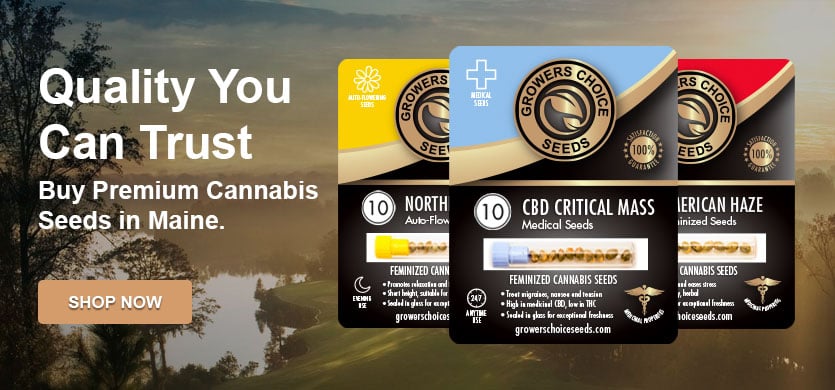 Known for its lighthouses, fresh lobster, and abundant pine trees, Maine is also home to a community of cannabis connoisseurs and enthusiasts. Whether you're simply visiting or a longtime resident, below is an overview of cannabis facts as they pertain to the state of Maine.
Overview of Cannabis Seeds
Mainers interested in cannabis seeds may find the following guide useful; it provides a thorough overview of how to obtain high-quality seeds in Maine, how to tend to your cannabis garden, and briefly touches upon Maine's cannabis culture and progressive cannabis laws.
Benefits of Obtaining Cannabis Seeds in Maine
Maine has a thriving cannabis culture thanks to advancements surrounding the legality of cannabis seeds and recreational marijuana.
In 2016, the recreational use, retail sale, and taxation of cannabis were legalized, and as of 2017, adults age 21 and above are permitted to grow specific amounts of cannabis: three mature weed plants and up to twelve immature plants, to be exact. These plants may be cultivated indoors or in outdoor gardens—however, outdoor gardens may not be visible from the street without the use of binoculars or other optical aids. Additional information on Maine cannabis laws can be found here.
Mainers looking to cultivate their own, small garden within these limits can help ensure success by following a few, simple rules of thumb: Seek a certain quality of cannabis products. There are quality seeds for sale at online seed banks, as well as local dispensaries. Additionally, follow the basic principles of growing. By ticking these two tasks from your list, even beginner gardeners can produce lush cannabis plants with ample levels of cannabinoids and terpenes.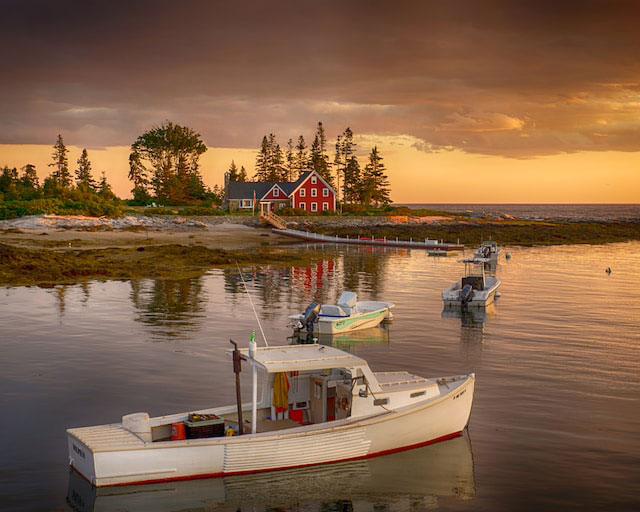 Types of Cannabis Seeds
There are four main forms of cannabis seeds: feminized, auto-flowering, CBD, and regular marijuana seeds. If you're new to the world of gardening, it is important to know the distinct pros and cons of each type. Below are brief explanations that can help you determine which type of seeds are best for your own, unique needs and goals.
Regular Cannabis Seeds
Although regular marijuana seeds will produce both male and female plants; this characteristic has its own beneficial effects: Regular cannabis seeds have both male and female genetics. This allows for the natural breeding of plants and the creation of new strains.
Additionally, regular marijuana seeds are typically more affordable and best suited to experienced growers. Although they do not produce the most high-yielding cannabis crops, they are ideal for growers with specific needs and preferences.
Feminized Cannabis Seeds
Gardeners in the Pine Tree state seeking to optimize their yields may want to consider feminized seed strains. These high-yielding marijuana seeds grow into female plants that boast buds rich in THC and CBD.
While regular marijuana seeds will produce approximately 50% male plants, feminized seed strains are bred to produce only female plants. Therefore, growers who opt for feminized seeds will, 99.9% of the time, be rewarded with seed-free, female plants—and therefore, higher yields with greater grams per plant. Additionally, there is a wide selection of feminized weed seeds available to meet a wide variety of preferences.
Auto-flowering seeds
While outdoor gardens of three mature plants or fewer are legal in the state of Maine, it is important for gardeners who prefer working outside to find seeds with natural resistance to bad weather, pests, and more. Known for its severe thunderstorms with high wind speeds, the state of Maine can pose a challenge for outdoor gardens. However, auto flower seeds are an excellent choice to stand up to the state's inclement weather.
Autoflowering cannabis seed strains have a special genetic quality; thanks to their ruderalis lineage, they are especially tough, resilient, and have a natural resistance to mishandling. Additionally, they are considered to be pest and disease-resistant seed strains, therefore requiring fewer protective measures against many forms of pests. These traits are so coveted many photoperiod strains have been bred as auto-flowering plants.
High-Quality Cannabis Seeds
Obtaining healthy seeds is a key step in producing bountiful plants. Ideally, recreational and medical growers alike will want to obtain seeds that have excellent potency and resilience. You can help ensure your cannabis seeds are top-notch by purchasing from a reliable, established seed bank that provides a germination guarantee. We also recommend performing any and all of the following tests to help ensure success.
Physical and visual: Simply observing a seed is one of the best methods to determine its quality. A high-quality seed will typically be a teardrop-like shape—round and fat at the bottom and tapered on the opposite end. Ideally, your seeds will also have a slight shine and a rich, dark brown color.
Float Test: This test should only be performed if you're already ready to germinate your seeds. Add your seeds to a glass of mild, hot distilled water and leave them for approximately one hour. Healthy seeds will sink; poor-quality seeds will float.
Touch test: The outer shell of healthy weed seeds is usually hard and firm. It is unhealthy if it is soft or breaks easily. We recommend keeping an eye out for any cracks: good quality will not have holes or gaps.
Seed Banks and Sources for Purchasing Marijuana Seeds in Maine
Maine's cannabis laws have not only sparked a flourishing cannabis culture, they've helped develop the recreational cannabis market. Mainers have two excellent options for obtaining legal marijuana.
Local dispensaries: Access to marijuana for recreational growers has been made possible through the legal sale of cannabis products via licensed establishments. Shopping for marijuana products at nearby locations helps support the local, legal cannabis market. Additionally, these dispensaries adhere to a certain standard of quality cannabis products and provide excellent customer service. Finally, they are also a convenient option: Maine currently boasts an abundance of cannabis dispensaries, so it's likely you'll be able to find a nearby location.
Online: Residents may also opt to purchase seeds from a reputable, online seed bank. Doing so can ensure discreet and convenient access to marijuana seeds without needing to leave your home. Additionally, the right bank will have the largest library of weed seeds imaginable. In fact, they'll not only provide a wide variety of cannabis seeds for sale, but excellent customer service, plus the necessary filters and search options to discern which weed plants will suit your needs.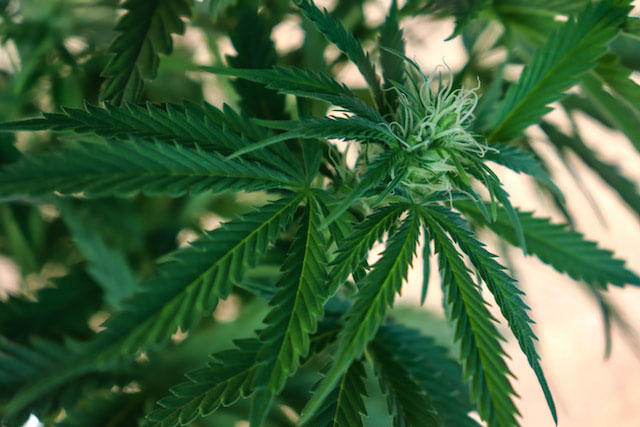 Wide Selection of Weed & Pot Seeds Available for Sale in Maine
Recreational cannabis growers can find the perfect strain for their cannabis ventures by doing thorough research before selecting a seed bank. It's simply a matter of whittling away less reputable options and zeroing in on the perfect choice.
So, how can this be accomplished? Trustworthy online seed shops can be easy to spot by looking for the following benefits:
Excellent selection: There are thousands of cannabis strains. Established banks will provide a comprehensive selection of seed varieties, forms of cannabis, and more.
High-quality seeds: Obtaining healthy seeds is the vital first step in a successful growing experience.
Educational information: Each type of strain seed should be accompanied by relevant information such as THC levels, flowering time whether it is a photoperiod strain or not, plant size, aroma, taste, and more.
Filtering options: Are you seeking a balanced hybrid or a pure sativa? A strain that provides a boost of creativity or lulls you to sleep? The best seed banks will have filtering options at your fingertips—thus making it simpler to zero in on the exact strain you're seeking.
Germination guarantee: The bank you select should plainly state the quality of their seeds. However, this claim is all the more reliable if it's backed up by a germination guarantee.
Additionally, the right online seed bank will provide plenty of educational information on their selection of products; this will include the THC levels, indica and sativa content, beneficial effects, and growing considerations such as average yields, optimal growing conditions, and more.
Skill Levels Needed to Grow Different Types of Plants From Seed
Missteps can make cannabis cultivation difficult no matter the variety you're growing. However, any of the aforementioned seed varieties can be suitable for a variety of skill levels—even beginners.
Auto flower cannabis seed strains are typically recommended for beginner skill levels due to their resilience and small, compact size.
Regular seeds are typically used by more advanced gardeners looking to experiment and breed new hybrids. By contrast, feminized seeds are typically preferred by with the more straightforward goal of securing generous yields.
Finally, regardless of the seed type you select, you may want to purchase carbon filters to mask any unwanted aroma of weed, organic pesticides to help protect your crop, security measures such as an alarm system to guard your crop against thieves, and any other equipment that will help finesse your weed game.
Finding the Right Temperature & Humidity Conditions for Optimal Growing
Knowing the appropriate humidity and temperature levels is a key step in generating huge yields. For those cultivating their plants in a growing tent, the ideal temperature under lighting should typically be anywhere from 66 to 77 degrees Fahrenheit.
Humidity is defined as the moisture levels in the air. Having the appropriate humidity levels will determine the level of nutrients and water your plants absorb, and accordingly, their growth. In general, cannabis prefers humid conditions with levels between 40 and 60 percent. But be careful — elevated moisture levels can actually detract from your crop's growth.
If you're indoor growing, cannabis plants must be prompted to enter the flowering period. This can be achieved by switching the amount of light each plant receives from 18 hours to 12. This results in an even split of light and dark.
While feminized seeds require this daily adjustment, auto flower seeds require none. Finally, paying close attention to your outdoor or indoor light conditions will help ensure the highest grams of yield. In fact, under optimum conditions, you're likely to achieve the perfect yield.
Understanding Immature & Mature Plants & How To Tell Them Apart
Those new to the growing experience can help ensure success by familiarizing themselves with the various growth stages. You will be able to determine which stage your plants are currently in through the use of visual indicators.
Stages of Plant Growth: Vegetative, Flowering, and Mature Plants
Seedling Stage: This delicate stage is the first of four. Once you've planted your seeds, they will begin to sprout. Specifically, this means that the seed will begin to split along the seams that join each side of its husk. The tail will quickly fasten itself to the soil, and in turn, the husk will be raised up. More information on this stage can be found here.
Vegetative Stage: Once your immature plants have developed leaves that each contain seven, full blades, they are considered to be in the vegetative stage. Tips for the vegetative state include keeping your plants hydrated, providing plenty of air circulation, and turning your grow lights on. During this stage, room temperature or slightly warmer is best. Read more about this stage here.
Flowering and Harvesting Stages: The flowering stage is when your plants will develop the necessary parts for a generous harvest. Following the formation of leaves, you'll notice bud formation on your cannabis plants. Harvesting your cannabis plants at the right time is just as important as growing the plant itself. Additional tips can be found here.
How Long Does It Take Marijuana Plants To Reach Maturity?
There are a variety of factors that will influence when your immature plants will become mature weed plants. These include genetics, outdoor and indoor conditions, and cultivation techniques.
Your plants' pistils will provide a key visual indicator: If 50-70 percent have begun to curl inwards and darken to a shade of red, orange, or gold, they're ready to harvest. Additional tips are detailed here.
Strain recommendations for Mainers:
High-quality seeds are available at Growers Choice. The following five are particularly popular in the state of Maine:
OG Kush: This strain is particularly popular on the coast; this near-balanced hybrid produces generous amounts of resin and is known for its euphoric effects.
Blueberry: This indica-dominant strain is an excellent addition to any Mainer's cannabis crop. It boasts indoor yields of up to 380g in a single plant and outdoor yields of 500g per square meter. It is known for its delicious scent and calming properties.
Tangerine Dream: As an auto-flowering strain, Tangerine Dream is especially well-suited to the harsh weather of Maine. Additionally, it's beloved for its mood-brightening qualities and refreshing citrus taste.
Jack Herer: A classic strain, this sativa-leaning hybrid is known for its stress-melting properties and blissful, creative energy. Jack Herer also delivers indoor yields of 800 grams in a single plant.
Blue Dream: This strain is perhaps most famous for its delicious flavors and extracts. Sweet and fruity, Blue Dream is especially well-suited for Mainers concerned about the local weather; it is the perfect strain for cultivating indoors.
Happy Maine growers tell their friends about Growers Choice Cannabis Seeds
Most excellent work, ladies and gents. Awesome job on the covert package, and they were super fast and efficient. I will definitely recommend Growers Choice to grow your community. Cheers.
Gotta love Maine for cannabis growing. But I'd still never get my seeds from anywhere but Growers Choice. Tangerine Dream, ordered like clockwork, and delivered the same way. You've got a long-term customer here.
Growers Choice cannabis seeds in Maine:
Shop Cannabis Seeds Now