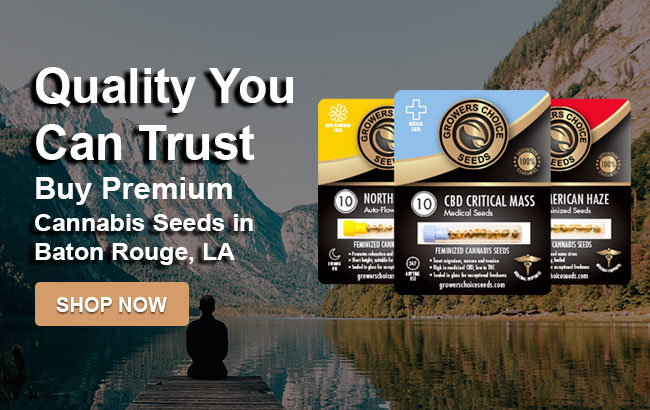 Do you want to grow marijuana in Baton Rouge? Fortunately for novice and experienced growers alike, Growers Choice has hundreds of cannabis seeds for sale online that we deliver to your home in discreet packaging. Louisiana growers benefit from a warm climate year-round, so outdoor plants might be for you!
Baton Rouge, which is French for "red baton" or "red stick, was named as such by French colonizers who were unwilling to learn how to pronounce the Native people's name "istrouma" for the red boundary they had painted on a stripped cypress tree located on the high banks above the Mississippi River between the Houma and Bayogoula tribal land, the current-day capital of Louisiana is still known as the "Red Stick City."
Of the many things that the diverse city of Baton Rouge is known for these days, such as boasting a phenomenal culinary and arts culture; gorgeous views of the Mississippi; historical landmarks; high-quality affordable housing and living costs; warm and friendly citizens; LSU, which is one of the oldest and academically and athletically respect universities in the nation; and oppressively hot summers, the one thing that this culturally eclectic and dynamic city is not known for is the cultivation of cannabis plants nor recreational marijuana as neither is legal in the State of Louisiana.
That said, there are a few silver linings, as the state legalized medical cannabis for a limited set of medical conditions in 2015, and since then has expanded its list of qualifying conditions for potential medical marijuana patients as well as making cannabis flower for medical patients legal. However, it is important to note here that even though registered medical marijuana patients can purchase medical marijuana products and usable cannabis at dispensaries, they are not allowed to cultivate their own medical-grade marijuana plants at home.
Baton Rouge's Recreational and Medical Cannabis Laws
To become a qualified and registered medical patient in Baton Rouge, Louisiana you must be at least 18 years of age. In addition, the state's medical marijuana program does not allow for designated caregivers, which, in part, means that those under the age of 18 cannot become medical cannabis patients.
Louisiana-registered medical patients are able to purchase up to 2.5 ounces of cannabis from a medical dispensary every 14 days.
As mentioned above, at-home medical cannabis gardens are not permitted in Baton Rouge and at this moment in time, the only cultivation facilities that are allowed to grow medical marijuana plants are operated by the Louisiana State University Agriculture Center and the Southern University Agriculture Center.
When it comes to recreational cannabis, even though the possession, use, and cultivation of recreational marijuana is 100% illegal, there is real hope that things will change in the coming years as Louisiana recently decriminalized the possession of 14 grams or less with a maximum penalty of a $100 fine.
Lastly, while it is legal to germinate and then grow industrial hemp seeds in Baton Rouge and all of Louisiana, you must possess an up-to-date industrial hemp license from the Louisiana Department of Agriculture and Forestry (LDAF), and at the end of the day this law is really only relevant for commercial licensed growers as the law also clearly states that only "non-consumable" hemp can be grown, which means even if you're a farmer licensed by the LDAF to grow industrial hemp you can't then go and make things like hemp-derived CBD oils.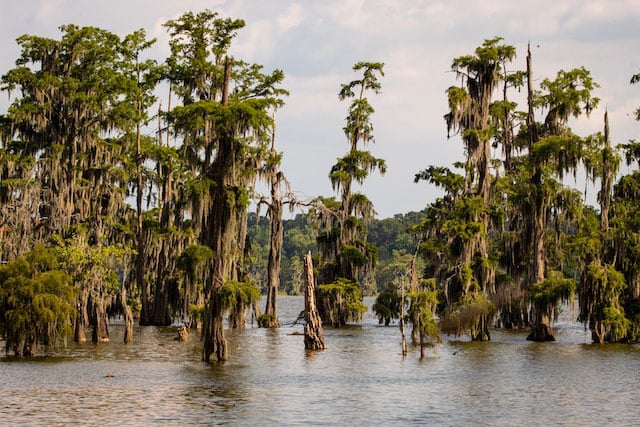 Baton Rouge Residents are Buying Their Premium Quality Marijuana Seeds from Online Seed Banks
Seeing as practicing cannabis home grows is completely illegal for Baton Rouge residents, you might be wondering why they are actively buying weed seeds in the first place.
In short, it is not illegal in Louisiana, or anywhere in the country where medical and/or recreational cannabis is illegal, to buy and store ungerminated marijuana seeds.
This is because the THC and other cannabinoids found in ungerminated marijuana seeds aren't "activated" until they have been germinated.
As such, buying, owning, and storing ungerminated marijuana seeds is, kind of, akin to having the ingredients for making a cake, but until you mix the flour, eggs, sugar, etc. all together you don't have cake, you just have the ingredients to make it. In a sense, owning and storing ungerminated seeds is like having the key ingredient for a cannabis plant but until they are germinated and sprouting you don't have a marijuana plant, you just have some dormant seeds.
Therefore, hopeful recreational and medical growers in the Red Stick have been buying their favorite feminized and autoflower strains and doing long-term storage so that once cultivation is legalized in Louisiana they can be ahead of the curve. The best, most viable option for these future growers is to buy their ungerminated marijuana seeds from seed banks like Pacific Seed Bank (PSB) or Growers Choice Seeds (GCS), which both offer an extensive selection of a wide variety of strains to their customers.
Some other reasons why those who call Red Stick home buy from PSB and GCS are provided below.
Speedy and Discreet Shipping: Obviously, those in Baton Rouge who are already buying their ungerminated cannabis seeds and storing them don't wish to draw unwanted attention to themselves even though it's not an illegal activity. Plus, like in most major cities, package thefts, or "crimes of opportunity" as law enforcement calls them, can be an issue in Baton Rouge, so the fact that GCS is committed to fast shipping and discreet packaging are both big pluses for prospective growers.
Cost: Even if there was a legal Baton Rouge seed bank operating in the city right now, the fact is GCS, which works with numerous reputable breeders from around the continent, is able to offer its cannabis seeds for sale at highly competitive prices. In addition, GCS also has affordably-priced wholesale marijuana seeds and features regular monthly sales on a wide variety of top-shelf seed strains.
Germination Guarantee: GCS is so confident in the quality of the cannabis seeds they sell that they provide a germination guarantee that 90% of the marijuana seeds you buy from them will germinate, and if they don't, GCS will replace them free of charge, so long as you adhered to their simple germination guide. (Provided that you properly store them, GCS cannabis seeds have a five-year shelf life.)
Feminized Seeds vs. Autoflowering Seeds
GCS only sells feminized cannabis seeds that are photoperiods or autoflowers because they have a 99% likelihood of producing bud-bearing female plants, which is what your average at-home grower wants.

Feminized Photoperiod Seeds
Feminized photoperiod seeds are unable to automatically flip to flower without having their light/dark cycle switched from what is generally an 18/6 cycle to a 12/12 cycle. Although this may sound like a slightly daunting task for eventual cannabis growers in Baton Rouge once the cultivation of cannabis crops is legalized, the fact is GCS runs a free, highly informative blog on basically everything you need to know about how to grow cannabis indoors and out, how to make a cheap indoor setup, when to flip your plants to flower, what the best nutrients are for your cannabis plant's well-being, etc.

This means that once Louisiana legalized the at-home growing of medical and recreational weed, first-time growers in Baton Rouge can be ready to start growing low-maintenance strains like Chronic and Rainbow.
Autoflowering Feminized Seeds
Thanks to containing anywhere from 10%-20% ruderalis on average, auto-flowering cannabis seeds are able to transition to their flowering stage from their vegetative stage without any changes in their light/dark cycles. In addition, they tend to produce smaller, faster-flowering plants that are more robust. As such, once Red Stick residents are able to cultivate their cannabis crops at home, they should be able to grow strains like White Gold and Durban Poison without a problem.
Baton Rouge's Growing Environment
With a frost-free growing season of more than 270 days, a subtropical climate that features long, hot, and oppressively humid summers; and generally wet and cloudy conditions much of the year, the main issue for outdoor growers in Baton Rouge will be humidity levels. As such, prospective outdoor cultivators will want to invest in strains that are mold and mildew-resistant and that thrive in hot and sunny humid climates. For those where that sounds like too much of a challenge, there's always year-round indoor cultivation where you can completely create and control the growing environment for your cannabis plants.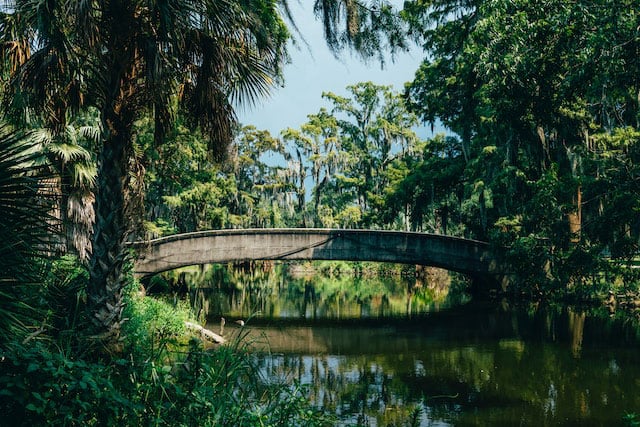 Top Strains to (Eventually) Cultivate in Baton Rouge

On top of the four strains already recommended in the sections above, here are three more that should do well indoors and/or outdoors in Baton Rouge once cannabis cultivation is legalized in Louisiana.
1. Birthday Cake Kush feminized: This indica-leaning hybrid is naturally resistant to mold, diseases, and changes in temperature, and needs to be in a warm and sunny climate.
2. Jager autoflower: This potent indica-heavy hybrid is highly resistant to mold, and outdoors requires a semi-humid, Mediterranean-like climate in order to thrive. If it's too hot or humid in Baton Rouge you can grow this one indoors, or cultivate it in easy-to-move pots and bring it indoors when need be.
3. Pineapple Jack feminized: This stimulating, near-pure sativa produces plants that are hardy, resilient, and resistant to molds and mildew. However, while it needs warmth it also needs a dry setting, so when it's the wet rainy humid season in Baton Rouge simply grow this one inside, or if you have an outdoor porch with ceiling fans and good ventilation that could also be a viable option.
Most Popular Cannabis Seeds