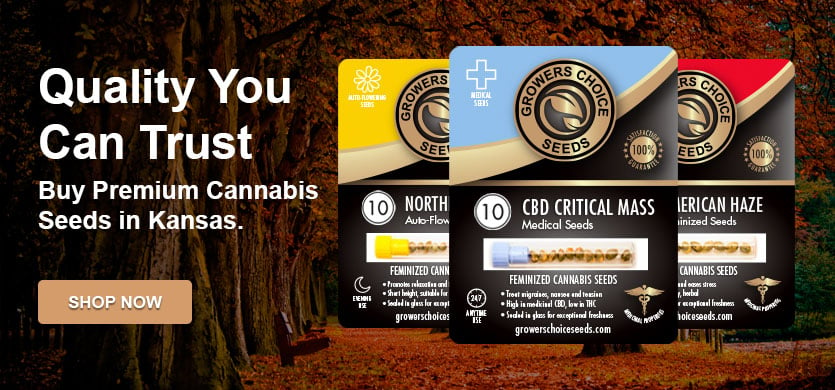 Like marijuana? We do too, which is why we're about to dive into the cannabis realm that combines science, art, healing, and pure enjoyment. If you're curious about growing cannabis plants in Kansas, we've got your back with all of the need-to-know information!
From understanding the very essence of cannabis seeds to the thrill of cultivating strains like the White Widow to navigating the legal landscape, we'll walk you through it. Join us in this exciting, and slightly naughty, exploration (due to Kansas' cannabis laws), and discover how cannabis seeds can become a part of your life, whether for healing, recreation, or the simple pleasure of nurturing nature's wonders!
Cannabis and Kansas
Cannabis seeds can be thought of as the gatekeepers to all things marijuana… they are the origin, the inspiration, the jewels of the industry. Although Kansas isn't commonly thought of as a marijuana mecca, there is an already successful industry in the area and many aspiring growers and consumers can benefit from being knowledgeable on the topic. So buckle up! It's going to be a… relatively smooth ride.
What are Cannabis Seeds?
Cannabis seeds are the remarkable starting point of the cannabis plant, containing the genetic blueprint for the many strains we know and hold dear to our hearts. These small, nutrient-packed seeds grow into diverse marijuana plants or hemp plants, each with unique characteristics, flavors, and effects. Unlike other plant seeds, marijuana seeds are distinctive as they give rise to both male and female plants. Growers can select from various types like regular, feminized, and auto-flowering strains, each tailored to different growing needs and preferences. Whether used for medicinal purposes, recreational enjoyment, or as part of an industrial application like hemp, they're the foundation of all things cannabis.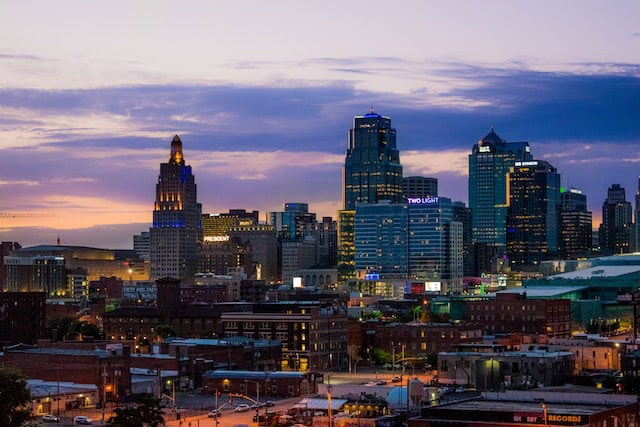 Why Consider Cannabis Seeds in Kansas?
Growing cannabis seeds in Kansas isn't just an agricultural venture; it's a part of a thriving underground culture. Despite legal restrictions, as it is still illegal to grow in the state of Kansas, the state's secret cannabis community prides itself on cultivating top-shelf buds from high-quality seeds. The Sunflower State offers opportunities for enthusiasts to grow their unique strains and become a part of an innovative and resilient community. High-quality cannabis seeds are available, waiting to be nurtured into marijuana plants that can thrive even in the face of adversity. The bad boy spirit of exploration and cultivation lives on, reminding us that Kansas is a state to be reckoned with.
Purchasing Seeds in Kansas
Kansas has become a hotbed for cannabis cultivation, and finding the right seeds can make or break a grower's efforts. This section unravels the mystery of sourcing high-quality seeds, sharing insights from expert growers, and highlighting the factors that contribute to successful cultivation and can help beginner growers along the way.
How to Find Quality Seeds
High-quality seeds are the cornerstone of great cannabis cultivation. In Kansas, several factors contribute to finding the best seeds. Buyers should research reliable seed shops, scrutinize accepted payment methods, and consider stealth shipping options, including discreet packaging, to ensure privacy and security. The journey to finding a quality marijuana strain is a treasure hunt of its own, but rest assured that there are trustworthy sources and steps that you can take in order to zoom your weed cultivation forward.
Popular Choice for Growers in Kansas
i49 Genetics online seed bank is a name that resonates with experienced growers across Kansas. Their popularity among experienced growers stems because of their germination guarantee, their amazing customer service, and their premium quality. Their wide spectrum of seeds for sale caters to diverse tastes and preferences, giving growers a plethora of options to craft their ideal cannabis garden. Plus, the support of i49 Genetics' experts adds an extra layer of assurance, ensuring that you feel taken care of throughout the whole process.
Benefits of Cannabis Seeds
If you're not convinced by now, we'll give you a couple of extra nuggets to chew on. From the medical wonders of cannabis to its euphoric, psychoactive properties to its ability to bring communities together… it is a therapeutic and recreational phenomenon that should be available to all!
Medical Cannabis and Pain Relief
Medical marijuana seeds are a healing oasis for many, offering a wide range of medical benefits and relief for ailments like chronic pain, epilepsy, arthritis, multiple sclerosis, PTSD, anxiety, depression, and even some symptoms of cancer. With properties such as anti-emetic, anxious-easing, anticonvulsant, and analgesic properties, medical cannabis is a natural remedy that bridges the gap between traditional medicine and holistic wellness. Growing medical marijuana seeds with a high CBD content are often the best source of seeds containing health benefits for medical patients.
Psychoactive Properties of Marijuana and Hemp
The psychoactive properties of marijuana and hemp are largely attributed to the compounds THC and CBD. THC induces a euphoric high, creating a sense of well-being and creativity, while CBD calms and heals without hallucinatory effects. Having a high THC content often correlates with higher potency, and a potentially more cerebral, euphoric experience. Understanding these elements helps users customize their cannabis experience, whether for relaxation or healing, offering a spectrum of experiences that cater to all types of people and purposes.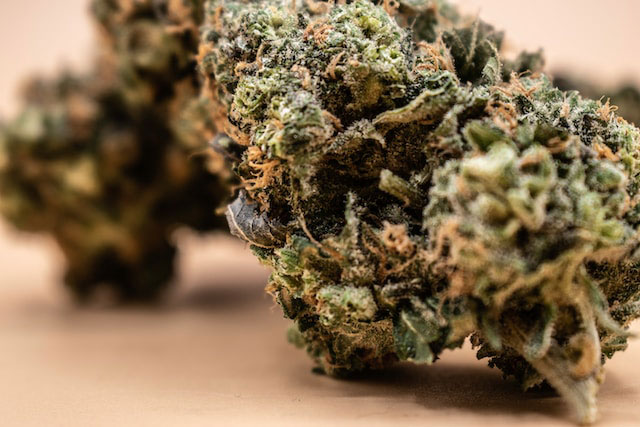 Types of Seeds Available in Kansas
Kansas offers a rich selection of premium seeds to meet the desires and needs of growers and users alike. Whether you're buying from an online seed bank or in person, there are a plethora of options to rummage through until you come across your ideal choice. From feminized seeds to regular seeds, we're sure you'll find the perfect strain for your needs.
Feminized Cannabis Seeds
Feminized cannabis seeds are a game-changer, providing consistent genetics and yield, and higher quality buds. The genetics of feminized seeds are designed to ensure that every plant grown is female, which makes your life far easier, as you will not need to identify and remove the male plants. This means less time and resources wasted and more focus on nurturing your lady plants to their fullest potential. Feminized seeds thrive in a light, airy potting mix that retains moisture and contains organic matter.
Regular Seeds vs. Feminized Seeds
Regular seeds bring a mix of male and female plants, adding a layer of unpredictability to your garden, while feminized seeds are the champions of consistency, giving you the peace of mind that every plant will produce those precious buds. The choice ultimately depends on your preferences and goals. Do you crave variety and the thrill of the unknown, or are you seeking a surefire path to bountiful harvests? The power is in your gloved hands!
Hemp Seeds vs. Marijuana Seeds
These two cousins might look similar, but they're worlds apart in terms of THC content and usage. Hemp seeds are the non-psychoactive members of the cannabis family, boasting an array of uses ranging from textiles to health supplements. Marijuana seeds, on the other hand, are the seeds of dreams for recreational users and medical patients seeking euphoric highs and therapeutic benefits. Understanding these differences is essential for legal compliance and achieving desired outcomes in cultivation and consumption.
White Widow and Other Popular Strains Available in Kansas
Strains like White Widow have become a sensation in Kansas, with unique characteristics such as a spicy aroma, balanced effects, 8-10 weeks flowering time, and specific growing requirements. This balanced hybrid offers a whopping 26% THC content and the potency to match, offering euphoric and uplifting effects and relief from anxiety, stress, and pain. White Widow seeds are considered an easy strain to cultivate and will reward your diligent efforts with an outdoor yield of about 500-600 grams per plant, while indoor growers can expect a harvest of approximately 400-500 grams per square meter.
Alongside White Widow, Kansas offers an array of strains, each with its unique aroma, flavor, and effects, providing an exciting playground for growers and users. From the relaxing embrace of an indica to the energizing embrace of a sativa, the strains available in Kansas are a testament to the diversity and creativity of the community.
Buying Your Cannabis Seeds Online
Purchasing cannabis seeds online in Kansas is a convenient and diverse experience. Reputable online seed banks like Pacific Seed Bank offer wide selections, guaranteed germination, and easy browsing. The process involves selecting desired strains, completing the purchase online, and awaiting the arrival of premium seeds that can turn a garden into a sanctuary of lush, flourishing cannabis. Happy growing, Kansas!
Happy Growers Choice Cannabis Seed customers in Kansas
These guys know how to do it!!! Ordering was easy, received an immediate response confirming order. Another message when shipped. It only took 5 days to arrive, extremely fast, very discreet, very good selection of strains. Perfect!
Here in Kansas we're short on cannabis seed shops, so it's nice to be able to place an order from home and just sit back to wait for it to arrive. No complaints so far!
Growers Choice Cannabis Seeds in Kansas:
Shop Cannabis Seeds Now