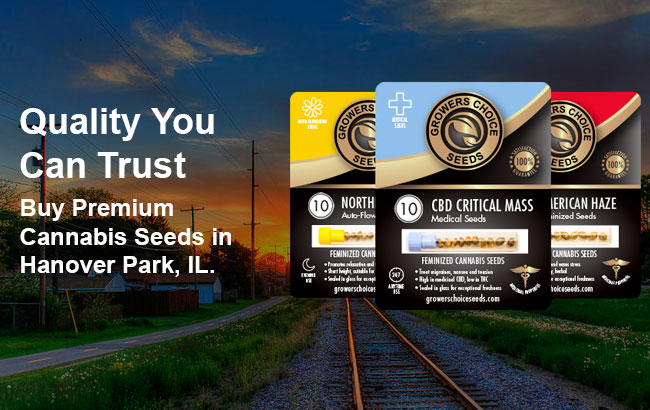 Where Can I Buy Hanover Park Cannabis Seeds Online for Delivery?
If you've been wondering how to buy high quality cannabis seeds online, then choose Growers Choice Seeds for your cannabis seeds needs today. We've made it fast and easy to order Hanover Park cannabis seeds online for quick delivery. Our selection of high quality cannabis seeds are supplied by our trusted team of cannabis cultivators from around the world, and every strain we sell has been lab tested for genetic quality. Browse our inventory to find your favorite indica, sativa, or hybrid strains, and order online using our secure server and your payment method of choice. Delivery is always fast and discreet, with tracking available on every order so you'll know exactly when your seeds will arrive.
Is it Legal to Grow Medical Marijuana Plants in Illinois?
Congratulations, Illinois! As of 2020, residents of the state can legally buy, own, and use recreational marijuana, in limited amounts. However, the cultivation of recreational cannabis plants is not permitted at this time. Medical marijuana has been legal in Illinois since 2018 for residents of the state with a qualifying condition. Medical marijuana card holders may grow up to five cannabis plants at a time for their own personal use. Even if you don't have a medical marijuana card, you can still buy ungerminated cannabis seeds, such as those sold online by Growers Choice Seeds. We exclusively carry ungerminated cannabis seeds in our digital catalog, all fully feminized and backed by our germination guarantee. Order your ungerminated cannabis seeds online today for fast and discreet delivery right to your door in as little as one week.
Get High Quality Weed Seeds Delivered When You Order Online
There's never been a better time to order high quality weed seeds online, thanks to Growers Choice Seeds. We've fully stocked our digital shelves with the very best Hanover Park cannabis seeds available online today, all fully feminized and backed by our germination guarantee. Order online now for fast delivery, and sign up for our newsletter for a chance to win free seeds.
Great Selection of CBD Seeds
I'm always looking for new CBD strains to try, so I love to shop with Growers Choice Seeds. They have a ton of high content CBD seeds in stock, and they're always adding more to their menu.
 Our Most Popular Cannabis Strains