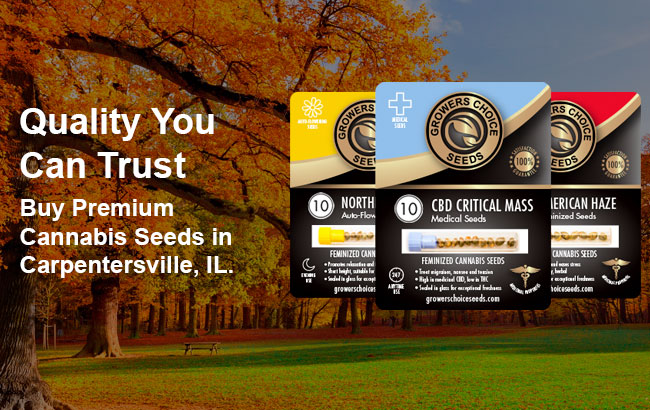 Whether you're a newbie to cannabis or a seasoned connoisseur, having a nuanced understanding of marijuana varieties and types is one of the best ways to select just the right strain. While home growing isn't permitted in Carpentersville, recreational pot is perfectly legal. If you're interested in brushing up on your cannabis knowledge and zeroing in on your ideal strain, take a peek at the info below. 
Cannabis Seeds in Carpentersville, Illinois
As cannabis becomes more widely accepted, retail sales are increasing, and the booming cannabis industry continues to grow. Illinois is one of the states in the country where recreational weed use is legal and cannabis sales are permitted. Currently, adults age 21 and up in Carpentersville can purchase cannabis products from a licensed marijuana dispensary. The possession limits per person are 30 grams of cannabis flower or 5 grams of cannabis concentrate products, and no more than 500 milligrams of THC contained in a cannabis-infused product. More details can be found here.
Retail consumers may also be curious about the possibility of cultivating their own cannabis. While it is not legal to grow your own recreational cannabis in Illinois, there is one exception to this rule: Illinois residents who are 21 and above and who are also registered as medical marijuana patients in the Compassionate Use of Medical Cannabis Pilot Program may grow up to five plants. The specific details and limitations around cultivating your own medical marijuana seeds are outlined here. Those who meet the requirements and are interested in becoming cannabis cultivators have an excellent resource at their fingertips: online seed banks. While there are plenty of options, the most trustworthy seed banks are those that have features such as in-depth strain profiles, a germination guarantee, discreet shipping, a varied selection of cannabis breeder brands, and a wealth of educational information.
In fact, individuals in all fifty states are permitted to purchase cannabis seeds. Even though growing is not allowed, many individuals enjoy collecting rare or unique strains, or simply giving the seeds as gifts. An online seed bank is one good resource if you're looking to collect high-quality seeds.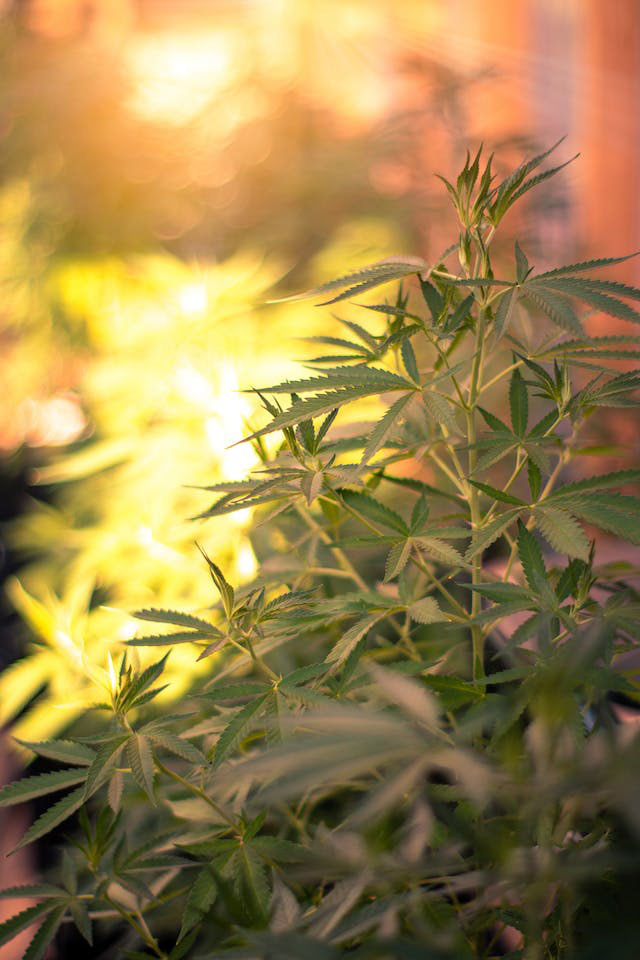 Cannabis Seed Varieties
Growers Choice Seeds places a high priority on providing educational information both for cannabis gardeners and those who simply want to refine their expertise. If you live in Carpentersville and are looking to purchase marijuana products at a cannabis dispensary—know that there's a huge selection of consumer products out there. This can be somewhat of a double-edged sword, as ultimately the more variety the better, although newbies may find the vast recreational menus and amount of options overwhelming. Thankfully, a little upfront research goes a long way. Below, we cover some basic cannabis terms and varieties.
Indica Seeds
Indica plants are an excellent choice for recreational marijuana fans who want to relax. These plants are easily distinguishable by their short, compact stature and thick, wide leaves. When consumed, the effects of indica include relaxing, physical properties and a pleasant sense of blissful heaviness, which is also known as "couch lock." Typically, indica strains are ideal for the evening. In fact, some are so calming you may fall asleep. An excellent selection of indica strains is available here.
Sativa Seeds
The plant cannabis sativa is long-stemmed and elegant, and its effects are uplifting and energizing. Its elongated leaves will typically have a serrated growth pattern and be fan-like in shape. Known for their cerebral effects, sativa strains are best suited to those seeking defined perceptions and a burst of mental clarity. Sativa strains can also be useful for boosting motivation and fueling creative thinking. A wide selection of sativa strains can be accessed here.
Hybrid Seeds
Just as the name implies, hybrid strains contain a mixture of sativa and indica genetics, and therefore, a mixture of each plant's respective qualities. These are some of the most popular varieties in recreational sales. This may be because many hybrid strains will provide the mind-sharpening properties of a sativa combined with the physically calming properties of an indica.
While pure sativa and indica strains are available, the majority of today's strains are considered to be hybrids. Typically, a strain will be classified as "indica-dominant" or "sativa-dominant" based on the specific ratio of indica and sativa lineage. For example, a strain with 70% indica to 30% sativa genetics is described as "indica-dominant" Conversely, if the ratio is close to 50/50, a strain will likely be described as a "balanced hybrid."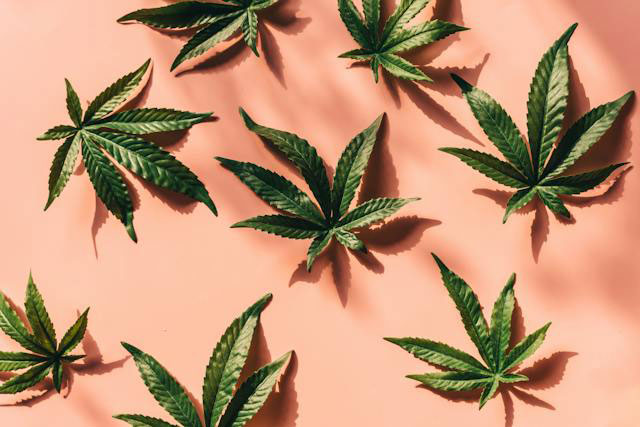 Feminized Marijuana Seeds
Unlike regular seeds, feminized strains are bred so that each seed produces a female cannabis plant. Normally, when plants are pollinated by males, they will produce both seeds and resin-covered flowers. However, they will also prioritize seed production, which results in buds with reduced potency.
Feminized seeds bypass this issue entirely by producing only female marijuana plants and eliminating seed production. In turn, the plants are able to allocate their energy towards resin production. The buds of a female plant that has not been pollinated tend to be particularly potent, which can result in greater amounts of weed. Given this feature, they are a popular choice for home growers looking to produce generous yields. An expansive selection of high-quality feminized strains can be found here.
Auto-Flowering Seeds
Unlike regular marijuana seeds, autoflower seeds have a special quality: They're notably tough. Thanks to their ruderalis genetics, they're some of the most weather and pest-resistant cannabis seed strains. They also have a shorter flowering period and are famously low-maintenance. While feminized seeds require lighting adjustments, autoflowering seeds will simply flower—you guessed it—automatically. All of the aforementioned qualities make auto seeds an excellent choice for growers who require an easier, more resilient type of plant. A broad selection of auto-flowering profiles can be found here.
Cheese Auto-Flowering Feminized Seeds
This indica-dominant hybrid is an excellent choice for those who adore the savory bite of a good, sharp cheddar. At 50% indica to 30% sativa, this strain is an interesting mixture of cerebrally vibrant yet physically soothing effects. Pungent and immensely flavorful, Cheese plants are known to produce a joyful-yet-mellow mood. This strain has a flowering time of 50-60 days, a THC content of 17%, and is an excellent choice for beginner cannabis growers.
Cream Auto-Flowering Feminized Seeds
If you're on the hunt for a relaxing and cheerful strain that will leave you blissfully stress-free, give our Cream Auto-Flowering cannabis seeds a try. Cream Seeds have a flowering time of 50-60 days, a THC content of 16%, and are known for their earthy, sweet flavor.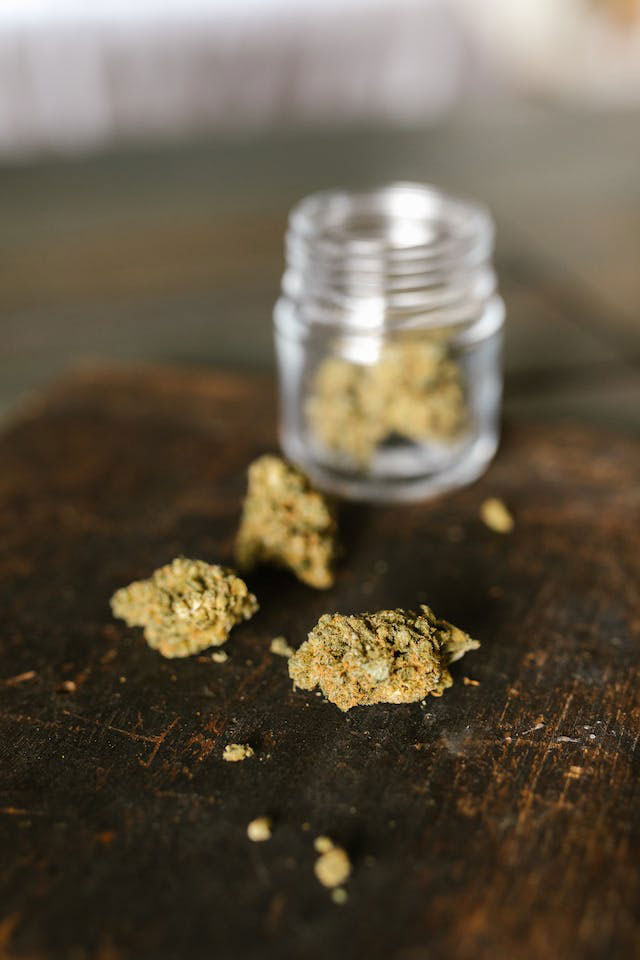 CBD-Rich Strains
Your local, legal cannabis business will also carry CBD products and CBD cannabis plants. These seeds differ from traditional marijuana in that they do not produce the psychoactive effects associated with THC. CBD, which is the second most common cannabinoid found in cannabis, is said to provide mental focus and clear-headedness without mind-altering effects. Strains high in CBD have a variety of applications. Many find it helps to alleviate stress and boost the mood, while in general, high-CBD and low-THC plants are fantastic strains for those seeking soothing properties.
Below are a few popular CBD strains. While residents of Carpentersville are not permitted to grow these plants, the information may be useful for those looking to expand their cannabis knowledge or who plan on purchasing pre-grown flowers and other cannabis products.
This indica-dominant hybrid combines the classic Blueberry strain with CBD genetics. The result? A delectable variety of weed plants that produce soft, sugary smoke, and that are easy to grow. It is typically best-suited to cooler climates or indoor spaces, and tends to be resistant to pests and diseases. While not optimal, it is possible to use this strain for outdoor growing.
CBD Valentine X Feminized Seeds
This strain is known to enhance creativity and relaxation at normal doses. Marijuana growers and consumers report it has a unique taste reminiscent of sweet honey, pine, and earth. With a THC content of just 1%, this perfectly-balanced hybrid is easy to grow. Come harvest time, your cannabis crop will yield an average of 400 grams per square meter with indoor cultivation, and 450 grams of cannabis flower per plant outdoors.
High-THC Cannabis Strains
This world-famous strain is a sativa-dominant hybrid with a pine-like, peppery scent. It has earned its longtime popularity thanks to its balanced effects. With both sativa and indica influences, this strain is known to produce energized feelings of bliss and creativity while simultaneously melting stress. With appropriate care, the Jack Herer strain averages yields of 400-500 grams per square meter indoors, and 600-800 grams per plant outdoors.
This indica-dominant hybrid produces a sense of sweet relaxation and euphoria. One of the most popular indica strains today, Wedding Cake pot seeds grow into plants that taste sweet with hints of vanilla spices. On average, this plant contains THC levels of approximately 25%. While these quality cannabis seeds have an intermediate growing difficulty level, with a little effort and time, they can make an excellent addition to your marijuana garden.
Fast Delivery of Cannabis Seeds
I was really impressed with how fast my seeds arrived from Growers Choice Seeds. They shipped super fast, and the seeds were on my doorstep in less than a week. The packaging was really nice, too.
 Our Most Popular Cannabis Strains