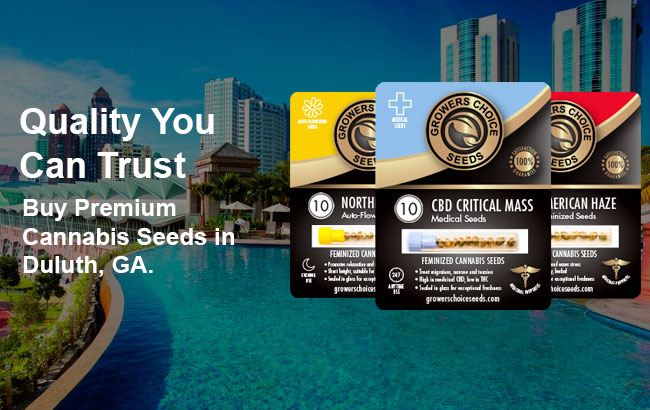 Can I get cannabis seeds in Duluth, Georgia?
Thanks to the state passing their CBD-specific medical cannabis laws back in 2015, patients with qualifying conditions in Duluth have been able to benefit from the healing potency of cannabis. In 2017, the list of conditions was expanded to include conditions like Tourette's syndrome, autism, and HIV/AIDS.
Cannabis seeds for sale in Duluth
When you're ready to join the thousands of other Georgia residents growing their own medical pot from the comfort of their own homes, we invite you to peruse the selection of world-class Duluth cannabis strains online at Growers Choice Cannabis Seeds to get your garden started off on the right foot. Choose from strains like Power Plant and Tangerine Dream, or go medical with our CBD Blueberry.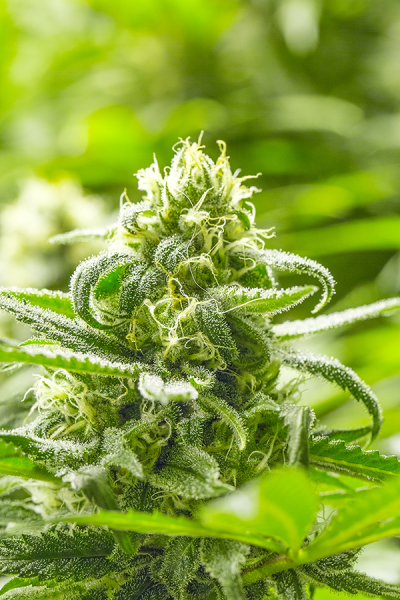 Buy cannabis seeds in Duluth
Once you place your order, your seeds will be sealed in glass vials and shipped from our home office in Canada to your address in the US. We proudly back every purchase with our 90% germination guarantee, and offer discreet shipping options for peace of mind.
What is bhang?
There are many different types of cannabis edibles, and most people are probably aware of the baked good varieties (everyone has a pot brownie joke). But you may not have heard of bhang, a cannabis edible that has been around for centuries. Bhang is one of the oldest forms of cannabis-infused edibles around, and it refers to a drink that has been infused with weed, commonly found during religious festivals held in India and Nepal. Looking for top-quality weed seeds? Shop online with Growers Choice Cannabis Seeds.
Bhang is simply a milk-based drink that dates back to as early as 2000 B.C, with ancient texts describing the beverage has having benefits that relieve anxious thoughts. Bhang is still seen in modern Indian Hindu culture, often being taken during certain holidays, like Holi
Can I make bhang at home from my own cannabis?
We always encourage cannabis kitchen creations, and think trying your hand at this ancient bevvie is a great idea! You'll need
2 cups water
28g of cannabis buds
4 cups warm milk
1/8 tsp each of garam masala, cinnamon, and cardamom
1/2 cup honey
1 tsp rosewater
1/4 cup ginger
2 tablespoons chopped almonds
Carefully remove any stems, seeds, and sticks from your bud. Boil water in a large pot and then place your bud into the water. Remove from heat and cover for 5 to 10 minutes. Using a strainer, remove the plant material from the water and set the water aside. Put the strained bud into a mortar, adding two teaspoons of warm milk. Grind the mix slowly, adding two teaspoons at a time until you've used up a half a cup.
Save the milk and set aside in a bowl. Add almonds and warm milk, continuing to grind in the mortar. Do this until you're left with a fine past. Squeeze the paste to collect the extracts. Combine the liquids, including the water, add your spices and rosewater. Sweeten to taste with honey and sugar and top with remaining warm milk.
Catch the "Spirit of Good Living" in Duluth, Georgia
What is there to do in Duluth, Georgia? More than you know! The revitalized downtown area is thriving, and the city is also home to popular spots like the Arena at Gwinnet Center, and the Duluth History Museum. If you visit at the right time of year you can catch the Duluth Fall Festival or Barefoot in the Park on the Town Green.
We'll happily go above and beyond for our customers
Growers Choice is my fifth seed shop, and I can guarantee you they will be my last. What a great company. They may not have the widest selection but I think they chose some excellent strains and have funnelled their energy and experience into making them the best damn beans available, which, in my book is worth the money. Shipping was reasonable to my home, they got here within 5 days and they were fresh! Germinated 100% of my seeds. This company rocks. Shop with Growers Choice!
 Our Most Popular Cannabis Strains